'I Know What You Did Last Summer' Review: Messy and annoying raunchy teen drama
There's horror alright, not just the ones that spook. This horror is actually the realization that nothing actually comes out of the series Madison Iseman in a still from 'I Know What You Did Last Summer' (Amazon Studios)
Spoilers for 'I Know What You Did Last Summer' Episodes 1-4
'I Know What You Did Last Summer' may have received mixed reviews in '97, but it cemented itself as one of those cult slasher films that were worth the watch. Sadly Amazon's modern take of the flick fails spectacularly as it just shows ample use of drugs, some generous splotches of blood, optimal frontal nudity, and some innovative ways for the teens to succumb. And none of this evokes fear, or so much as a flinch. Or at least, that's what the first four episodes do.
It's ballsy, and a gore-lover (you need to get checked if you go for that sort of thing) will probably love it. And mercifully, Lois Duncan misses out on her work being made into nothing more than a raunchy, messy teen drama. The original tale, and we're not talking about the movie see a bunch of teens hit a boy on a bike with their car, make a promise to keep that irresponsible act to themselves, and prattle on with life while the boy meets his maker.
One year later, Julie James, the girl part of the group gets an ominous note that reads the title. A few murder attempts on the teens follow, but they all make it out alive and the man tracking them happens to be the boy's brother. The slim story saw a major overhaul when it was made into a film. Now that creativity is heightened further in the series. The major twist comes in the form of twins, Lennon and Allison (both played by Madison Iseman). They're pretty, stupendously cute, but are as different as chalk and cheese.
RELATED ARTICLES
'I Know What You Did Last Summer': Where is the cast of original slasher film now?
'I Know What You Did Last Summer' Full Cast List: Meet the suspects in Amazon's thriller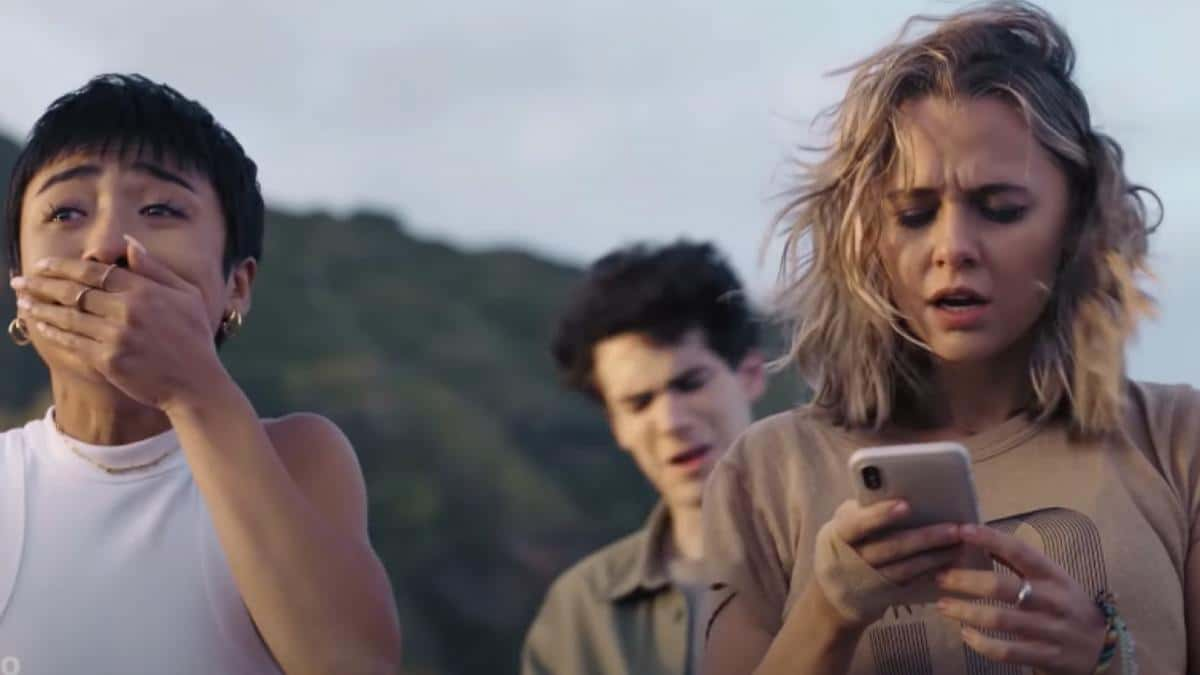 Lennon's the crowd favorite, and in the words of her sister, still recovering from the trauma of her mother's suicide, is someone whose answer to climbing the ladder of life is by having sex with everyone. It's straight-up slut-shaming, but hey, it's a sibling tiff, so we're just watching! Now, Allison is your quintessential good kid. No drugs, no bang-bangs, and they attend a party in similar outfits, where Lennon has sex with her sister's crush, Dylan, who she wanted to be with since "kindergarten".
Allison's just plain disgusted when she finds out and throws her necklace, her gift from her late mother at Lennon, who sulks, but nevertheless puts it on. The scene then shifts to Allison driving the SUV that's filled with the rest of the cast (not really worth knowing more about), all drunk and dopey who think it's Lennon at the wheel. On their way to wolf down burritos, they hit Lennon —who they think is Allison. There's instant death at one end, and instant horror at the other. The gang decides to dump her in a cave that's seen some apparent mass cult suicide and forget about it all.
With that incident, Allison becomes Lennon and alarmingly, her father encourages the move after she confesses. She takes her place at the uni and then comes home from college that summer only for the past to catch up with her. Meanwhile, her friends still continue on their drugs and sex before being minced to death in mysterious, but downright ugly ways. Death by a dumbbell has to be one of the wackiest. Parallelly, Allison's father has some steamy hookups with the chief of police, and Allison's reaction when she finds out in the form of a sextape is nothing much but mild disappointment.
So there's horror alright, not just the ones that spook. This horror is actually that realization that nothing actually comes out of the series. It's the "you made your bed, and now you gotta sleep in it, with whoever or whatever decides to take the other pillow". Did we wish that 'I Know What You Did Last Summer' could have been better? Absolutely. Hopefully, the remainder of the four episodes that drop weekly starting next week can get back the lost audience.
Episodes 1-4 of 'I Know What You Did Last Summer' are currently streaming on Amazon Prime Video.