Shocking images from Florida show devastation caused by Hurricane Ian as 2 million people left without power TAMPA BAY, FLORIDA: An extremely destructive storm and one of the most powerful ever recorded in the US ravaged southwest Florida, flooding streets and buildings. Hurricane Ian knocked out power for more than two million people. Residents fear more catastrophic damage further inland. The "extremely dangerous" Category 4 storm made landfall on Wednesday, September 28, near Cayo Costa, the US National Hurricane Center (NHC) said. It brought with it sustained winds of about 150mph. The storm's wind speeds put it just behind a Category 5 designation on the Saffir-Simpson scale.
As Ian made its way toward Florida, water appeared to recede from Tampa Bay, as though the body of water had simply been drained out. The Weather Channel said that the phenomenon, called a blowout tide or a reverse storm surge, occurs during low tide. In this situation, strong winds blowing directly off shore push the water out and expose he bottom of the body of water. However, after hitting central Florida, it weakened in a Category 1 storm.
READ MORE
SOS flares light up sky over Puerto Rico's Salinas as floodwaters trap families in their homes
Hurricane Fiona: Horrifying video shows Puerto Rico bridge being swept away amid island-wide blackout
As many as 60 school districts in Florida cancelled classes. Over 175 evacuation centres were opened statewide and several school buildings were converted to shelters. The storm has left over two million people without power, Poweroutage.us confirmed. Social media is flooded with videos and images of the destruction. While some show water violently breaking into home, others show hundreds of stranded vehicles.
Commercial airlines reported more than 2,000 storm-related cancellations. Airports in Tampa, St Petersburg and Key West were reportedly closed. Disney World theme parks and SeaWorld in Orlando were all shut down ahead of the hurricane.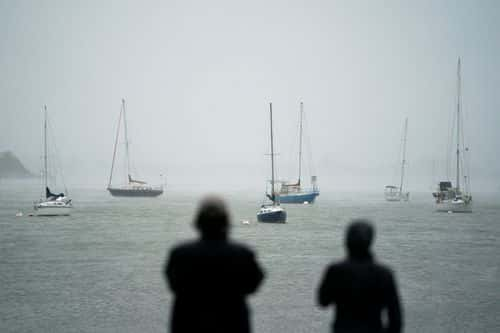 US Air Force hurricane hunters confirmed that the storm gained strength over the warm Gulf of Mexico waters after hitting Cuba. The hurricane could push as much as 12ft of ocean water ashore in Florida, and people have been urged to evacuate from the danger zone. No one could be forced to flee by law, but over 2.5 million people were under mandatory evacuation orders.
The full extent of the storm will possibly remain unknown some a while, but power and communications have been disrupted in many areas. In fact, some emergency responders have been forced to wait until it is safe enough to begin a full search and rescue operation. No storm related deaths have been reported in the US, but Ian has resulted in the deaths of two people in Cuba. A boat carrying 23 Cuban migrants sank on Wednesday, September 28, in stormy weather east of Key West..
Share this article:
Shocking images from Florida show devastation caused by Hurricane Ian as 2 million people left without power