Iconic home where 1985 blockbuster 'The Goonies' was filmed is now up for grabs
The four-bedroom, two-bathroom home in Astoria, Oregon is listed for $1.65 million ASTORIA, OREGON: The property where the 1985 blockbuster 'The Goonies' was filmed is reportedly going up for sale.
The four-bedroom, two-bathroom home in Astoria, Oregon is listed for $1.65 million. The iconic 1,935-square-foot private residence was where the character Mikey Walsh, played by Sean Astin, lived in the movie and where the "truffle shuffle" was introduced to the world. The restored property with cinematic significance and boasting views of the Pacific Ocean meeting the Columbia River is now up for grabs.
ALSO READ
'Lightyears away from the Upside Down': 'Stranger Things' Creel House up for sale, here's what it costs
Iconic Miami beach hotel, The Deauville, where Beatles recorded 'Ed Sullivan Show' is demolished
"We've heard from fans and we're talking to real estate agents and buyers who have been pre-approved for a mortgage," listing agent Jordan Miller of John L Scott Real Estate told Oregon Live. Hardcore fans of 'The Goonies' have made several pilgrimages to Astoria since the adventure comedy's release in 1985, with groups covering 368 38th St to get a first-hand glimpse of the old house saved by the film's underdog heroes.
The movie told the story of how brothers Brand Walsh, played by Josh Brolin, and Mikey Walsh, played by Sean Astin, along with their misfit pals from the "Goon Docks" fought to keep the family house from developers. Sandi Preston, the real-life homeowner who bought the property in 2001, said she initially allowed fans inside before she restored the two-story residence.
Preston said most visitors were respectful, but some enthusiasts pulled off pieces of the wallpaper near the bunk beds. She subsequently closed the doors to the public except during Goonies Day tours, which were organized to commemorate the movie's anniversary. Nearby residents of the hilly neighborhood had previously complained about throngs of fans showing up day and night to catch a glimpse of the property. "There is someone here 24/7," Preston told Oregon Live in 2013. "At midnight, I can still see flashlights."
However, things came to a head around the film's 30th anniversary in 2015, when surging crowds prompted the homeowner to seal off the property and temporarily put blue tarps up on parts of the house. In 2018, the Astoria City Council implemented a $100 parking fine in an effort to discourage motorists who would illegally park near the famous home.
The 1,935-square-foot property has bay windows, original wood floors, three bedrooms, and a finished attic that can be used as a fourth bedroom. Preston installed new modern conveniences during the renovation. Furthermore, there is also an unfinished basement where filmmaker Steven Spielberg, who wrote the storyline that was transformed into a screenplay by Chris Columbus, had a desk during filming.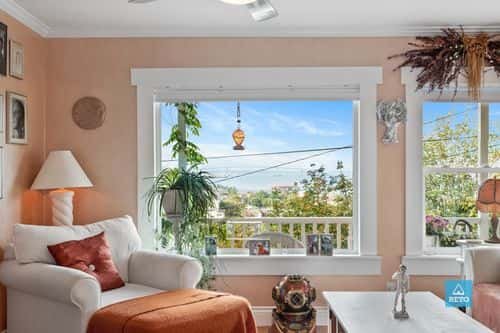 Preston is now looking for the perfect buyer who will respect the legacy of the home. "My client is looking for a buyer who will love the property as much as she has for 21 years," Miller told Oregon Live, adding, "It's up to the new owner to make it look like the movie if that's their joy or keep the upgrades and restoration befitting one of the oldest houses in the first permanent American settlement west of the Rocky Mountains."