Ghia on 'Shark Tank': What is the cost and who is the founder of the cult-favorite non-alcoholic aperitif brand LOS ANGELES, CALIFORNIA: A celebratory event or party without champagne or some other alcoholic beverage is almost unimaginable for many. But consuming alcohol isn't everybody's cup of tea. Thanks to societal norms and peer pressure, skipping alcohol during social gatherings is bound to raise a few eyebrows and a lot of awkward explanations. Tired of explaining why she wasn't drinking, and more importantly finding the perfect non-alcoholic drink, pushed Melanie Masarin into launching Ghia.
Ghia is a non-alocholic apéritif inspired by the Mediterranean. Made entirely of botanical extracts, and free of alcohol, and added sugar, this drink will definitely change the way you think about drinking and socializing. Melanie will be pitching her unique brand on the upcoming episode 4 of 'Shark Tank' Season 14, before the Sharks- Mark Cuban, Lori Greiner, Kevin O'Leary, Daymond John, and Robert Herjavec. While we will have to wait and watch to see how Sharks feel about this spirit-free beverage, in the meanwhile, you can learn all about Ghia and it's founder Melanie here.
RELATED ARTICLES
Aura Bora on 'Shark Tank': What is the cost, who are the founders and all about herbal sparkling water brand
Flasky Flowers on 'Shark Tank': What is the cost and where to buy the flower bouquet with a flask?
What is Ghia?
If you're one of those persons that prefers getting high on life rather than alcohol, then look no further than Ghia. Ghia is a non-alocholic apéritif inspired by the Mediterranean culture. If you're wondering what an aperitif is then we got you covered. An apéritif is a class of beverages usually enjoyed before a meal to prepare the palate. It's a broad category that includes many different styles, but the flavor profile is usually bitter and herbal.
"We took out the booze and the fake stuff—but we kept in all the attitude. Our pure ingredients, a biting combination of botanical extracts no alcohol—are powerful enough to bring out the best version of you without numbing the night (or the next morning)," states the brand's website. Each serving of Ghia contains potent extracts of the finest botanical ingredients carefully-sourced from around the globe. Some of the star ingredients are nervines, the medicinal plants used for centuries to slow stress and bring on energy. These herbs, fruits, and roots work together to boost and balance. Ghia keeps you calm, enhances your appetite, and soothes the soul. Nourishing nervines, fragrant florals, bright citrus, each glass of Ghia tastes good and feels even better. Ghia has no artificial flavors or added sugars. It is caffeine-free, vegan, glten-free, and kosher! You can either enjoy Ghia straight from the bottle, or use it as a mixer in your cocktails!
Who is the founder of Ghia?
Melanie Masarin is the brains behind Ghia. After graduating from Brown University in 2011 with an A.B. in Economics, Melanie kicked off her career as a financial analyst at Goldman Sachs. After spending two years at Goldman Sachs, she branched out into branding and marketing as the Creative Director and head of Marketing at Dig Inn, before making her way to Glosser. While at Glossier, Melanie headed the offline and experiential strategy at Glossier.
Melanie came up with the idea of founding Ghia during a lunch with a friend, when she realized there was no non-alcoholic drink to celebrate. On the brand's website Melanie shared her inspiration behind Ghia. "I spent my childhood summers near the Mediterranean, where Aperitivo is a way of life. I remember my mother and grandmother making giant jugs of limoncello, using freshly-picked lemons, that we'd pour into the night (and sometimes mornings) until Fall came around." "The best part of those memories, and drinking in general, is that it transports you to a space that's about simple pleasures. It's about being together. Connecting. Letting loose. Laughing. Savoring great music and even better friends. We wanted to make a drink that would take you to this place without numbing the night; a drink you'd remember in the morning," she added. "So we created GHIA, a spirits-free apéritif adapted for modern times. It's an invitation - to take a moment for yourself, to watch the sunset, to move from work into play and to take care of your loved ones," she explained.
Ghia launched in June 2020 with its hero product, The Apéritif ("OG Bitter"), featuring hints of citrus and florals, and a blend of health-forward ingredients and potent extracts of natural nervines, including gentian root, lemon balm, fig, and elderflower.
What is the cost and where to buy Ghia from?
Aside from the aperitif, Ghia also added Le Spritz, a ready-to-drink non-alcoholic spritzer, puzzles, and a hazelnut spread made with olive oil called Ghianduja. You can pick any of these products from wither the brand's website here, or Amazon, or from one of the 750 bars and grocery stores that stock the beverage. You can get the full list of stores on the brand's website.
A bottle of aperitif retails for $38, while the 12 pack of spritzers is available for $75. You can also sample the best-selling Ghia products with their First-Sip bundle which is available for $60. Each of the Ghia bottles comes with an elaborate recipe book featuring various concoctions that you can whip up using your new purchase. Despite Ghia's premium price tag, the brand has managed to earn a cult-following and loyal customers. A customer left the following review on the brand's website, "I've tried many non-alcoholic apertifs, bitters, mixers, etc and this is the only one I can say I truly enjoy. Ghia's biggest competitor, in my judgment, was not very happy when I told them their beverage didn't even come close in mouthfeel and flavor to the Ghia apertif. Never going to upgrade- this is my upgrade."
Where is Ghia now?
According to Forbes, since Ghia's launch in June 2020, in less than a year, the brand expanded to over 350 retailers and became a bar-cart staple in households nationwide. The company also saw a 40% increase in customers in Dry January alone and sustained a 35% customer return rate since. The brand's Le Seltzer reportedly sold over 100K cans since its launch in April 2021!
Who will steal the deal?
Mark Cuban or Robert Herjavec may steal the deal. Although the brand's sales numbers and profit margins will ultimately be the major deciding factor for the sharks on whether to invest in the business or not. So, we will just have to wait and watch to see if the Sharks even make a deal.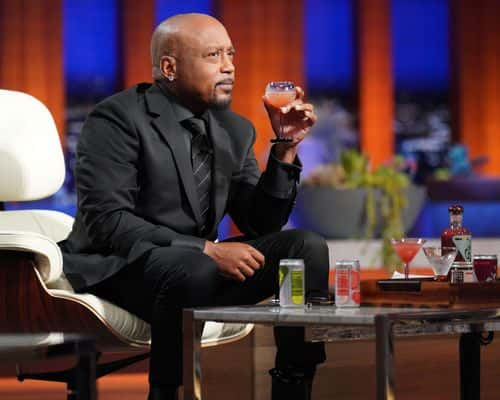 'Shark Tank' Season 14 Episode 4 airs on ABC on October 14, 2022, at 8 pm ET. Catch the latest episode featuring products like Storage Scholars, Expedition SubSahara, Ghia, and Whoosh.
Missed an episode? Been wanting to catch up? Episodes can also be viewed the next day on demand and on Hulu. Not just that, you can also watch old seasons and episodes on Amazon Prime Video and iTunes.
Share this article:
Ghia on 'Shark Tank': What is the cost and who is the founder of the cult-favorite non-alcoholic aperitif brand