Who was Gerren Taylor? 'Baldwin Hills' star, 30, dies in sleep, co-star Moriah J says 'safe travels' Ashley Taylor Gerren aka Gerren Taylor, former star of the reality TV series 'Baldwin Hills', has died at the age of 30. The reality star and model reportedly died in her sleep on April 11, 2021. She is survived by her young daughter. Her former co-stars from 'Baldwin Hills' as well as heartbroken fans have poured in their tributes for Taylor on social media.
She has been remembered fondly by Twitter users, as Ray Cunningham tweeted, "Just got the worst news. I hate it's on the internet already. RIP to my @BET fam, my babes Gerren (Baldwin Hills)." Her co-star Moriah J from 'Baldwin Hills' wrote, "Safe travels Gerren." The cause of her death is yet to be officially confirmed by her family, though some Twitter users have claimed that she suffered from lupus, an auto-immune disease.
READ MORE
Cady Groves, 'This Little Girl' singer and country-pop icon, dies at 30 due to natural causes
Former 'Biggest Loser' contestant Daniel Wright passes away at 30 after lengthy battle with leukemia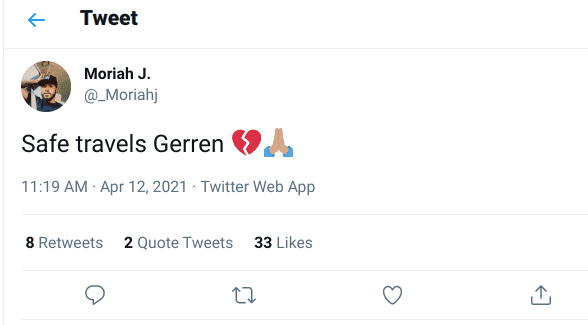 Who was Gerren Taylor?
Born on July 6, 1990, in Los Angeles, California, to Michele Gerren, Gerren Taylor started her modeling career at an early age. She was only 12 years old when she was spotted by a talent scout. Dubbed as the 'new Naomi (Campbell)', Taylor became the youngest model ever signed by the runway division of LA Models.
"[Gerren] has the height. She has the walk. And she look natural fresh and beautiful," LA Models President Heinz Holba told CBS News in 2003. However, her recruitment at such a young age sparked much controversy in the fashion domain as her age was often hidden from clients.
Taylor's acting career kicked off in 2007 with the BET reality series 'Baldwin Hills', which featured teenagers from Baldwin Hills district in Los Angeles. The show was aired for three seasons between 2007 and 2009. Gerren Taylor happened to be the star attraction of the first season, where her relationship with Moriah Johnson was a key focus.
Aside from Baldwin Hills, Taylor also starred in the 2007 documentary, 'America is Beautiful', which was a critical take on the US's obsession with beauty.
She continued to pursue modeling after leaving the show in the last season. Later, Taylor was also signed with the Ford Modeling Agency, where she worked with designers like Tommy Hilfiger, Tracy Reese, and Betsey Johnson. Recently, she was known for promoting her children's boutique 'Miyoko's Closet' on Instagram, ac
She was also a doting mother to an adorable daughter, with whom she often posed for Instagram photos.
'I can't even believe I'm reading this'
Taylor's tragic death is mourned by hundreds of fans across the world, as well as her friends and acquaintances. She has been remembered by all as a sweet, smiling, and kind soul. Celebrities like model Nia Riley, Olympian Carol Rodriguez, rapper Malcolm D Kelley, actress Bria Myles, and others also mourned her tragic death on Instagram.
Commenting on Taylor's last Instagram post from a week before, Nia Riley wrote, "love you always!" Ray Cunningham commented, "love you forever," while Bria Myles wrote, "can't even believe I'm reading this sis. I'm heart broken."
"Damn rip ash 🙏🏾🙏🏾🙏🏾🙏🏾," commented rapper Malcolm D Kelley. Olympian sprinter Carol Rodriguez wrote, "Sis🙏🏽🙏🏽🙏🏽 😢😢😢😢😢😢RIP I CANT 😢😢😢"
Taylor was also remembered by 'Trap Kitchen' mastermind Malachi Jenkins who commented with a series of emojis, "🙏🏾💙🕊".
On Twitter, fans and friends of the model offered their heartfelt tribute.
"Rip Gerren Taylor. Aka Ashley. She was the only person nice to me at SAMOHI besides the small group of friends I had before I left. She was always so sweet and smiling. Baldwin Hills doesn't truly show the sweetheart she was. I'm so sorry her baby had to lose her mom so young," a user tweeted.
Her friend and 'Baldwin Hills' co-star wrote, "Queen Ashley "Gerren" Taylor, my sister, an LA legend. forever in our heart. rest in eternal peace. @_Moriahj and I prayed for your soul and your family today thinking about all the good times we shared."
"She was battling Lupus right? My God that is so sad and her daughter is still so young, RIP, Rest in Love & Rest Well, Gerren Taylor," noted a fan.
"I'm so shocked. Death sucks man. Praying for Ashley's baby girl, and all her loved ones. Her daughter was always with her. Lord give them strength. Rest peacefully," another user offered their condolences.