'Family Karma' Season 2 Full Cast List: Meet Brian Benni, Vishal Parvani and rest of the stars of Bravo reality show Set in Miami, 'Family Karma' gives a sneak-peek into the lives of nine second-generation Indian-Americans who are trying to live their best lives in the US while still trying to achieve their American dream.
Anisha Ramakrishna, Amrit Kapai, Bali Chainani, Brian Benni, Monica Vaswani, Shaan Patel, and Vishal Parvani will be returning for season 2 of 'Family Karma'. Dillon Patel and Rish Karam will be introduced as the two new cast members this season. Dillon is the younger brother of Shaan, while Rish is Monica's childhood sweetheart. Here's all you need to know about the cast of 'Family Karma' Season 2.
RELATED ARTICLES
'Family Karma' Season 2: Air time, how to live stream, trailer, cast and all about the Bravo reality show featuring Indian Americans
'Family Karma': Monica turns down Brian's proposal, fans say they're sad but agree she made the right call
Full Cast List
Anisha Ramakrishna
Anisha, 36, moved back in with her parents after spending over 10 years in the cutthroat fashion industry in New York. While she is busy pursuing her dream of launching a size-inclusive clothing line, her family is pushing the designer to settle down and start a family. After the successful launch of her clothing line, she is focused on her personal life. According to her Bravo bio, for the first time in years, Anisha is single and dating; time will tell if she will find Mr Right. The upcoming season will feature the fashion designer making some bold decisions that go against her family and culture's traditions.
Amrit Kapai
At 35 years old, Amrit is at a standstill as to if he is ready to take the next steps towards full-blown adulthood including marriage and a family with longtime boyfriend, Nicholas. Things are getting serious between Amrit Kapai and his boyfriend. But before finally settling down with the man of his dreams, Amrit needs to seek the blessings of the matriarch of his family. Professionally, he is striving to be named partner at his law firm while also considering entrepreneurship with a friend in the circle that he hopes to make a business partner.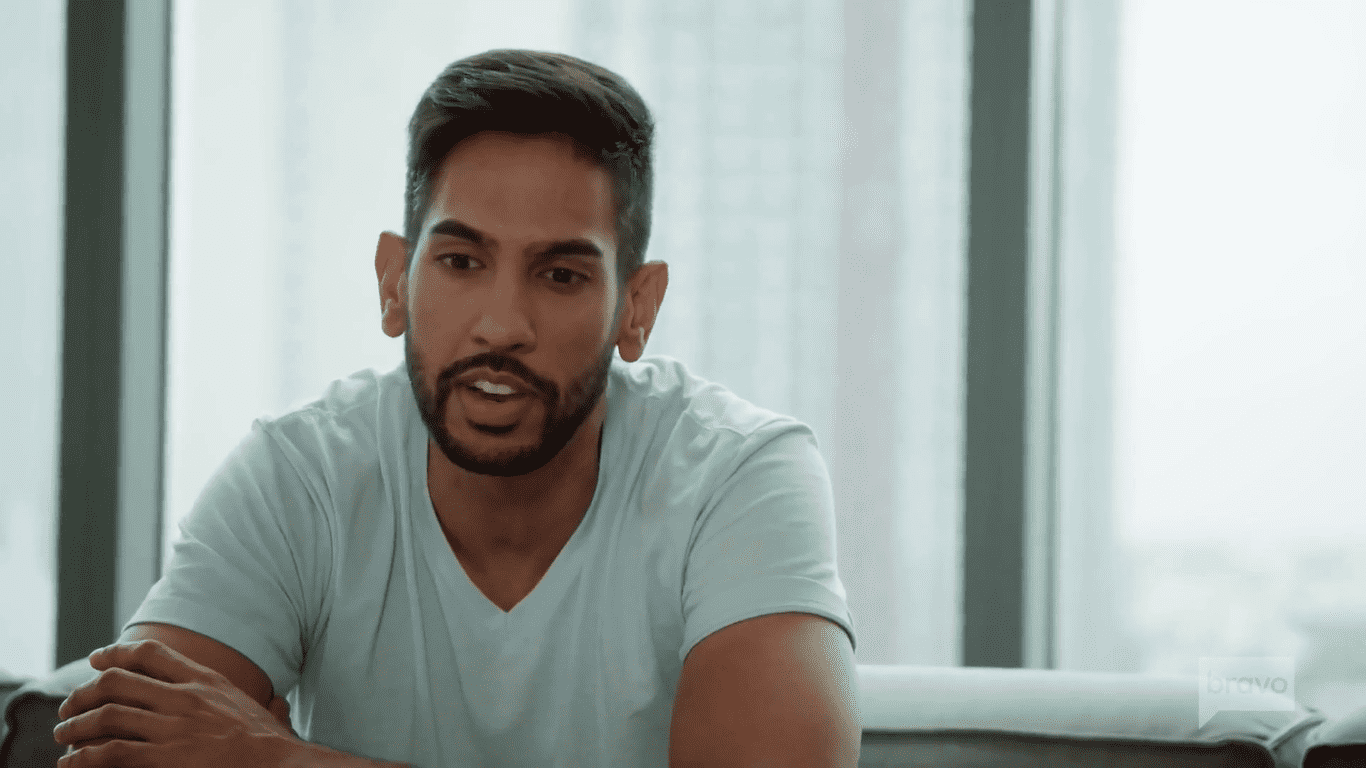 Bali Chainani
Bali ensures that you understand that she isn't your typical Indian woman. Having weathered two divorces, glamorous single mom Bali straddles the line of hanging out with her friends in their 20s and 30s while maintaining relationships with their mothers. Now in a serious relationship with her long-distance boyfriend O'Malley, she is hoping that the third time's a charm.
Brian Benni
After his advances were shot down by co-star Monica Vaswani, Brian is ready to settle down. The 29-year-old has moved back home and his parents are urging him to start a family of his own. In the past, Brian has been hesitant to start a relationship with women in his community, but lately, he's had a change of heart with his new girlfriend, Monica Shah.
Dillon Patel
Dillon is the newest addition to the cast of 'Family Karma'. He is the younger brother of Shaan Patel. The 26-year-old studied economics at Duke University and worked as a management consultant before landing his current role as a Senior Manager of Global Operations at a tech company in San Francisco. Dillon recently moved back to Miami into his childhood home, the Patel Compound, to live with his large, multi-generational family, including his older brother Shaan. With the help of his friend Anisha, Dillon is looking for a guy who can keep up with his family, friends, and career.
Monica Vaswani
Monica is a 29-year old tech specialist by day, and aspiring Bollywood choreographer by night. When her parents divorced, she decided that she would be the "perfect Indian girl". She observes traditional Indian customs and hopes to find a partner to practice these with. Growing up, Monica had a crush on her best friend Brian, but over time realized that the two worked better as friends. As the only child of divorced parents, Monica is fearful to find the wrong match.
Rish Karam
Rish is a 27-year-old businessman and restaurateur that comes from a large, traditional, and business-centric Indian family. Friends since childhood, he recently started dating Monica. Unlike most 20-somethings in his community, Rish lives on his own where he and Monica spend most of their time together, although Monica opts to keep living arrangements separate for now.
Vishal Parvani
Vishal is the definition of work hard and play harder. In addition to real estate, he's been working on a new business venture. While things are going great on the business front, his personal life is still a work in progress when it comes to his future mother-in-law and fiancee. The previous season ended with Vishal getting engaged to his fiancee Richa Sadana. But the trailer for the upcoming season reveals that there might be trouble in paradise between Vishal and Richa. Richa is seen without her engagement ring, Vishal reveals that she returned the ring to him as she didn't want to be his fiancee.
Shaan Patel
Despite being the youngest member of their friends' group, Shaan has already started his own business. Shaan and Dillon come from one of the first wealthy Indian families to settle in the community. After growing up on a compound with over 20 family members in 3 adjacent houses, he has since moved out to live with Pooja. He continues to work with his successful business and now is under pressure to set a wedding date.
'Family Karma' Season 2 is all set to premiere with a supersized episode on Wednesday, June 2, at 9/8c only on Bravo.
Share this article:
family karma season 2 full cast list vishal anisha brian monica dillon rish bali amrit shaan bravo