EXCLUSIVE | Ali Hardiman says Christmas at Castle Hart's Margot is quite like herself The festival of Christmas is just around the corner and people have already started making plans about how they are going to be celebrating the auspicious occasion. Some might have a family gathering and some might even go out on a vacation. However, there are people who will switch on their Televisions and tune in to Hallmark Channel to watch their favorite Christmas movies.

Hallmark's lineup for Christmas has always been enchanting and this year, it's no different. Some of the movies have already been premiered on the network and received positive reviews. However, there's one movie that has managed to captivate the hearts of viewers and it's none other than 'Christmas at Castle Hart'. The movie sees Queen of Hallmark Christmas Movies, Lacey Chabert, taking audiences on a magical journey filled with heart-warming moments and a cute ending.
RELATED ARTICLES
'Christmas at Castle Hart' Review: Chabert's Hallmark film full of festival spirit
'Christmas at Castle Hart': 5 things to know about Lacey Chabert
But there's one actor who took everyone by storm with her charm and made everyone laugh out loud with her impeccable acting. We are talking about Ali Hardiman, who portrays the character of Margot in the movie. The actress is undoubtedly the breakout star from the movie and does everything so effortlessly you feel that this role was just written for her. Born in Ireland, Hardiman went to drama school in 2016 and that's when her life changed and she exactly knew what she wanted to do in the future.

MEAWW caught up with Hardiman and discussed the Hallmark movie, her acting career, and how writing and acting have been an important part of her life.
Q) You began your acting career in 2017 and started with a couple of short movies. Over the years, you have worked in various genres and a lot of projects. So, how did you make your way to Hollywood?
Hardiman: I graduated from drama school at The Gaiety School of Acting in 2016 and then went on to train in film acting at the Bow Street Academy in Dublin in 2017. During and since that time I have worked on various projects and am so grateful for all of the opportunities I have had so far. I particularly love doing comedy. The work I have done to date has been mainly based in the UK & Ireland. Christmas at Castle Hart is the first American production I have worked on and I'm really keen to do more!
Q) Theatre is a significant part of your career and you started your career by doing a lot of stage plays in Ireland. That's how you came into mainstream media. Can you tell me more about your experience in theatre?
Hardiman: I absolutely love being on the stage. There is nothing quite like the thrill of a live audience! In 2018 I wrote a show myself called Electric that I toured around the UK & Ireland. That was a fantastic experience. Playing different towns every couple of days, it's exciting.
Q) Let's talk about 'Christmas at Castle Hart'. Hallmark movies are known for producing heart-warming movies and your movie was exactly that. Your acting was top-notch and loved it to the core. So, how did you prepare for your role? And what was the audition procedure like?
Hardiman: I really related to the character of Margot straight away, I loved the relationship between her and her sister Brooke (Lacey Chabert), and I loved how ambitious and funny she was and how she wore her heart on her sleeve. Due to Covid I filmed my audition and sent it in and then I was invited back via Zoom to meet the director Stefan and then Lacey, I am such a huge fan of both of their work so I was really excited. We read the scenes a few times and talked about the film. I immediately felt relaxed with both of them, they were so friendly and encouraging.
Q) Your character Margot seems to be a lot like you. A lot of viewers also felt like that. So, does that help in doing such a role? Or it is hard because you certainly need to show skills that can be loved by audiences as well.
Hardiman: Yes! I think Margot and I are definitely quite alike! And I think that helps because I really felt that I understood her as a person and could bring a lot of myself to the role.
Q) How was your experience working with Lacey Chabert? She is known as "Queen of Hallmark Christmas Movie". What kind of relationship did you share with her on sets?
Hardiman: Lacey was amazing to work with right from day 1. I was such a big fan of her work before we met and was really excited to be acting with her. She was so warm and welcoming and supportive. We immediately hit it off. I had so much fun working with her and I very much hope I get to do so again!
Q) I have heard a lot about 'Electric' and when I read about the play, it felt like such a unique idea. How did the idea come up? And what drove the project?
Hardiman: As well as acting I also write, and I wanted to write about the social and cultural divide in Dublin. And so after graduating from drama school I wrote Electric! It's a comedy about two girls who meet at a music festival in Ireland called Electric Picnic. I set it here because I felt it was one of the few places in the country where people from all walks of life come together and party for 72hrs! The cast was just me and my friend Ericka Roe, we played the two main roles and also all of the other characters they meet along the way. The message and the moral of the story were important, I like to think it was a comedy that packed a punch.
Q) Who inspired you to take up acting? Did your family also have a background in arts and culture?
Hardiman: Yes there are lots of artists in my family! My dad is a composer and my aunt is a director. I started drama classes when I was 5 and I absolutely loved them, I remember being so excited to go every Saturday morning, I think there was no doubt from a young age what I wanted to do.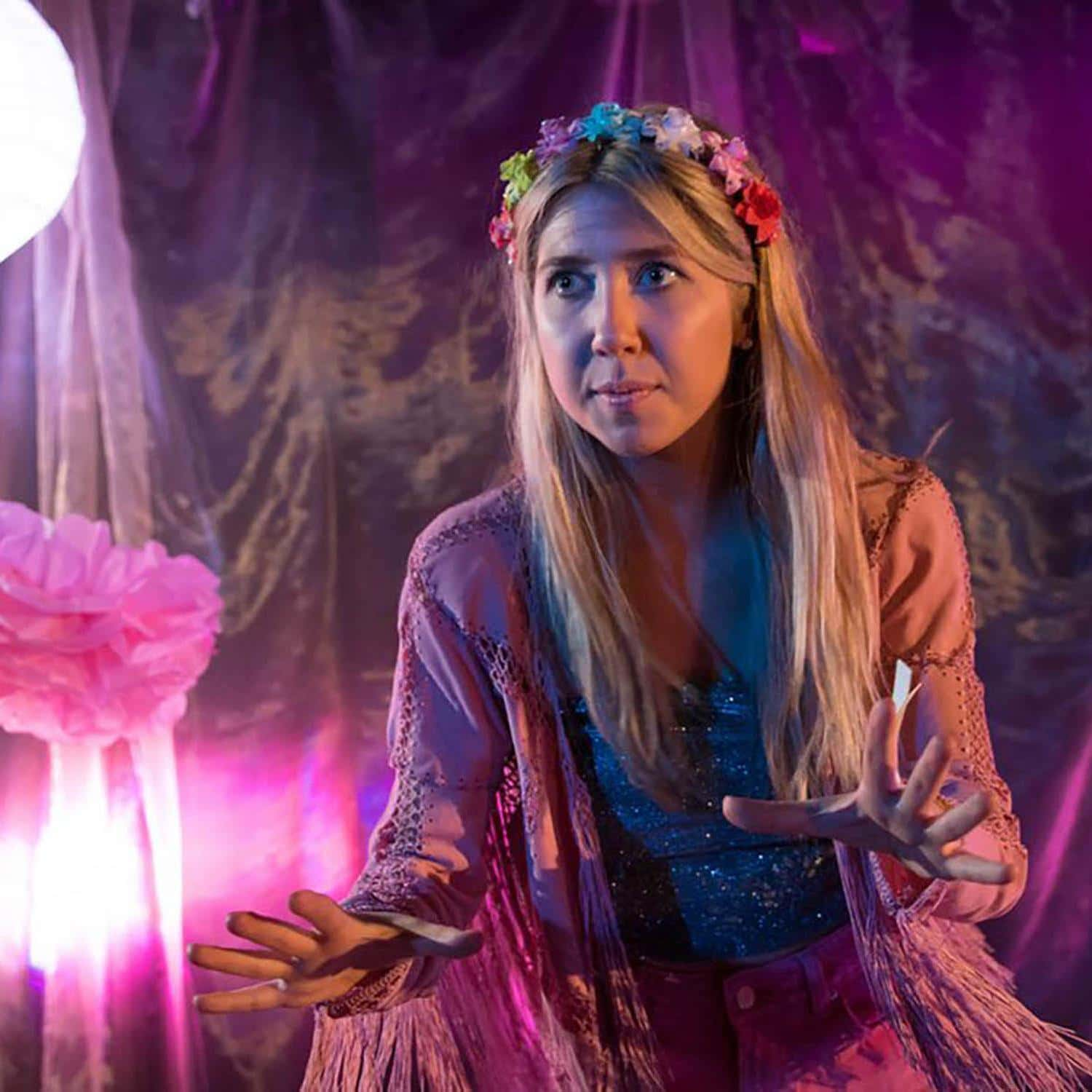 Q) So, yes next set of questions is a bit of fun and will let your fans know more about you.
- Favorite Movies?
Hardiman: 'Bridesmaids'! I am a huge fan of Kirsten Wiig.
- Favorite Musician?
Hardiman: Doja Cat, I think she is amazing.
- Favorite Book?
Hardiman: I'm currently reading 'The Thursday Murder Club' and loving it!
- Favorite Cuisine?
Hardiman: Italian - no question!
- Favorite pastime?
Hardiman: I love spending time with my family and my cousins. I'm really close to them, so I love hanging out with them whenever I can.
- If you weren't an actor, which profession you would have chosen?
Hardiman: I think I would actually love Event Planning, which is funny, as it's what Margot and Brooke dream of doing! But I love planning parties, I think I'd really enjoy it.
Q) In 2022, you will be seen in the BBC series 'Wrecked'. Tell us more about it and what kind of character do you play on the show?
Hardiman: Yes I'm really excited about Wrecked! It will be out next year on BBC3! Unfortunately, that's all I'm able to say about it for the moment. We're currently in production with an amazing cast and crew. I can't wait for everyone to see it!
Q) Apart from 'Wrecked', any future project fans should be excited for?
Hardiman: Hardiman: I do have some projects in the pipeline. But, I can't discuss them right now.