'Dr Pimple Popper' Season 8: Dr Lee helps Elaine get her groove back by removing her 'third breast'
Elaine refers to the growth on her love handle as her 'third breast', which has made her day-to-day living challenging UPLAND, CALIFORNIA: Dr Sandra Lee met a patient with a lipoma that was the size of a third breast in the latest episode of 'Dr Pimple Popper'. As her life becomes increasingly difficult, the patient sought the assistance of Dr Lee to get it permanently removed.
Elaine, 53, from Wylie, Texas, has a huge knot on her left side. She compares the lump's size to that of a breast. Even though it is soft to the touch, Elaine says it is a little hard when squeezed. The veins that protrude from the exterior of the mass contribute to its ugliness. She can't even get her arm to sit properly since it's right on top of it. Her clothes also cause her to chafe on a frequent basis.
RELATED ARTICLES
'Dr Pimple Popper' Season 8: Dr Sandra Lee helps to fulfill Casey's lifelong dream by removing her facial birthmark
'Dr Pimple Popper' Season 8: Dr Sandra Lee helps Jerry say goodbye to neck Lipoma and welcome a new rock career
Elaine initially noticed the bump four years ago. She was taken to the clinic after noticing the third love handle, where she underwent a sonogram and was told it was only a pocket of fat that should be left alone. She wants it removed now that it has grown significantly and is causing her everyday misery. Not only is the lump sensitive, but it also gives out a burning sensation. Working in the beauty sector as a certified barber, hairdresser, and makeup artist while having her own salon, the lump has an impact on her bookings and outings. She consulted Dr Lee to ensure that her business is not further harmed.
Dr Lee was taken aback when she examined Elaine's lipoma and saw how large it had grown in just four years. Dr Lee compares the lump to a callus because it seems like the region has been beaten up. Elaine informs Dr Lee that the skin's outer layer (around the lipoma) is extremely sensitive, much like a breast. Dr Lee notes that the lipoma is hanging off the stalk of the skin, and she is still surprised at how sensitive the bulge on her skin was. Furthermore, the vein bursting through the skin makes Dr Lee wary of getting involved in the vein's business.
Dr Lee begins the surgery by numbing the region, keeping a number of things in mind (the veins or vascular skin and the discomfort or sensitivity in the area). Dr Lee attempts to squeeze the lipoma out in one piece after creating an incision on the lipoma with minimum bleeding. Even though the pop was smooth, several blood vessels needed to be properly cauterized so that Elaine did not bleed.
Whereas the lipoma was initially quite pretty, it became stuck at the base, so Dr Lee removed the upper half to see what was going on beneath. She then removed as much as she can, despite the fact that she believed it went far within, something Dr Lee preferred to avoid.
Dr Lee sewed her up after removing the excess skin, ensuring that the lipoma does not reappear. Dr Lee added that there may have been a small amount of lipoma that she missed since it was tucked below her belly muscles, but she assures Elaine that she will be there for her if it returns.
Elaine is feeling fantastic six weeks after her operation. She used to be in chronic agony due to her lipoma, but both the discomfort and the lipoma are now gone.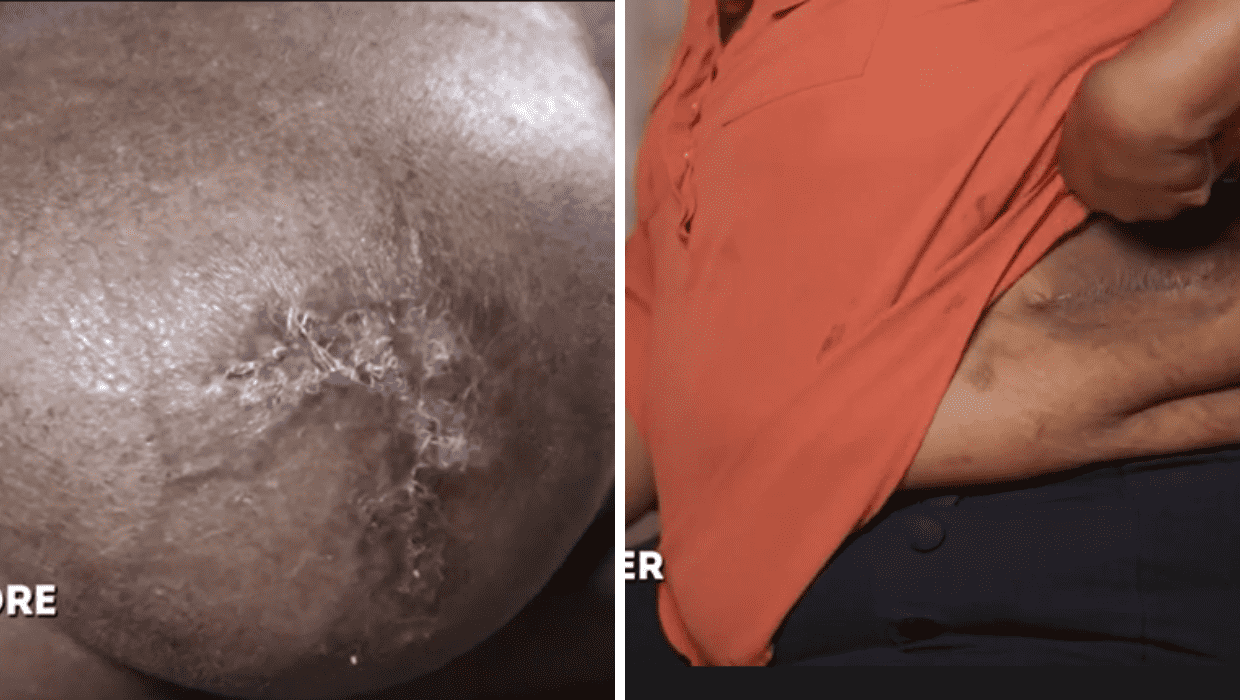 'Dr Pimple Popper' Season 8 airs on TLC every Wednesday at 9 pm.
Share this article:
'Dr Pimple Popper' Season 8: Dr Lee helps Elaine get her groove back by removing her 'third breast'