'Dr Pimple Popper' Season 8: Dr Sandra Lee finds diagnosis for James' mysterious growths in abdominal area
James' life is a living nightmare because of inexplicable, huge growths on his inner thigh and lower abdomen Having unsightly and painful skin problems is bad enough, but having a mysterious one is a whole different story. Dr Sandra Lee finally finds a diagnosis for her patient who has been hunting for an explanation for over 30 years in the newest episode of 'Dr Pimple Popper' Season 8.
James, 40, of Muscle Shoals, AL, has unexplained growths on the back of his leg and lower abdomen. When he was eight years old (in 1990), he was hit in the lower abdomen by a baseball. He had to have surgery, which left little bumps around the region. The bumps grew in size over time and are now rather hefty, maybe weighing 5 pounds. The second one that appeared was on the right leg (beginning in 2016), which began as a pimple and grew larger and larger. Many deep crevasses in it resemble an "old dried up brain." It appears to weigh around 6-7 pounds. He noticed a strange growth on his upper right thigh around 2-3 years ago (in 2019). His growths are a mystery since he has seen several doctors and had a CAT scan; he has been promised by the doctors but has never met. According to James, the worst growth is on his right leg, where the weight feels like a thousand needles. He attempts to open up the gaps on the growths so that he can clean them on a regular basis to help keep the infections at bay since the lobes on it, the skin, will really die or rot off. It will, at the very least, be painful. He also admits that he had a staph infection and that his white blood cell level was quite high. He was in the hospital for three days for that, so his greatest concern is that the unexplained growth would kill him one day. Not only that, but he has a supportive wife, Leslie, and a little daughter with a heart issue. He goes on to say that his daughter has already undergone five open-heart surgeries, and he doesn't want his disability to prevent him from being there for her.
RELATED ARTICLES
'Dr Pimple Popper' Season 8: Dr Lee helps Alexis get rid of facial cyst and come out of her hermit life
'Dr Pimple Popper' Season 8: Robert is no longer 'Mr Alligator Arms' as Dr Lee removes his 'eruptive xanthomas'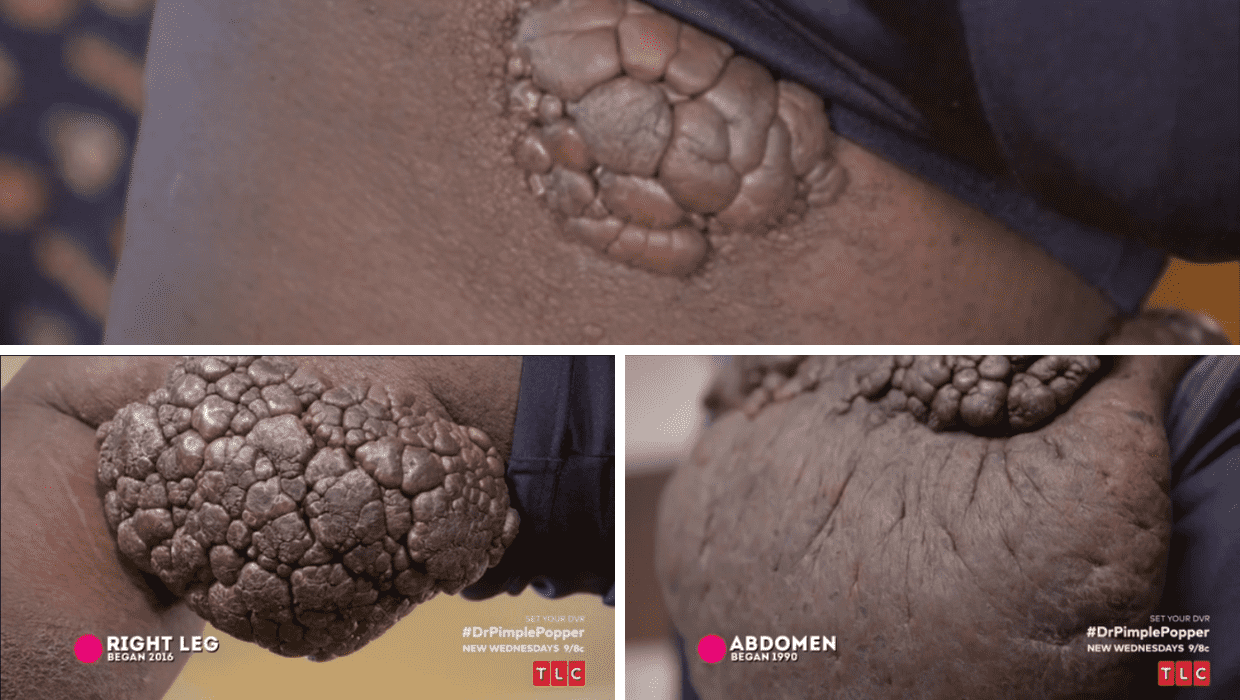 After seeing over ten doctors, James seeks out Dr Lee as the last resort. James already sounded like a difficult case to Dr Lee. He's seen multiple physicians, but none of them have done a skin biopsy on him. Dr Lee feels that she is not getting all the information from the patient or that the case will be difficult for her to manage when she hears a situation like this. Dr Lee refers to James' "mysterious growth" area from beneath his lower abdomen as the Super Pubic Area. The region is essentially the meeting point of our upper abdominal and pubic regions. On closer inspection, Dr Lee observes how hard the growth is. Dr Lee is amused by James' story about riding a motorbike and how the vibration caused the growth to flatten. It no longer happens now that the motorcycle is gone. Dr Lee refers to the area as the Pannus, which is the upper portion of the pubic region. Dr Lee has never seen somebody with such a condition and has no clue how a certain vibration might affect it. She has no notion what kind of illness he is suffering from. In a confessional, Dr Lee acknowledges that James is a bit of a mystery. He also shows Dr Lee the new growths that are just beginning to develop.
Dr Lee informs James and his wife that when she encounters bumps like his, particularly in the groin area, she is obligated to consider Genital Wart. She believes his ailment is related to a massive Genital Wart. However, she believes James may have Elephantiasis Nostras Verruciformis, a condition in which lymphatic enlargement develops a blockage in the region. Dr Lee believes James' surgery may have harmed his lymphatic system, which aids in the removal of toxins from our bodies. As a result, his disease might be a result of terrible lymphatic drainage. Dr Lee also suggests a biopsy to assist determine the correct diagnosis. The look of James's growth is what is known as verrucous (the medical name for wart), which is described as filiform, bumpy, and mammillated. It has several grooves and deeps. Dr Lee believes the growths on his right side are the result of lymphatic system injury and subsequent surgery when he was very young. But all of this is simply conjecture. As a result, Dr Lee collects two samples, one from his abdomen and one from his leg, and sends them to pathology.
James returns for another consultation. His biopsy findings reveal that James has chronic lymphedema, most likely caused by his injuries, and the growths are how she first suspected Elephantiasis Nostras Verruciformis, a side effect of lymphatic damage. James has chronic lymphedema, which is a buildup of lymph fluid in the body caused by his injuries and subsequent surgery, which may have produced scar tissue and obstruction of some type. That's why it happened so near to the Super Pubic Area, yet as one backs off, they can notice his entire body is bulking up even further. Unfortunately, Dr Lee informs the couple that she will be unable to help James with his ailments. But she also tells him that she will find someone who can. For all of this to go away, the lymphatic system must be repaired first, and removing one of the bumps might cause complications, so it must be tracked down to the source. So she pledges to find them a qualified specialist. Dr Lee suggests utilizing vibration to prevent bumps from developing (like it did when James rode his motorcycle). She measures him in order to check if this will work. Even though Dr Lee was unable to treat James's ailment, this was the closest he had gotten to a diagnosis.
Tune into TLC on August 10 at 9 pm for a brand-new episode of 'Dr Pimple Popper' Season 8.
Share this article:
'Dr Pimple Popper' Season 8: Dr Sandra Lee finds diagnosis for James' mysterious growths in abdominal area