Trump Jr called 'f**king low life' for selling 'Alec Baldwin kills people' shirts The internet had strong words for Donald Trump Jr after he attempted to cash in on the tragic killing of Halyna Hutchins. On October 25, the son of the former president began selling shirts on his online store with the caption 'GUNS DON'T KILL PEOPLE ALEC BALDWIN KILLS PEOPLE' for $27.99. Apart from taking advantage of the tragedy on the sets of 'Rust', the shirts were meant to weigh in on the gun control debate.
The shirt isn't even the first bit of Trump merch to draw condemnation. Way back in May 2019, Trump unveiled his 'LGBTQ for Trump' shirts just hours after his administration proposed a bill removing healthcare protections for transgenders. Then in June 2020, the Trump reelection campaign drew massive flak for selling 'Baby Lives Matter' onesies imitating the Black Lives Matter logo. In August 2021, the former President offered to sign his famous MAGA hats for at least $25 in donations.
RELATED ARTICLES
Donald Trump Jr trolled for attack on Joe Biden: 'Decline in his cocaine quality'
Donald Trump Jr trusts Dog The Bounty Hunter more than FBI in finding Brian Laundrie
The Trumps are no stranger to using tragedies to their advantage. From the Charlottesville rally in 2017 to the BLM protests in the summer of 2020, the ex-President has frequently displayed a lack of empathy for Americans, and now it seems like his son is literally following in his footsteps.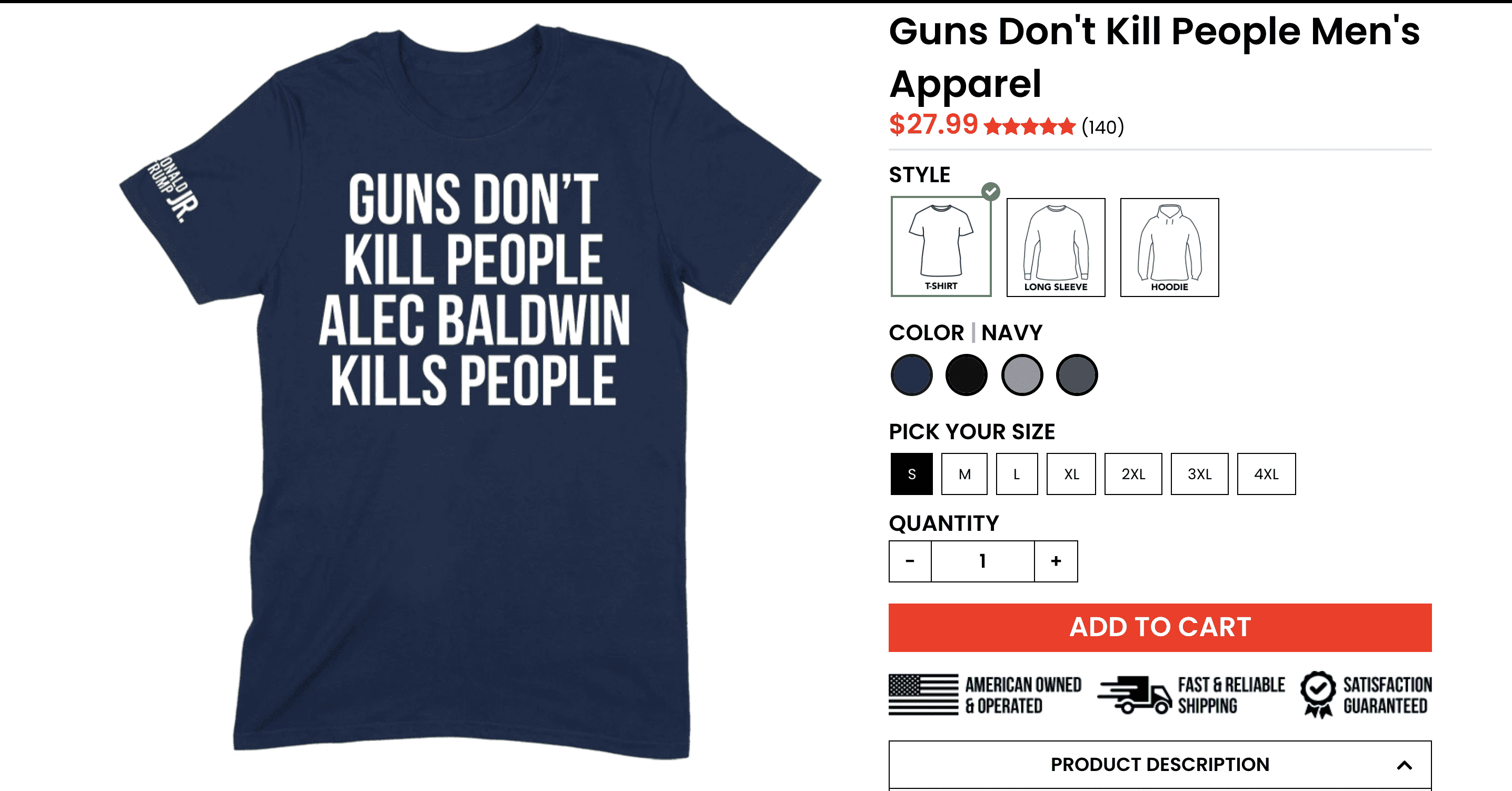 Controversial shirts still available
The shirt is a play on the popular anti-gun control slogan "Guns don't kill people, people kill people." On October 25, they went up for sale on Trump Jr.'s website and were even promoted by him via social media. 'Get yours today' he said on an Instagram story promoting the shirts. They quickly caught the eye of social media and led to a massive campaign condemning Trump Jr.
At the time of publication, the shirts are still available for sale on the website. With a list price of $27.99, you can pick up the shirts in navy, black, grey, or green. They are available as t-shirts, long sleeve tees (for $29.99), and even as hoodies (for $39.99). It's just one of the many controversial pieces of clothing Trump Jr. sells. You can also pick up 'Let's Go Brandon', 'FJB', and 'Everyone has a crazy Aunty Nancy' tees and hoodies, all clearly meant to mock President Joe Biden and House Speaker Nancy Pelosi.
The review section below is filled with some truly nasty responses, as people mocked Donald Trump and Trump Jr. That fury also made its way to Twitter, where users were quick to slam Trump Jr. with some choice words.
'Eric might be the smartest kid'
"Only the lowest of the low like the vile @DonaldJTrumpJr would put something like this out! Someone should make a shirt stating 'Vaccines Don't Kill People, Covid, Lies and Donald J Trump Do'!" one person tweeted. Another slammed, "@DonaldJTrumpJr wow, what a f----n low life! A family lose their Mother, Daughter, Wife, and this scumbag makes a T Shirt to profit off of it? What a piece of s--t." Another was more reserved in their criticism, saying, "I am not a fan of Alec Baldwin or Don Jr. but the t shirt thing is really uncalled for."
"Wow, just when you thought @DonaldJTrumpJr couldn't be a bigger POS, he makes sure he surprises us. Where is the shirt that says his daddy killed over 650,000??" one user asked. Another replied, "Just for the record every time we think the trumps can't go any lower you go and put out a tasteless shirt! The whole lot of you people were raised with no moral compass!!" Another mocked, "@DonaldJTrumpJr is selling a shirt about a women that was killed on a movie set. Pure trash. Just shows money doesn't make you smart. At this point I think Eric might be the smartest kid."
One user told Trump Jr, "Your shirt is in disgustingly poor taste, and the fact you don't realize this is alarming." Another tweeted, "I don't like Donald Trump Jr. nor do I hate him, but selling a shirt about is referencing someone who just died a few days ago is deplorable in every definition of the word. If you want to sell your political merch, fine, but don't do it as a family is grieving over a loved one." To sum up the situation, one person said, "Don Jr. is all the proof you need that the douche doesn't fall far from the bag."
If you were wondering if Trump Jr. issued an apology, he hasn't. Instead, he's only doubled down. Neither Baldwin nor Hutchins' family has so far commented on the shirts. Baldwin has currently gone underground to take time off after he was left "inconsolable" by the accident.