Are those against CRT and vaccine mandate 'terrorists'? Truth behind Biden's 'war'
Conservatives slammed DoJ's announcement against those inciting violence and threatening schools. They dubbed it 'criminalizing parenting' Families protest any potential mask mandates before the Hillsborough County Schools Board meeting on July 27, 2021, in Tampa, Florida. (Octavio Jones/Getty Images)
Many Americans believe that the Biden administration is now at "war" with them over their opposition to mask mandates and Critical Race Theory (CRT). On social media, claims have now blown up that the government is targeting all those that do not agree with its "liberal agenda", led by Republicans like Kevin McCarthy. However, in reality, it appears to be another false claim by the GOP as part of its widespread attack on the Biden administration.
The allegations came after violence broke out at multiple schools and board meetings in recent weeks, prompting the DoJ to step in. In early September, Arizona dad Rishi Rambaran made headlines for marching into his son's school, to "arrest" the principal for forcing his son to quarantine. In late September, a Minnesota dad was attacked by an anti-masker for supporting his school board's mask mandate.
RELATED ARTICLES
Iowa parents threaten to remove their kids, defund school over mask mandate
Lauren Pefferle: Oregon teacher comes to school in blackface to protest vaccines
Such incidents have prompted the DoJ to announce it will investigate and address violence and threats being made towards schools, teachers, and board members. However, not everyone is happy with that decision and have hit back by accusing the administration of "criminalizing parenting".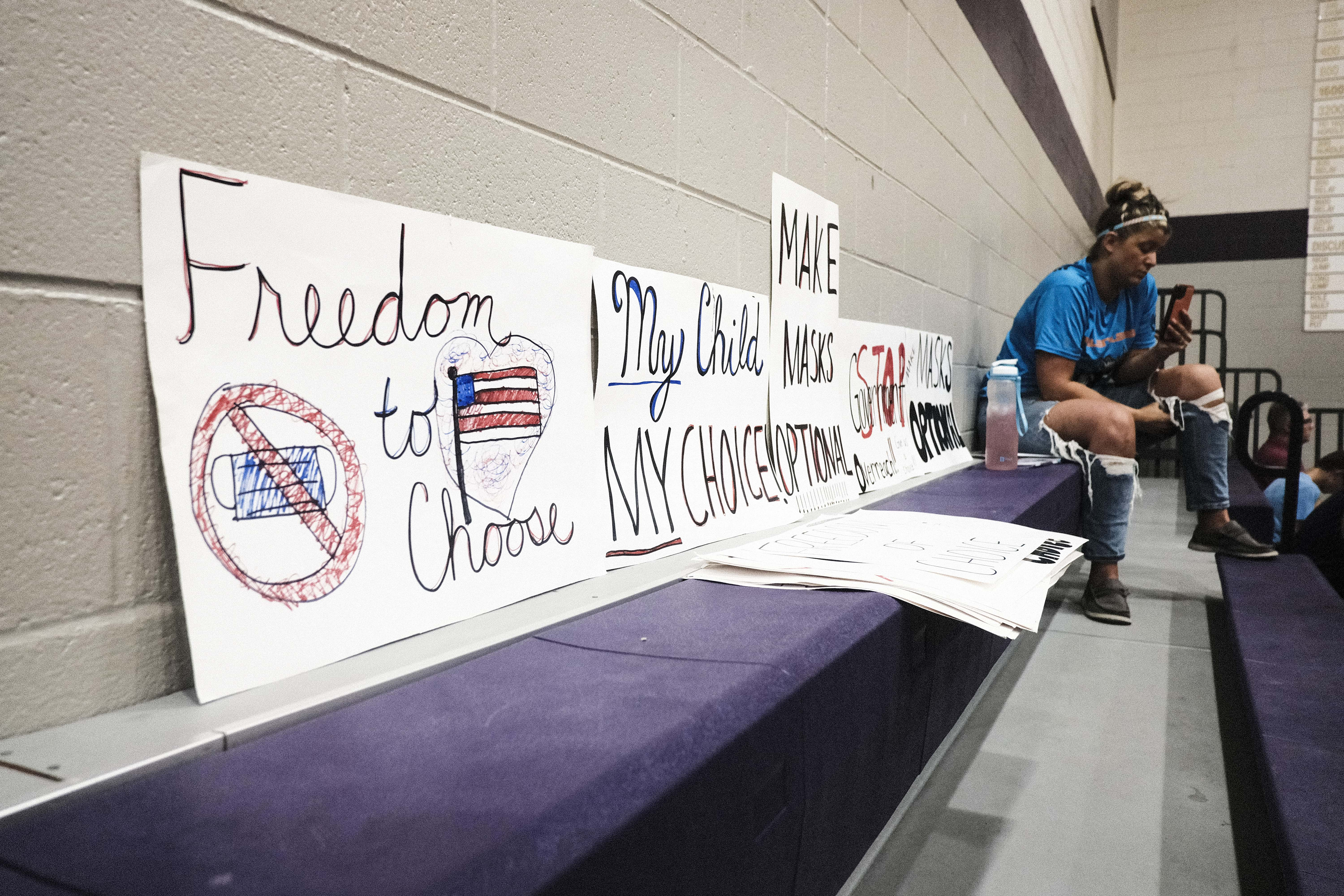 'Public schools under threat' says NSBA
The DoJ announced it would launch investigations to combat "threats of violence" on October 4. That decision was made by AG Merrick Garland after a September 29 letter by the National School Boards Association (NSBA). In their letter, the NSBA said, "America's public schools and its education leaders are under an immediate threat." They dubbed the threat twofold, first from the controversial Critical Race Theory (CRT), which they insisted "is not taught in public schools and remains a complex law school and graduate school subject."
Secondly, the NSBA noted that "As our school boards continue coronavirus recovery operations within their respective districts, they are also persevering against other challenges that could impede this progress." In that letter, it was the NBSA that dubbed the opposition and protests as "domestic terrorism", saying, "the classification of these heinous actions could be the equivalent to a form of domestic terrorism and hate crimes."
Nowhere did the DoJ or the Biden administration dub protests as 'terrorism', it was a phrase used only by the NSBA. In response to that letter, the DoJ said, "The Justice Department will launch a series of additional efforts in the coming days designed to address the rise in criminal conduct directed toward school personnel." The DoJ clearly noted that its investigation was targeted towards "harassment, intimidation, and threats of violence against school board members, teachers, and workers."
---
#BREAKING: Attorney General Garland has instructed the FBI to mobilize against parents who oppose critical race theory in public schools, citing "threats."

The letter follows the NSBA 's request to classify protests as "domestic terrorism." pic.twitter.com/UJrjoPss2S

— Biden_Squadron (@BidenSquadron) October 5, 2021
---
The truth behind claims of 'war'
Asra Nomani, the vice president of investigations and strategy at Parents Defending Education (PDE) was one of the many parents who slammed the DoJ's decision. She told The Daily Mail, "I would urge President Joe Biden to reflect deeply on the classic liberal ideas of democracy, equality and free speech to recognize that his administration is waging a very dangerous and ill-advised war on parents who are simply seeking to raise their children in a world in which human beings are valued not by the color of their skin but the content of their character." She also dubbed the DoJ's decision as "criminalizing parenting".
The reality though is that the Biden administration isn't targeting everyone, but only those that pose a threat to parents, teachers, and other staff members. The DoJ's memo clearly noted that it would only address cases of harassment and violence, not everyone who opposes mask/vaccine mandates, or CRT education. Parents can use forums like school board meetings to address their concerns, and when done so in a safe and legal manner won't be targeted by the DoJ.
That violence is also what the NSBA wants to stop. In its letter, the association clearly spelled out several instances of violence breaking out at school board meetings, as well as other examples of parents disrupting proceedings. "School boards have been confronted by angry mobs and forced to end meetings abruptly," they noted. It also encouraged parents to speak up, saying, "It is vital that public discourses be encouraged in a safe and open environment, in which varying viewpoints can be offered in a peaceful manner."
Both the NSBA and DoJ have made it very clear what they oppose is violence and harassment, and not the opposition of viewpoints. The claims that the government is at "war" are completely false, as are the allegations that "liberal education officials and special interest groups see it as a threat to the power they want to have".