Christopher Kivlin: School put on lockdown after anti-masker dad's threatening call SARASOTA COUNTRY, FLORIDA: A father apologized after he threatened to confront an elementary school assistant principal in Sarasota, forcing the school to go into a limited lockdown on Tuesday, August 31.
A police report outlined how parent Christopher Kivlin threatened to leave his job and drive down to the school to confront the official, prompting Ashton Elementary School to be placed on lockdown. According to WFLA, Kivlin showed up at the school and argued that the district was violating the law by not allowing his children at the school if they didn't wear a mask. The district reportedly allows schools to send students home if they don't comply with its strict mask mandate.
RELATED ARTICLES
Texas Supreme Court slammed for allowing a ban on mask mandates: 'They like to kill Texans'
What is 'mask apartheid'? Parents 'gobsmacked' as schools say kids without masks will be kept away from friends
"I'm irate. I have to punch out of work because my wife is breaking down, thinking the law is going to come down on here because the school is refusing to let my kids into school, I need answers," Kivlin told the station, before apologizing for forcing the school to go into lockdown. "There was no intention of physical harm, I'm irate," he continued. "I apologize if I freaked anybody out, it was nothing like that. All the kids were safe, it was just emotions built up."
"I found out after the fact that the school had to go into lockdown, I was like, that's horrible. I feel like I might have scared other parents," Kivlin added. He was reportedly told not to come back to school without first calling and asking for permission, authorities said. According to district leaders, the lockdown was put in place "out of an abundance of caution," per WFLA.
Sarasota County Public Schools district has enforced a 90-day mask mandate without a parental opt-out clause. The requirement was passed last month and went into effect on Monday. In response, the Florida Department of Education has threatened to withhold funding for the district as it is violating Gov Ron DeSantis' executive order banning mask mandates.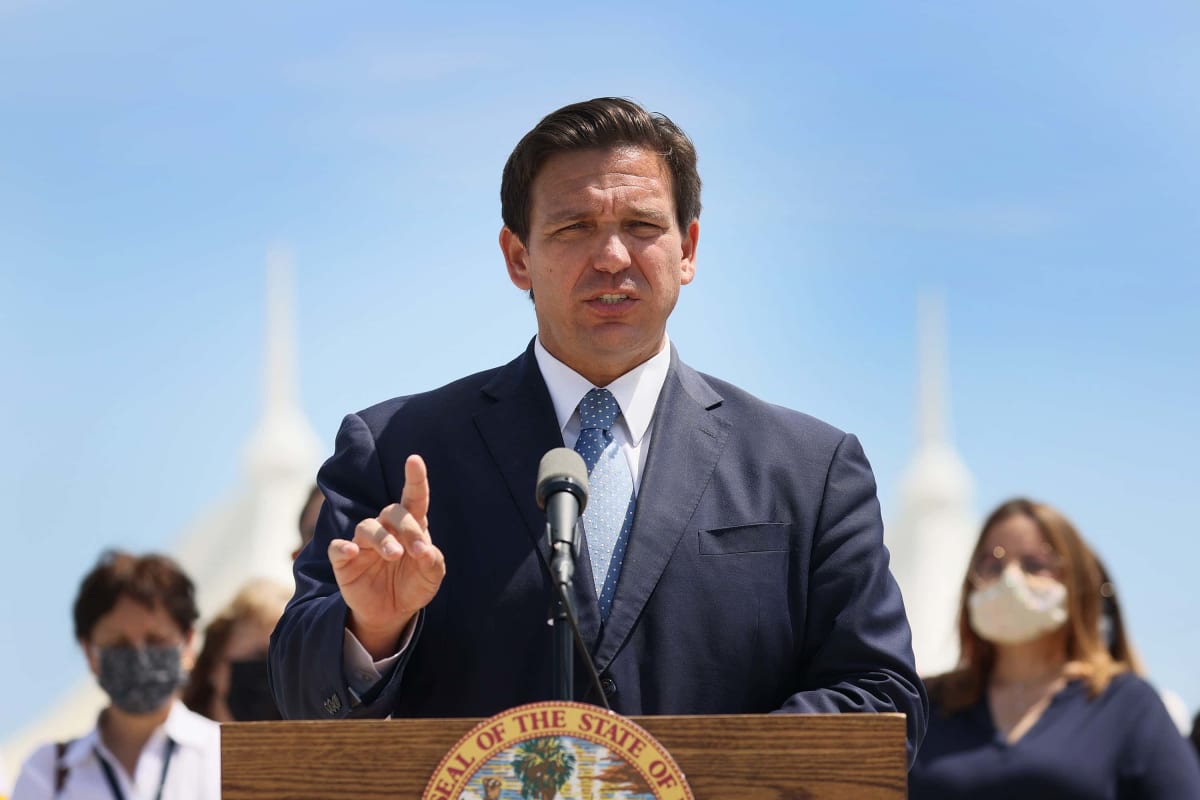 DeSantis on Thursday appealed a Democrat judge's ruling that he had exceeded his authority in banning coronavirus mask mandates in schools. The executive order was unconstitutional and couldn't be enforced, Leon County Circuit Judge John Cooper last week. However, the ruling was automatically stayed by the Governor's latest appeal.
DeSantis's order allowed parents to use their discretion whether they wanted their wards to wear masks to school, as opposed to local school districts making that decision for them. However, a group of parents in favor of mask mandates brought a lawsuit against that order.
The governor said this week that he's confident the state will win in the 1st District Court of Appeal in Tallahassee citing the Parents Bill of Rights, a new state law that gives parents the final authority over their children's health. "We'll end up getting it back," DeSantis told reporters earlier this week. "Obviously [Cooper's ruling], it's problematic."
He stressed the importance of parents having the ability to decide what's best for their children. "We think it's important that they are given the ability to opt out" of wearing a mask, DeSantis said.
"It's not surprising that Judge Cooper would rule against parents' rights and their ability to make the best educational and medical decisions for their family, but instead rule in favor of elected politicians," DeSantis spokeswoman Taryn Fenske said of the ruling. "This ruling was made with incoherent justifications, not based in science and facts — frankly not even remotely focused on the merits of the case presented," she added.