Chad Daybell had 'vision' of wife Tammy's death 8 months before he and Lori Vallow allegedly killed mother-of-five BOISE, IDAHO: Chad Daybell allegedly predicted his wife's death eight months before he and 'cult mom', Lori Vallow, allegedly murdered the mother-of-five. Vallow, 49, and her fifth husband Daybell, 54, are accused of killing his wife, Tammy Daybell, at the couple's home in Rexburg, Idaho, in October 2019. In addition, they also stand accused of a sick plot, fueled by their religious beliefs, to "mercy kill" Vallow's children, Joshua "JJ" Vallow, 7, and Tylee Ryan, 16, a month before, September 2019
Alice Gilbert, a friend of Tammy's testified during Vallow's high-profile murder trial on Tuesday, May 2, that Daybell claimed "he had a vision that Tammy's time on Earth was coming to an end." "He didn't know how or when - but he didn't see her living past the age of 50," Gilbert told the Ada County Courthouse in Boise.
RELATED ARTICLES
Summer Shiflet: Lori Vallow's sister slams 'cult mom' for 'dancing on beach' while her children were buried in ground 'like trash'
Lori Vallow trial: JJ's aunt Kresha Easton had 'crazy dream' about nephew's death months before his body was found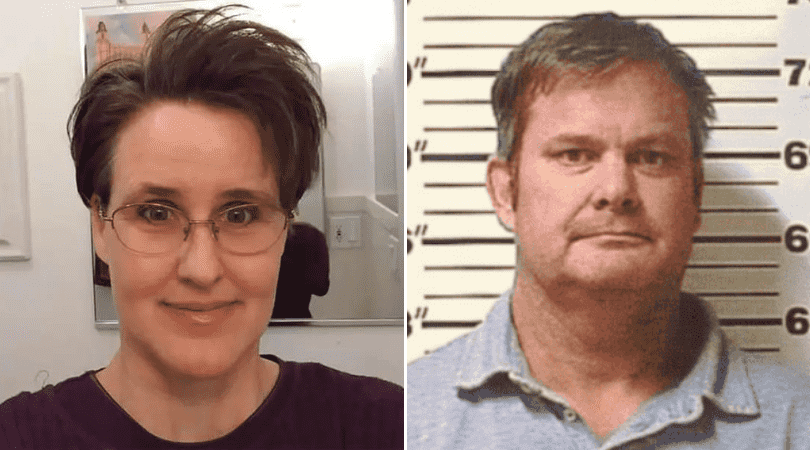 Lori's former friend, Melanie Gibb testified previously about comments made by Lori regarding Tammy and her slain children before they went missing. As per Gibb, Lori believed Tammy had been taken over by a Satanic, "dark" spirit weeks before her death, around the time she suspected Chad was having an affair. Chad had told Lori that Tammy "would be passing away early in her life," before she would turn 50. Strangely his ex-wife would have turned 50, the following May.
Gilbert tearfully told the jury that she was "shocked" when Daybell introduced them to Vallow as his girlfriend just a week after Tammy's funeral. "They came in and sat on the couch. They were quite affectionate with each other," she recalled. "It was abnormal for us to see Chad that way. His arm was around her, he had his arm over her legs. She was giggling and laughing. For my husband and I, we were embarrassed just because we hadn't seen Chad that way. They looked like teenagers," reported Daily Mail. Gilbert said that when she asked if Vallow had any children, Daybell and Vallow claimed that she had a daughter who had died recently. They did not provide any details about the daughter's death or mention her younger brother, JJ.
"I had the impression that Lori had no other children, that she was an empty nester. I thought the daughter who had died was like an older daughter who died of cancer or illness or something," Gilbert told the court. Prosecutors claim Daybell's first wife, Tammy, was murdered by the pair, after an autopsy, which the former refused following her death revealed she had died as a result of asphyxiation.
At the time, Vallow's children were reported missing until their burnt corpses were discovered on Daybell's property in June 2020. The 'Doomsday couple' married two weeks after Tammy's death on a beach in Kauai on November 5, 2019. Although, authorities claimed that receipts from an Amazon purchase show Vallow purchased her own wedding ring almost three weeks before Tammy's death.
Vallow was arrested in Hawaii on suspicion after her children were reportedly missing. Daybell approached Gilbert at her house to lend him money so that he could post his wife's bond. "When he asked us to do this bond, I felt like 'because you are asking this of us, I am going to ask you some questions,''' Gilbert recounted. "I asked him, 'Where are the kids Chad. Doesn't Tylee deserve a life, a car, a boyfriend." And he said, "She didn't like people and she didn't like me."' Gilbert told the jurors that Daybell's response struck her "because he used 'didn't' - he used the past tense." She also mentioned Daybell's unusual behavior after his wife's death and that the funeral arrangements were made "very quickly."
Furthermore, Gilbert claimed when she went over to visit the Daybell property on the morning of Tammy's death, "the children were stunned. They were all on the couch and chairs and they could hardly speak. They were stunned. Chad was not stunned," she testified. In the following days, she recalled their daughter, Emma, saying of her father that "he didn't want anything to do with her or her siblings." Gilbert added that their son Garth said, "he was hoping he wouldn't lose his dad too." After the funeral, Gilbert wanted to check on Daybell. She called him and asked if she could visit, but he refused and said he would come to her home instead.
"He came in and he sat in the kitchen. We asked him how he was doing and he said, 'Well I'm doing really good', and that he had met the woman that he was going to marry," Gilbert testified. "We were shocked and he went on to say how beautiful she was." According to the prosecutor, the couple allegedly killed Tammy and JJ, and Tylee because they were obstacles to their relationship. "Remember, the defendant will remove any obstacle in her way to get what she wants, and she wanted Chad Daybell," prosecutor Lindsey Blake told jurors. "The defendant used money, power and sex to get what she wanted."
According to prosecutors, the couple allegedly planned to use the life insurance money from Tammy's death to further their relationship. They also accuse Vallow of continuing to collect and spend the social security and benefits of her children after they were killed.
Vallow pleads not guilty to two counts of first-degree murder and three counts of conspiracy related to the deaths of her two children and Tammy. She also denies taking government benefits meant for her children.
Share this article:
Chad Daybell predicted wife Tammy's death 8 months before he and Lori Vallow allegedly killed her