FIRED 4: From embattled CEO to the man who banned Trump, here's who Elon Musk binned first SAN FRANCISCO, CALIFORNIA: Elon Musk did not waste time cleaning the house after formally taking over Twitter - immediately firing several top executives as he declared on the platform, "The bird is freed."
Among those culled just hours after Musk finalized the $44 billion acquisition were Twitter CEO Parag Agrawal, chief financial officer Ned Segal, the top lawyer for the firm, Vijaya Gadde, and Sean Edgett, the company's general counsel, among others. The SpaceX CEO appeared to mark his new position moments after the takeover, with sources claiming the fired executives were hastily escorted out of Twitter HQ.
ALSO READ
'Let that sink in': Elon Musk walks into Twitter HQ with a sink in hand as deal deadline closes
'It will become 4Chan': Twitter liberals throw their toys out of the pram as Elon Musk takes charge
Parag Agrawal
Thirty eight-year-old Parag Agarwal served as chief executive officer of Twitter since 2021, when he took home a compensation of $30.4 million.
Agarwal took over the reins after former CEO and co-founder Jack Dorsey stepped down from the position in November 2021. He has been known to clash with Musk over Twitter's bot accounts after the billionaire claimed the platform exaggerated how many users it had and downplayed the number of spam accounts or bots. Agarwal maintained that only around five percent of accounts on the platform were bots. Responding to the now-former CEO's lengthy explanation of calculations on Twitter, Musk posted a "poop" emoticon.
That said, the pair is also said to have argued behind closed doors. They reportedly exchanged text messages that suggested a falling out, as revealed in documents disclosed during the court battle between Musk and Twitter. Records indicate that Dorsey, Musk, and Agrawal convened a Google Hangout to discuss the takeover on April 26, and the conversation apparently didn't end well. "At least it became clear that you can't work together. That was clarifying," Dorsey reportedly said at the end of the discussion.
Ned Segal
The 48-year-old Ned Segal served as Twitter's chief financial officer since 2017 and took home $18.9 million last year.
As reported by the Daily Mail, it was Segal who announced in February 2021 that Twitter's ban on former President Donald Trump would be permanent. Musk criticized that decision and has said he intends to reverse it. "The way our policies work, when you're removed from the platform, you're removed from the platform, whether you're a commentator, you're a CFO, or you are a former or current public official," Segal told CNBC. "Remember, our policies are designed to make sure that people are not inciting violence, and if anybody does that, we have to remove them from the service and our policies don't allow people to come back." Segal also did not align with Musk's approach to finance, after announcing in November that he didn't think investing in cryptocurrency was a good move for Twitter. Meanwhile, Musk is known to be a fan of cryptocurrency and has championed meme coins such as Dogecoin.
Vijaya Gadde
48-year-old Vijaya Gadde was head of legal policy at Twitter since 2011. Last year, she took home a salary of $17 million.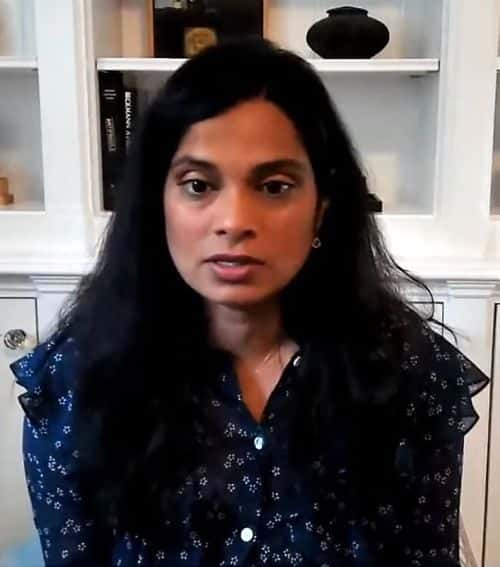 Gadde has previously been described as Twitter's "moral compass" and fiercely defended the platform's role as a censor and arbitrator. Many considered her to be one of the first execs that would be fired by Musk. It's worth noting that Gadde spearheaded the idea to stop political advertising on the platform in October 2019. She later played a central role in the decision to suspend the New York Post's account when it reported on Hunter Biden's so-called "laptop from hell." At the time, Twitter claimed it was company policy to prevent the promotion of hacked material, but was forced to apologize following a major backlash. What's more? In January 2021, Gadde called then-CEO Jack Dorsey to inform him they were banning Trump for violating policies against "inciting violence."
Sean Edgett
48-year-old Sean Edgett had served as Twitter's general counsel since 2017. His annual salary, however, is unclear.
Edgett was known to be a close ally of Gadde and reassured staff last week that there were no plans for mass layoffs. "Please note that there will continue to be a great deal of public rumor and speculation as we get closer to closing the deal," Edgett wrote. "First, we have no confirmation of the buyer's plans after closing and recommend not following any rumors or leaked documents, but instead awaiting facts from us and the buyer directly." He claimed there were "targeted cost-cutting discussions and plans" earlier in the year, but those concerns were erased when Twitter signed a deal with Musk. Edgett has also previously warned employees to refrain from sharing their opinions on Musk's takeover bid on social media. As mentioned, insiders told The Washington Post that the fired executives were hastily shuttled from the Twitter headquarters building in San Francisco.
Disclaimer : This is based on sources and we have been unable to verify this information independently.