'Celebrity Wheel of Fortune': Chris Harrison, Chandra Wilson, Karamo Brown and all the celebrities appearing this year It's that time of the year again when Pat Sajak and Vanna White returns to our screens with the most famous carnival wheel, set to spin a few thousand dollars on the way of participants. But what makes it infinitely better are the familiar faces from films and TV alike that will grace 'Wheel of Fortune' on ABC this year with Season 38 of 'Celebrity Wheel of Fortune'. Sajak announced the last of this year's celebrity lineup in early December in a sneak peek promo and it's nothing short of huge. From The Bachelor to Queer Eye, and pretty much every nook and cranny of pop culture, this 2021 installment comes loaded and packed with big names that you must absolutely not miss. Curious if your favorites made the cut? Read on to find out the full lineup of celebrities in this year's Wheel of Fortune.
Karamo Brown
The 40-year-old culture expert of Netflix's revamped 'Quer Eye' is a hit with the masses for being so in tune with his own, and others' emotional and innermost feelings. On the makeover reality show, Bown helps participants to get in touch with themselves, find faith and strength to overcome obstacles, and as a self-help guru pretty much, he does the job of helping people see themselves to their fullest potential.
Brown's career started with the 2004 heterosexual dating reality show 'The Real World: Philadelphia' even though he had been out since 16. Thus he became the first openly gay Black man cast on a reality show. He later competed in the 'Real World/Road Rules Challenge: The Inferno II', and following that took a significant hiatus from television, returning all the way in 2016's TV One's the Next 15, which followed him and five other reality stars. Brown has also been a contributing host on HLN's 'Dr. Drew On Call', YouTube's 'The Young Turks', as well as host and producer of HuffPost Live for Huffington Post and a recurring guest host of Access Hollywood Live. With his illustrious career in both activism and hosting reality TV, Brown has been awarded the 2018 Human Rights Campaign Visibility Award and the 2020 Primetime Emmy Award Nominated for Outstanding Host for a Reality or Competition Program.
Yvette Nicole Brown
An actress, voice actress, writer, comedian, and host, Brown has dabbled in a lot of things in the entertainment industry so far. Heer's most popular stint still remains as Shirley Bennett on the NBC comedy series 'Community', followed by her recurring role of Helen Dubois on the Nickelodeon sitcom 'Drake & Josh'. From Dani in the 2015 version of 'The Odd Couple' on CBS and to Dina Rose on the ABC sitcom 'The Mayor' and Nora, AA sponsor to Christy, Anna Faris's central character on 'Mom', Brown is quite the familiar face in TTV. She has also had stints in 'That '70s Show', 'The Office', 'Boston Legal', 'Chuck', and 'The Soul Man'. er supporting credits in films sees titles like '(500) Days of Summer', 'Tropic Thunder', 'Repo Men', and 'Percy Jackson: Sea of Monsters'. She has also co-hosted talk shows including the likes of 'The View', 'The Talk', and also 'The Real'.
Nicole Byer
Known for her prolific career in comedy, Byer is an actress, writer, television host, and podcaster. Her most popular gig is Netflix's comedy reality baking show 'Nailed It!' (2018–present), for which she received a Primetime Emmy Award nomination. Her other sources of fame happen to be the commentary show 'Girl Code' (2013) and the MTV/Facebook Watch comedy series 'Loosely Exactly Nicole' (2016–2018), which was based on her real-life experiences. Her list of guest appearances includes shows like '30 Rock' (2012), 'Family Guy' (2016), 'Transparent' (2016–2017), 'The Good Place' (2019), 'Brooklyn Nine-Nine' (2019–2020), and 'The Simpsons' (2019). Films like 'Other People' (2016), 'All About Nina' (2018), 'Bad Hair' (2020), and 'Valley Girl' (2020) have also featured the 34-year-old. Byer has also hosted the HeadGum podcast 'Why Won't You Date Me?' before she began co-hosting the Earwolf podcast 'Best Friends' in 2019.
Drew Carey
The master comedian is no stranger to television. As also an actor and game show host, Carey's career in the industry began after serving in the US Marine Corps. He then moved on to make a name for himself in stand-up comedy and gained massive stardom in his own sitcom, 'The Drew Carey Show'. Soon followed the hosting of the US improv comedy series 'Whose Line Is It Anyway?' and then came the movies, other television series, music videos, a made-for-television film, and a computer game. Carey has hosted the game show 'The Price Is Right' since 2007 and also worked as a photographer at US National Team soccer games. As the minority owner of Major League Soccer team Seattle Sounders FC, he saw his team won the MLS Cup, first in 2016 and again in 2019. Carey has also dabbled in professional wrestling - entering the 2001 Royal Rumble, and later being inducted into the WWE Hall of Fame in 2011. He has also published his autobiography titled 'Dirty Jokes, and Beer: Stories of the Unrefined'.
Rachael Leigh Cook
The Baby-Sitters Club actress is also known for movies like 'She's All That', and 'Josie and the Pussycats', and TV series like 'Into the West' and 'Perception'. Cook has also lent her voice for characters in 'Robot Chicken' and as Tifa Lockhart in the Final Fantasy series. Cook's first national fame came from the This Is Your Brain on Drugs PSA television advertisement, where she can be seen destroying a kitchen with a frying pan. She was also appointed a Champion for the Change for Arts Education by the Obama administration. The actress has also awarded small scholarships to students between the 14-19 age group, that helps pay for career classes, mentoring programs, and other school fees. Cook married actor Daniel Gillies in August 2004 after dating for three years. The couple went on to have two children: a daughter born September 2013 and a son born April 2015 before separating in June 2019.
Jennie Garth
As Kelly Taylor throughout the Beverly Hills, 90210 franchise, Garth was unmissable on TV screens. She also garnered insane popularity as Val Tyler on the sitcom 'What I Like About You' (2002–06). In 2012, her own self titled reality show 'Jennie Garth: A Little Bit Country' hit off on CMT, after she had appeared in the 2007 season of 'Dancing with the Stars' and was paired with Derek Hough, with whom she reached the semi-finals in the competition.
Garth used to be married to musician Daniel B Clark from 1994 to 1996, but she had met her second husband Peter Facinelli in 1995 while filming the movie 'An Unfinished Affair.' The couple married five years later in 2001 and have three daughters; Luca Bella (b. 1997), Lola Ray (b. 2002), and Fiona Eve (b. 2006). Facinelli filed for divorce in 2012 and two years later Garth began dating actor David Abrams in the fall of 2014 after meeting on a blind date. They got married in 2015 and separated in 2017 and although divorce was filed in 018, Garth later appeared to have reconciled with Abrams and filed a petition to dismiss the proceedings of the divorce.
Garth, who had ranked No. 59 on the FHM 100 Sexiest Women of 2000, and No. 93 on the magazine's 100 Sexiest Women of 2001, was diagnosed with a leaky heart valve in 2002.
Chris Harrison
The name Chris Harrison is hard to ignore as the man single-handedly holds the most popular hosting gig for a reality dating show of our times. Harrison has hosted the hit ABC reality television dating show 'The Bachelor' since 2002, and its spin-offs 'The Bachelorette' since 2003, 'Bachelor Pad' from 2010 to 2012, 'Bachelor in Paradise' since 2014, the first season of 'Bachelor in Paradise: After Paradise' in 2015, 'Bachelor Live' in 2016, and 'The Bachelor Winter Games' in 2018. Harrison has also served as the host of the syndicated version of 'Who Wants to Be a Millionaire' from 2015 to 2019.
Harrison, who is reportedly dating Entertainment Tonight reporter Lauren Zima, was previously married for 18 years to his college sweetheart Gwen Harrison before announcing they were going separate ways in 2012. heir marriage. They have two children, Joshua and Taylor.
Teri Hatcher
You might remember her as the scintillating Susan Mayer on ABC's 'Desperate Housewives'. The actress, writer, presenter and singer is also quite popular for playing Lois Lane in the TV series 'Lois & Clark: The New Adventures of Superman' (1993–1997). Hatcher has also made it to the Bond girl Hall of Fame as Paris Carver in the James Bond film 'Tomorrow Never Dies' amongst several other television and film roles. or playing Susan, she won the Golden Globe Award for Best Actress in a Musical or Comedy, three Screen Actors Guild Awards (one as the lead female actor and the other two as part of the best ensemble), and also a Primetime Emmy nomination for Outstanding Lead Actress in a Comedy Series. Married twice and mother of one, Hatcher began writing a column for Glamour magazine in 2007.
Tony Hawk
Popularly known under the moniker Birdman, Hawk is an American professional skateboarder, an entrepreneur, as well as the owner of the skateboard company Birdhouse. Having completed the first documented "900" skateboarding trick, Hawk went on to license a video game that was published by Activision. As a pioneer of modern vertical skateboarding, Hawk was named one of the most influential skateboarders of all time by FoxWeekly in 2014. Hawk has also starred in films and other media along with his own series of video games. His other indulgences include numerous philanthropic activities, including his own Tony Hawk Foundation that helps to build skate parks in underprivileged areas.
Hawk has been married four times and is a father to four children. His son, Riley, is also a professional skateboarder sponsored by Lakai Limited Footwear and Baker Skateboards. His second son Spencer is an electronic music producer, whose stage name is Gupi. Hawk has been married to his fourth wife, Cathy Goodman since 2015.
Robert Herjavec
The Canadian businessman, investor, and television personality founded BRAK Systems, which integrates Internet security software. He sold it to AT&T Canada (now Allstream Inc.) in 2000 for $30.2 million, and three years later, he founded The Herjavec Group, which is now one of the largest IT and computer security companies in Canada. Hervajec has appeared on the CBC Television series 'Dragons' Den' which is the Canadian version of ABC's series 'Shark Tank', where he also serves as an investor. With a net worth of $200 million, Hervajec has received the 2012 Ernst & Young, Ontario Entrepreneur of the Year Award, Technology and the Queen Elizabeth II Diamond Jubilee Medal by Governor General of Canada – 2012 for Outstanding Service to Canada. He has also written books on advancing in business.
Leslie Jones
She's a familiar face if you're a 'Saturday Night Live' fan. Or just have a sense of humor because comedy comes naturally to Jones, who has starred in films like the new revamped all-female 'Ghostbusters' reboot. The comedian and actress had been a cast member and writer on 'SNL' from 2014 to 2019. She was also the featured performer for the 'Just for Laughs' festival in Montreal and the Aspen Comedy Festival. And in 2017 and 2018, Jones was also nominated for a Primetime Emmy Award for Outstanding Supporting Actress in a Comedy Series for her work on SNL. The year 2017 also saw Jones getting named as one of the 100 most influential people in the world by Time magazine. Her 2010 one-hour comedy special, 'Problem Child', was broadcast on Showtime before she went on to star in 'Ghostbusters' (2016) as Patty Tolan.
Jeannie Mai
The American television host and stylist best known for her work on the makeover show 'How Do I Look?' is a fashion expert beloved by many. Mai has also hosted the syndicated daytime talk show 'The Real' and her features in pop culture go beyond just hosting. Her TV program appearances include those in Today, Extra TV, Entertainment Tonight, and Insider. Mai has also appeared as a host for E! and also the Miss Universe pageant. Currently, the sideline reporter on Holey Moley on ABC Mai has won two NAACP Image Awards for Outstanding Talk Series in the years 2018 and 2019, and also a Daytime Emmy for Outstanding Entertainment Talk Show Host in 2018. All for 'The Real'.
Mai married Freddy Harteis in 2007 and the couple filed for divorce 10 years later in 2017. After the divorce was finalized in 2018, Mai began dating rapper Jeezy in 2018 and announced her engagement to him on April 6, 2020.
Joel McHale
Another 'Community' alum, McHale is best known for his comedic genius as one of the finest actors of our time in that genre. The actor, comedian, writer, producer, and television host is also known for hosting 'The Soup' (2004–2015) apart from his iconic character Jeff Winger on the NBC sitcom 'Community' (2009–2015). His most memorable movie appearances include 'Spy Kids: All the Time in the World' (2011) and 'Ted' (2012). McHale has also starred in the briefly running CBS sitcom 'The Great Indoors' (2016–2017) and currently hosts the reboot of 'Card Sharks' since 2019. In 2020, McHale rose to popularity once again when he hosted an after-show special of the Netflix documentary series 'Tiger King: Murder, Mayhem, Madness'.
Maria Menounos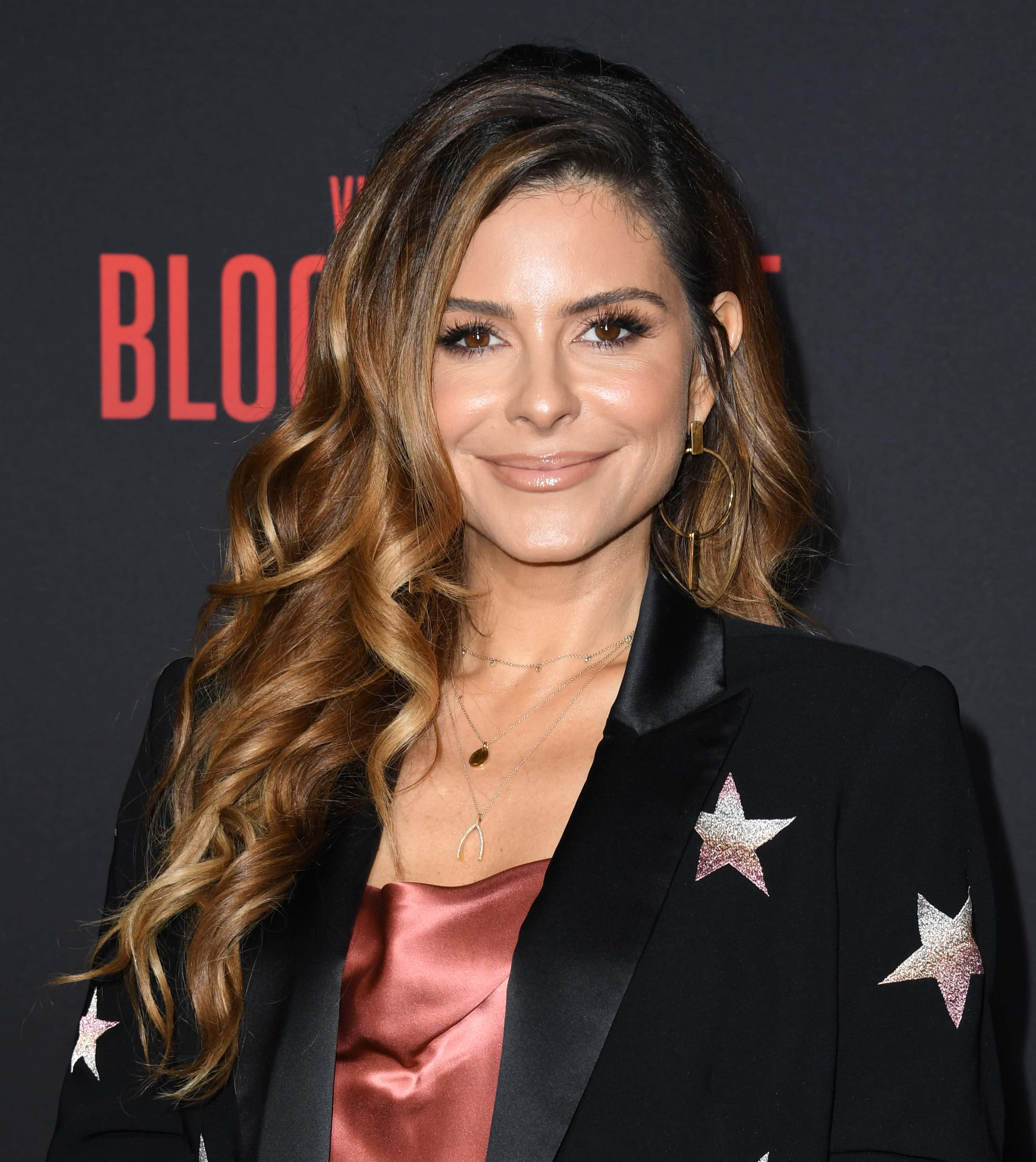 Initially an entertainment reporter and television personality, Menounos also found success as a professional wrestler, actress, and businesswoman. She has hosted on Extra and E! News, and also served as a TV correspondent for Today, Access Hollywood. Menounos has also co-hosted the Eurovision Song Contest 2006 in Athens, Greece. Currently, she is the CEO of the online podcast series network AfterBuzz TV that she had also co-created. In her professional wrestling career, Menounos is currently signed to WWE where she has served as an ambassador since 2013. As of now, she hosts the podcast Conversations with Maria Menounos'.
Menounos dated director and producer Keven Undergaro from April 1998 and in 2016, accepted his live proposal on 'The Howard Stern Show'. After her 2017 surgery for meningioma, a benign intracranial tumor, Menounos married Undergaro in Times Square during the New Year's festivities on December 31 the same year. The ceremony was officiated by Steve Harvey and was broadcast during Fox's New Year's Eve with Steve Harvey. The couple followed it up with a 2018 Orthodox wedding in Akovos, Greece
Chrissy Metz
The actress-singer is best known for her role as Kate Pearson in the massively popular NBC drama 'This Is Us' (2016–present). Her work on the show earned her nominations for a Primetime Emmy Award and two Golden Globe Awards as well. The actress has also starred in the highly controversial yet popular Netflix teen rom-com 'Sierra Burgess Is a Loser' (2018) and the movie 'Breakthrough' (2019). Metz has two Screen Actors Guild Awards (SAG), both in the Outstanding Performance by an Ensemble in a Drama Series category for 'This is Us'. Metz used to be married to British journalist Martyn Eaden but separated after a five-year marriage in January 2013, filing for divorce citing "irreconcilable differences.".
Kevin Nealon
Yet another 'SNL' alum, Nealon is known for his comedy expertise. comedian and actor. His 'SNL' stint ran from 1986 to 1995, side by side his acting career that saw him acting in multiple 'Happy Madison' films. Nealon also played Doug Wilson on the Showtime series 'Weeds', and lent his voice for the titular character Glenn Martin, on 'Glenn Martin, DDS.' Some of Nealon's other notable appearances include in the films 'All I Want for Christmas', 'Happy Gilmore', 'The Wedding Singer', 'Anger Management', 'Little Nicky', 'Grandma's Boy', 'You Don't Mess with the Zohan', and 'Father of the Year'. He even appeared in a cameo in the 2008 film 'Get Smart' and was seen on television as recently as the 2020 BO horror 'Room 104'.
Patton Oswalt
The actor recently made news when true-crime writer and his ex-wife Michelle McNamara''s recount of her research on the Golden State Killer made it to television in 'I'll Be Gone in the Dark'. In TV, he is known as the character Spence Olchin in the sitcom 'The King of Queens' (1998–2007) and for guest-starring as the Koenigs on 'Agents of S.H.I.E.L.D.' (2014–2020). His stellar television debut was in the 'Seinfeld' episode 'The Couch', and since then, he went on to act in series like 'Kim Possible', 'Parks and Recreation', 'Community', 'Two and a Half Men', 'Drunk History', 'Reno 911!', 'Mystery Science Theater 3000', 'Archer', 'Veep', 'A.P. Bio' and 'Brooklyn Nine-Nine'. He is currently the narrator of the sitcom 'The Goldbergs' (2013–present) as adult Adam F. Goldberg.
Paul Reubens
Best known for his character Pee-wee Herman, Reubens is an actor, comedian, writer, and producer. His journey of the titular character in 'The Pee-wee Herman Show' stage production that ran for five sold-out months began in 1982, with HBO also producing a very successful special about it. Next came the cult classic's 'Pee-wee's Big Adventure' (1985) feature film that was directed by Tim Burton. After massive critical and financial success came the sequel 'Big Top Pee-wee' in 1988, and between 1986 and 1990, Reubens starred as Pee-wee in CBS' Saturday-morning children's program 'Pee-wee's Playhouse'. The comedian's most recent credits include the likes of 'Reno 911!' (2006), '30 Rock' (2007), 'Pushing Daisies' (2007), 'The Blacklist' (2014–2015), 'Accidental Love' (2015), and 'Mosaic' (2018) along with lending his voice for the role of Pavel in the Disney XD television series 'Tron: Uprising' (2012–2013).
Alfonso Ribeiro
Who doesn't know that very popular and highly circulated meme from 'The Fresh Prince of Bel Air'? That was Ribeiro as the character Carlton Banks in the show that saw Will Smith's inception into being a pop culture icon too. The actor, dancer, director, game show host, and television personality played Alfonso Spears on the sitcom 'Silver Spoons' and Maxwell Stanton on 'In the House'. Ribeiro most recently replaced ABC's 'America's Funniest Home Videos' long-running host Tom Bergeron after his 15-year long run in the position. Ribeiro has also hosted the GSN game show 'Catch 21', the ABC Family show 'Spell-Mageddon', and the television show 'Dance 360'. His other credits include the Broadway musical 'The Tap Dance Kid' and appearing as himself in the British reality show 'I'm a Celebrity...Get Me Out of Here! Ribeiro has also won Season 19 of Dancing with the Stars with professional partner Witney Carson.
Rob Riggle
If you're a 'Modern Family' fan it's hard to forget Phil Dunphy's prime nemesis - the antagonising Gill Thorpe played by none other than Riggle. An acclaimed comedian, the actor is a former United States Marine Officer. His most popular works include Comedy Central's 'The Daily Show' from 2006 to 2008; a cast member on SNL from 2004 to 2005; and comedic roles in films such as 'The Hangover', 'The Other Guys', 'Let's Be Cops', 'Dumb & Dumber To', '21 Jump Street', '22 Jump Street', 'The Goods: Live Hard, Sell Hard', and 'Step Brothers'. Riggle has also co-starred in the Adult Swim comedy-action series 'NTSF:SD:SUV::' and lent his voice for 'The Lorax' and 'Hotel Transylvania 2'. In 2012, Riggle took over from Frank Caliendo for the comedy skit and prognostication portions of Fox's NFL Sunday.
Sherri Shepherd
The former co-host of The View is a multiple Daytime Emmy Award nominee for her work in the talk show from 2007 to 2014. As a comedian, author, and television personality, Shepherd has also won one of these nominations in 2009. Her other appearances in television include 'Less than Perfect' (2002–2006), 'Sherri' (2009), 'Trial & Error' (2017–2018), and 'Mr. Iglesias' (2019). Her novel 'Permission Slips: Every Woman's Guide to Giving Herself a Break' came out in 2009, and in 2012, she appeared as a contestant on 'Dancing with the Stars' season 14. Shepherd has been hosting the game show 'Best Ever Trivia Show' on the Game Show Network since 2019.
Joe Tessitore
The sportscaster for ABC and ESPN leads the latter's world championship fight broadcasts as the blow-by-blow broadcaster for Top Rank Boxing on ESPN. Tessitore also serves as the host for 'Holey Moley' on ABC alongside comedian Riggle and NBA star Stephen Curry. His other stints include announcing college football on the networks. In 2018 and 2019, Tessitore was also indulged in broadcasting play-by-play for Monday Night Football, alongside ex-Dallas Cowboys, current-Las Vegas Raiders tight end Jason Witten (2018), and analyst Booger McFarland in (2019).
Chandra Wilson
Dr Miranda Bailey from hit drama 'Grey's Anatomy' is also on the star-studded line up of 'Celebrity Wheel of Fortune'. Wilson who has played the role since the beginning of the show has been nominated by the Emmys for the Best Supporting Actress category four times so far. In the crossover and spinoff series 'Private Practice' and 'Station 19', she has played her iconic character too. Wilson had made her New York stage debut in 1991 and went on to land on a variety of prime-time television shows. Her first big-screen debut came in the year 1993, in the film 'Philadelphia
Constance Zimmer
Famous for playing Dana Gordon in the TV series 'Entourage' (2005–2011) and as Claire Simms in 'Boston Legal', Zimmer has also appeared in shows like 'Love Bites' and 'House of Cards'. Her massive recognition comes from the TV series 'Unreal' which earned her a Critics' Choice Television Award and a Primetime Emmy Award nomination in 2016.
Married twice, Zimmer's first husband was special effects artist Steve Johnson, whom she met in the late 1990s. She also shares her daughter Colette Zoe with director Russ Lamoureux. The two got engaged in 2010 and got married the same year too. Zimmer is also known for her many charitable pursuits, such as the Make-A-Wish Foundation, Natural Resources Defense Council, and Heifer International.
'Celebrity Wheel of Fortune' Season 38 premieres on Thursday, January 7, at 8/7 C on ABC.
Share this article:
celebrity wheel of fortune 2021 full line up chris harrison karamo brown chandra wilson tony hawk