'Bridgerton' Season 2 Episode 1: Not Kate, but this young lady is the season's DIAMOND Spoilers for 'Bridgerton' Season 2 Episode 1
If you have been a fan of the Netflix series 'Bridgerton', then you might be really excited to know who's going to be this season's DIAMOND. In Season 2, Queen Charlotte is set to host another debutante hall for all the gorgeous young women from aristocratic families. A lot of young women and men arrive there to find suitable partners, but there will be only one diamond and once the name is announced, every young man from the renowned families will try to impress her with their charm.

During the first season, Daphne Bridgerton (Phoebe Dynevor) was named the season's Incomparable, a diamond of the first water. So, who's going to be this season's diamond? Will Eloise Bridgerton (Claudia Jessie) be announced this season's diamond and follow the footsteps of her sister? Or someone else will influence Queen's choice with her elegance and beauty?
RELATED ARTICLES
'Bridgerton' Season 2: 5 things to know about Netflix romantic period drama
Netflix 'Bridgerton' Season 2: 5 things you didn't know about Simone Ashley
All eyes will also be on Anthony Bridgerton (Jonathan Bailey) because he has finally decided to get married. Will he be able to woo this year's diamond? Let's find out who the season's diamond is going to be.
Who is Edwina Sharma? Meet this season's diamond of the first water
The first episode of 'Bridgerton' Season 2 sees a lot of wealthy families making their way to London's 'social season'. The families are looking to impress the Queen in the hope that she announces their kin as the new diamond. One of the families to arrive at the ball is The Sharma Family.

Lady Mary Sharma (Shelly Conn) comes to the event along with her two daughters, Kate Sharma (Simone Ashley) and Edwina Sharma (Charithra Chandran). Although Kate is older, they arrive there to find a suitable man for the younger daughter. After seeing every girl who has arrived at the ball, Queen chooses Edwina Sharma to be this year's "DIAMOND" and as soon as her name is announced, every guy comes forward to have her for a dance.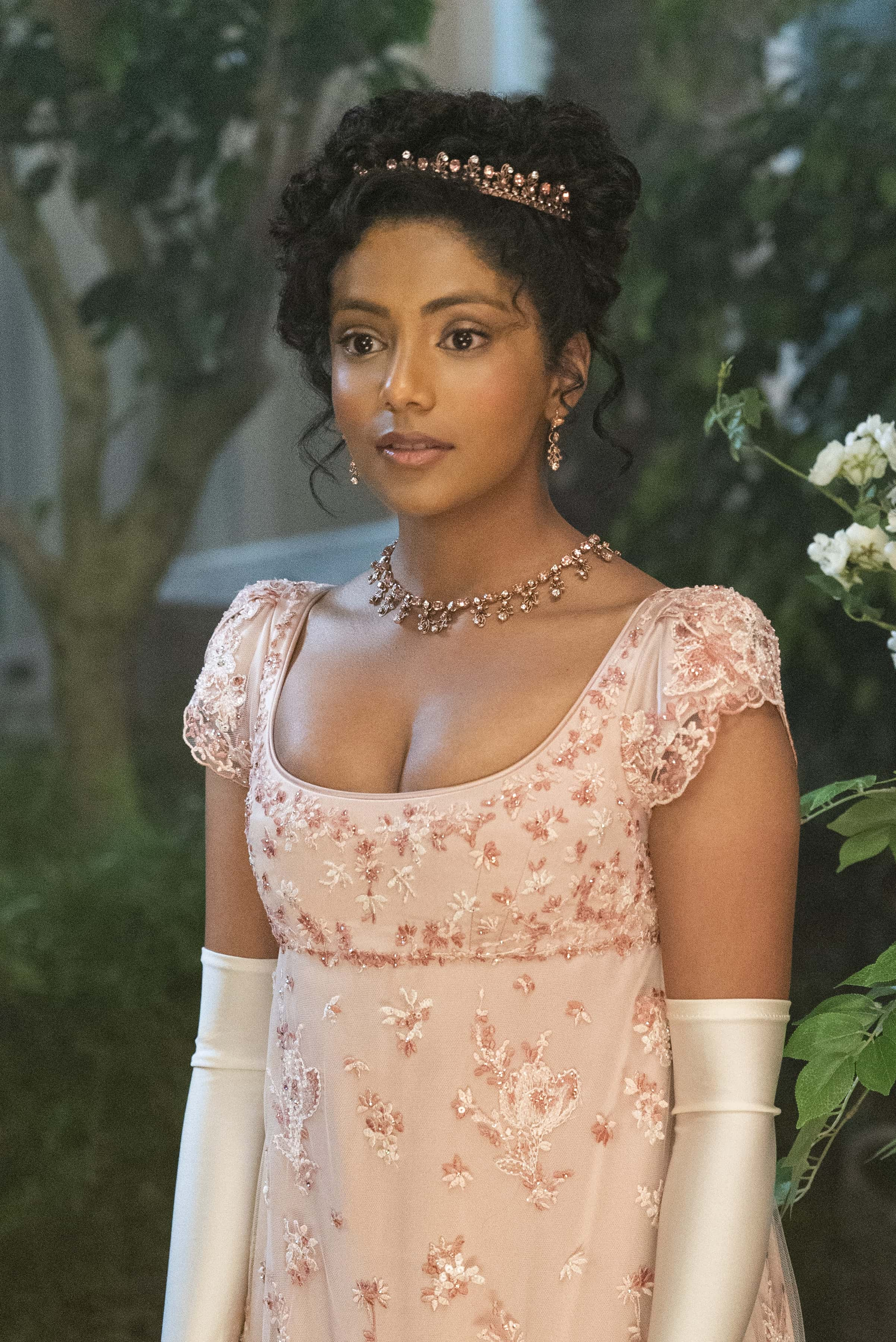 Edwina Sharma is the only "real" child of Mary Sharma and enters London's social season with excitement. She is a confident young woman who knows how to carry herself. Since this is the first time that she will be visiting the ball in order to find a suitable partner, she is relying heavily on the counsel of her sister, Kate Sharma (Simone Ashley). Just like her sister Kate, she loves her family and values their opinions.

During the episode, we learn that Edwina can speak French and is accomplished in both Latin and Greek, in addition to Marathi and Hindustani. Additionally, she can play several musical instruments such as sitar, flute, and pianoforte as well. Also, she knows various dance forms such as the Cotillion, the Quadrille, and the Waltz.

Even after knowing so many things, she was really nervous about being a part of the event. However, when her name was announced as this season's diamond, it was Anthony Bridgerton who came forward and asked her for a dance and she didn't say no. However, it seems Anthony has something for her older sister, Kate Sharma. Meanwhile, Kate heard what kind of woman Anthony wanted and feels that his character is as deficient as his horsemanship.

Although Edwina and Anthony dance together during the concluding moments of the first episode, Kate has made it clear to her sister that she should not go near Anthony because of the way he thinks about women.
'Bridgerton' Season 2 is currently streaming on Netflix.
Share this article:
bridgerton season 2 episode 1 not kate but this young lady is this season diamond netflix spoilers