Brazil soccer icon Ronaldo keeps it casual as he goes shopping in Rio de Janeiro and interacts with fans
Ronaldo, who helped Brazil win its sixth World Cup in 2002 with eight goals in seven games, spent some time taking pictures with fans RIO DE JANEIRO, BRAZIL: Brazilian soccer star turned businessman Ronaldo Nazario was spotted at the Village Mall in Rio de Janeiro doing some shopping and taking selfies with fans who were more than excited to see him. The 2002 FIFA World Cup golden boot winner now owns various gyms, sportswear companies, and a nightclub in an affluent neighborhood in Rio de Janeiro.
Ronaldo sported a rather casual outfit, a black t-shirt and khaki shorts paired with dark blue sneakers while holding his phone in his right hand. He was seen interacting and taking pictures with the fans. Ronaldo was an exceptional player during his time and ardent fans still consider him the "real Ronaldo". Recently, the icon admitted he doesn't want arch-rivals Argentina to win the World Cup with Lionel Messi.
READ MORE
'Will cheer England on from afar': Dua Lipa debunks rumors that she will perform at FIFA World Cup 2022
'Not right to go': Rod Stewart hailed for snubbing Qatar's $1M offer to perform at FIFA World Cup, here's why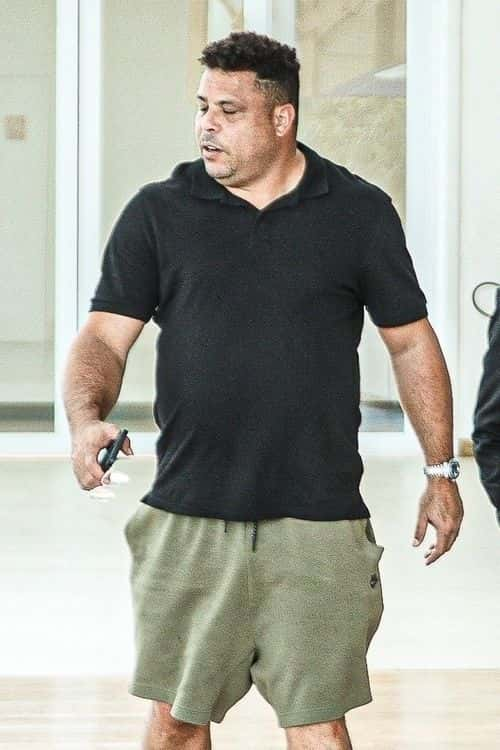 The FIFA World Cup 2022 is Lionel Messi's final chance to win the biggest trophy in the sport. While he would be thrilled to help in an Argentine victory, Ronaldo simply isn't in favor.
"The Brazil-Argentina rivalry is so big. We had incredible battles, with respect, and that's the loveliest thing in football. But Argentina winning the World Cup doesn't bear thinking about", Ronaldo admitted. However, the Brazilian concurs wholeheartedly that Messi deserves to take the trophy home. "Of course he does (deserve) – but not with my support. I love him and he'll understand because I'm sure he would feel exactly the same way," he added, as per Sportsbible.
Given how fierce and passionate the rivalry between Brazil and Argentina is, it makes sense why Ronaldo doesn't want Messi to win the World Cup. Ronaldo, who helped Brazil reach the finals in 1998 before taking home the trophy in 2002, held the record for the most World Cup goals until Germany's Miroslav Klose overtook him. In just 19 games across three competitions, Ronaldo scored 15 goals. He scored four goals in his first World Cup in 1998, and eight in seven games four years later, when he won the Golden Boot and Brazil its sixth World Cup.
The star striker recently opened up about his incredible career. "My goals are like my children... I love them all the same!" he said when asked in a Sportsmail interview if the goals he scored in the 2-0 World Cup final win over Germany are dearer to him than the beauties from his earlier career. "I love them all the same. You can't love one child more than another, can you?" he added.
Brazil is the first nation to announce its 26-man squad for Qatar World Cup 2022. However, Ronaldo was upset with the omission of Liverpool striker Roberto Firmino. The veteran discussed the team selection and named the players he would have sent to Qatar if he had been in charge, according to Football Espana. "If I had to choose one, I would choose [striker] Endrick [Felipe]. It would be a sensational experience for him. For the future of the Brazilian team," said Ronaldo.
Ronaldo is the third-highest goalscorer for Brazil, with a total of 62 goals from 98 matches. He was the youngest player on the Brazilian team that won the FIFA World Cup in 1994 at the age of 17.
Share this article:
Brazil soccer icon Ronaldo keeps it casual as he goes shopping in Rio de Janeiro and interacts with fans