Bill Clinton vs Monica Lewinsky: Semen stains, THAT cigar and a scandal for the ages
Monica Lewinsky was 22 when she became an unpaid White House intern and, at some point, she began a 'consensual relationship' with Bill Clinton Monica Lewinsky's affair with President Bill Clinton has been the subject of a thousand memes and pop culture references. Now, a new drama series revisits the scandal that dominated headlines in the late nineties, detailing the most controversial bits of the saga.
Lewinsky was just 22 when she began working as an unpaid intern in the White House and at some point began what she maintains was a "consensual relationship" with the 42nd POTUS. The pair had nine sexual encounters in the Oval Office between November 1995 and March 1997, with some of them having taken place while First Lady and 2016 presidential hopeful Hillary Clinton was in the White House at the same time. Lewinsky admitted that their steamy encounters included oral sex and other acts, but said there was no penetrative intercourse. She would later testify how the President, at one point, inserted a cigar into her vagina.
The upcoming third season of FX true crime anthology television series American Crime Story is titled 'Impeachment: American Crime Story.' It revolves around the Clinton-Lewinsky scandal and is reportedly based on the book 'Vast Conspiracy: The Real Story of the Sex Scandal That Nearly Brought Down a President' by Jeffrey Toobin, along with direct inputs from Lewinsky herself, who is a producer on the show.
RELATED ARTICLES
Where is Kathleen Willey? Bill Clinton accuser voted for Trump
Hillary Clinton trolled for keeping distance from Bill during a beach walk
As noted by independent counsel Ken Starr in his sensational report on the scandal, Lewinsky recounted several escapades she had with the erstwhile leader of the free world. One of the encounters took place on January 7, 1996, when Clinton called Lewinsky at her home for the first time. "I asked him what he was doing and he said he was going to be going into the office soon. I said, oh, do you want some company? And he said, oh, that would be great," she recalled.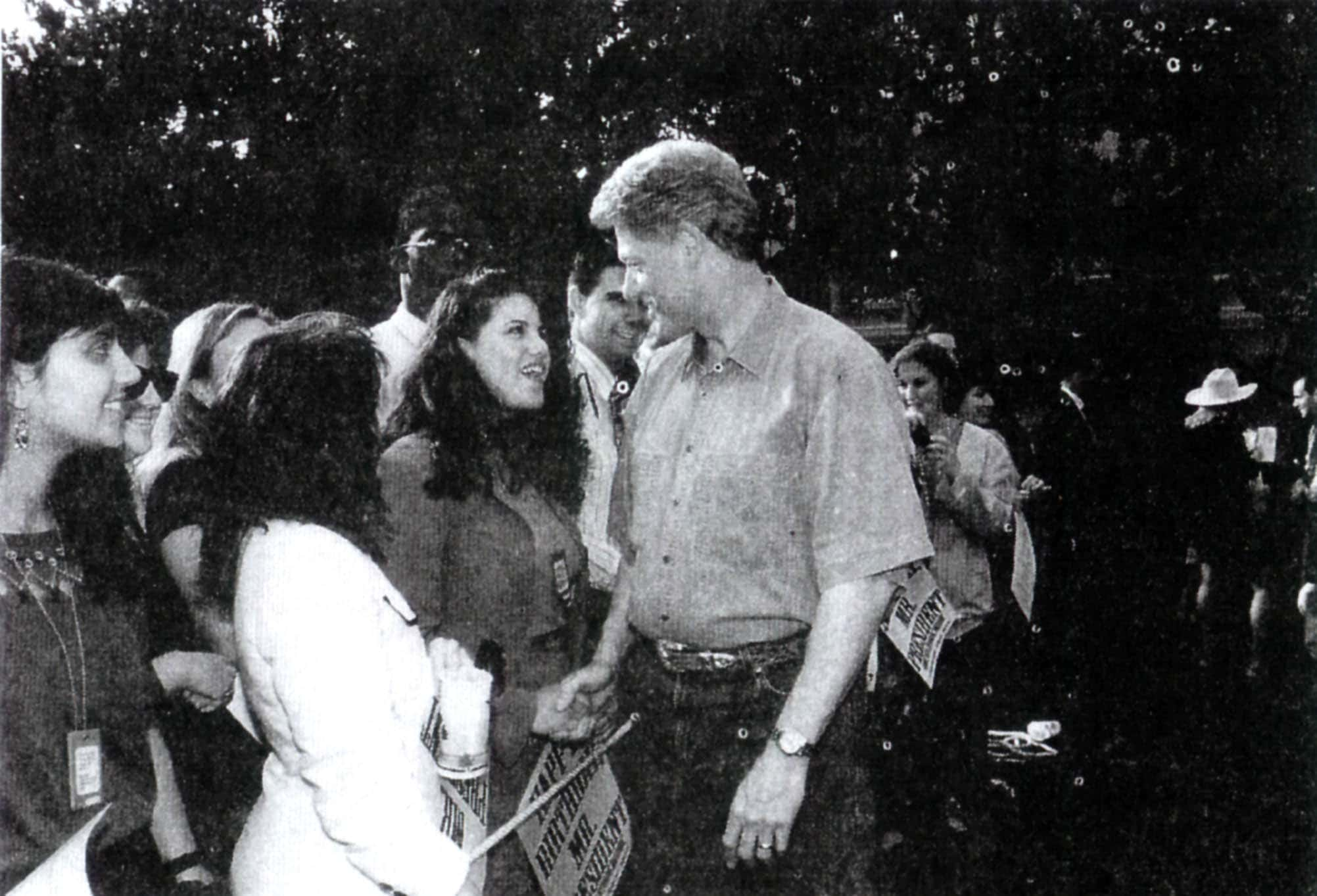 "[W]e made an arrangement that he would have the door to his office open, and I would pass by the office with some papers, and then he would sort of stop me and invite me in," the former White House intern explained. "So, that was exactly what happened. I passed by and that was actually when I saw [Secret Service Uniformed Officer] Lew Fox who was on duty outside the Oval Office, and stopped and spoke with Lew for a few minutes, and then the President came out and said, 'oh, hey, Monica, come on in.' And so we spoke for about 10 minutes in the [Oval] office. We sat on the sofas. Then we went into the back study and we were intimate in the bathroom."
During this bathroom encounter, Lewinsky said the President kissed her, touched her bare breasts with his hands and his mouth. She said he "was talking about performing oral sex on me," but she stopped him because she was menstruating and he did not. Instead, Lewinsky performed oral sex on him. The two would later move to the Oval Office and talked. "[H]e was chewing on a cigar," she recalled. "And then he had the cigar in his hand and he was kind of looking at the cigar in, sort of a naughty way. And so, I looked at the cigar and I looked at him and I said, we can do that, too, some time."
A couple of months later on March 31, 1996, Lewinsky and the President had another sexual episode at the White House while the First Lady was in Ireland. Lewinsky told Starr how the President phoned her at her desk and suggested she could come to the Oval Office under the pretext of delivering papers to him. She was subsequently admitted by a plainclothes Secret Service agent as she brought in her folder containing a gift for the President, a Hugo Boss necktie.
Clinton and Lewinsky kissed in the hallway by the study. She remembered how "he focused on me pretty exclusively" on this occasion, kissing her bare breasts and fondling her genitals. At one point, the President inserted a cigar into Lewinsky's vagina, before putting the cigar in his mouth and remarked, "It tastes good." Following the encounter, Lewinsky left the Oval Office and walked through the Rose Garden.
To find out more, watch 'Impeachment: American Crime Story' that premieres Tuesday, September 7 at 10 p.m. ET on FX and will air weekly thereafter.
Share this article:
Bill Clinton vs Monica Lewinsky: Semen stains, THAT cigar and a scandal for the ages