'His last word was HELP': Bailey Reidling recalls boyfriend Elijah DeWitt's dying moment GWINNETT COUNTY, GEORGIA: The girlfriend of Elijah DeWitt, 18, who was fatally shot as he left a Dave & Buster's at Sugarloaf Mill Mall in Lawrenceville on the night of October 5, recalls highschooler's dying moment. Bailey Reidling, 20, claims she looked for a pulse in vain after her boyfriend DeWitt was shot dead outside the Georgia mall.
"I run over to Elijah, and he's on the ground. I go right over to him, and he mouths to me. The last word he said to me was 'help'," she said, according to Fox News. She continued, "I checked his pulse, and I got freaked out because there is nothing going on there." DeWitt was out on a date with his girlfriend, Bailey Reidling, when the incident took place at the parking lot outside of the Sugarloaf Mills Mall. Two days after the incident, the South Carolina police arrested Kemare Bryan, 18, and Chandler Richardson, 19.
READ MORE
Who was Elijah DeWitt? Parents donate slain Georgia footballer's organs, says 'he'd be proud'
'It's the Christian way': Internet split as Elijah DeWitt's parents and GF 'forgive' suspected killers
Bailey Reidling's screams could be overheard during a 911 call. She claimed to be in a state of shock and says that she found it difficult to know what to do as her boyfriend Dewitt was lying in a pool of blood. Reidling said, "You're screaming in the moment because you're in shock. Some sweet lady came around the corner and said, "Baby, he just got shot. Calm down. We called 911. They are already on their way."
DeWitt was shot while out with his girlfriend of four years, Reidling, as well as their mutual friends, Oscar and Angel. Reidling's beloved boyfriend gave her his credit card, asked to order food, and then gave her a kiss as she entered a Dave & Buster's establishment with the other couple. Before DeWitt was shot, the four had only been at the restaurant for a short period of time—about 15 minutes. After some time, Reidling and Angel could not locate their dates, so they urgently called them several times before Oscar answered.
Reidling recalled Oscar's panicked response, which consisted of just the word "outside," in an interview with Daily Mail. Oscar was on his knees when Angel and Reidling rushed outside. They soon found Dewitt next to him, taking his final breath.
The night before he died, DeWitt allegedly got into a fight with two other people. Two days later, in South Carolina, police detained Kemare Bryan, 18, and Chandler Richardson, 19, for murder and gun possession.
Reidling claims that she is choosing to forgive DeWitt's killers despite the pain she is going through in the same way as his parents did. Reidling stated, "Elijah would forgive them, which seems like he wouldn't, you know, if you're one of those guy friends or if you see him on the field, he's a scary player, but he would have forgiven them. I'm going to,' She added, "There's something in my heart telling me to. I haven't got any hatred towards them. Anger? Yes."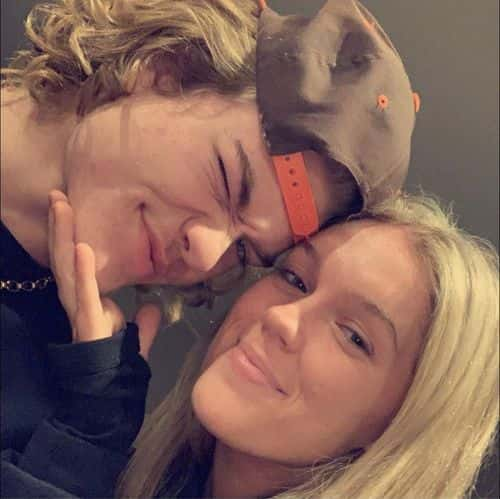 Reidling also confirmed that DeWitt might have known the suspects after having just recently encountered them at Dave & Buster's. According to a source who spoke to Reidling, DeWitt had gone to an entertainment restaurant when he was approached by Bryan and Richardson for weed, Daily Mail reports.
Reidling said it's uncertain how the culprits knew DeWitt would be at the Dave & Buster's on October 5 and said that her deceased football player boyfriend had spent the night at her apartment before his death. Dewitt left for practice the following morning, while Reidling reported for duty. She recalled, "He texted me that he had the best practice he ever had." After that, DeWitt went golfing with his buddies before going on the double date.
The happy couple had a three-year age difference and attended Jefferson High School together for one year when the football player was a freshman. Reidling chose Georgia Southern University to be close to DeWitt.