Who is Armie Hammer's mystery blonde? Actor seen in Cayman Islands first time since cannibalism claims Armie Hammer has made his first public appearance since the sexual violence and cannibalism claims went around since January 2021. It is reported that the actor has remained within the island to stay away from the spotlight and spend time in the tropical paradise as the accusations of him still remain just as fresh and wild.
But Hammer wasn't spotted by himself in the sunny beaches of the Cayman Islands. The 34-year-old actor was a mystery blonde who brought back memories of 'Miss Cayman' that Hammer had bragged about 'f**king' in a video from his alleged secret Instagram account @el_destructo_86.
RELATED ARTICLES
Who is the lingerie-clad mystery woman in Armie Hammer's sex post? Secret Instagram account shows chronic drug use
Are the Armie Hammer DMs real? Truth behind drug photos and cannibal sex scandal as actor calls it 'b*******'
Who is Armie Hammer's mystery blonde?
Hammer was recently spotted enjoying the beautiful scenery in a patio-type setting at the Cayman Islands as he soaked up the tropical sun alongside his blonde friend. He was clad in the same black and pink tropical shirt that he has been photographed in before, strolling around Los Angeles. The father of two was chatting away with his lady friend as the two spent time enjoying dinner at a beach cafe. His companion was clad in jeans and a white vest, their blonde hair pulled up in a top knot.
Hammer is spending time in the Cayman Islands where his estranged wife Elizabeth Chambers lives with their two children – Harper (6) and Ford (4). This is the first time the 'Call Me By Your Name' actor has been photographed out since he began trending on January 11, after an anonymous Instagram account called House of Effie shared screenshots of him expressing cannibalism interests.
Who is 'Miss Cayman' from the alleged leaked video?
Apart from the screenshots sent from Hammer's official accounts, there were also alleged messages sent out from a secret, private account that Daily Mail online obtained and released in an article. Among several problematic videos and photos posted from that secret account was one where Hammer could be heard showing off his hotel room at the Ritz-Carlton hotel in Grand Cayman and a certain mysterious woman in his bed.
Clad in black lingerie, the woman is seen on all fours in the bed of the hotel room, although her hair is black or some dark shade. "Well… my ex (for a very good reason) wife is refusing to come back to America with my children. So I have to go back to Cayman… which sucks. Except there are a few silver linings. Like f**king Ms Cayman again while I'm down there." — he had written in the caption of the alleged video.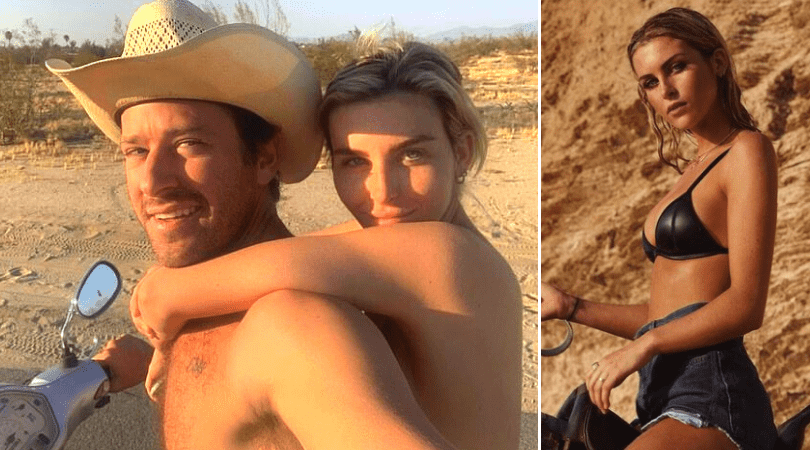 The mystery woman in lingerie in Armie Hammer's bed
As previously reported by MEAWW, the video, shot at night, also sees Hammer filming his walk through the hotel lobby that is scattered with rose petals. A shirtless Hammer can be spotted for a second on the mirror as he moves through the room showing the different spaces like the washroom, shower, closet, and so on. While showing the bed with the woman lying there, he can be heard saying, "Bed looks pretty comfy. That looks pretty good." Then he moves on to give viewers a glimpse of the outside from his balcony.
The video led to an outraged Instagram post from Miss Cayman Islands Universe Committee chairperson Derri Dacres-Lee, who said that the committee's members were "aware of a video allegedly posted by Armie Hammer referring to a scantily clad young woman as 'Miss Cayman'. The Committee is very disturbed by the video and would like to confirm that the woman is not the reigning Miss Cayman Islands and has no affiliation to the Miss Cayman Islands Universe pageant."
Armie Hammer's apology and statement
In the wake of the post, Hammer had later apologized for the video on January 18, 2020. "I would like to clarify that the person in my video, which was stolen from my private Instagram, is not Miss Cayman," Hammer said in an audio message to the Cayman Compass. "I am genuinely sorry for any confusion my foolish attempt at humor may have caused. My deep sympathies to Miss Cayman, who I don't know, and to the entire organization, as I had no intentions of implying she was actually Miss Cayman."
Following the allegations made by House of Effie, several former partners of the actor like Paige Lorenze and Courtney Vucekovich had come forward with claims of sexual violence against the actor. The backing of the Jennifer Lopez film 'Shotgun Wedding' at the time, Hammer had said in a statement, "I'm not responding to these bulls**t claims but in light of the vicious and spurious online attacks against me, I cannot in good conscience now leave my children for 4 months to shoot a film in the Dominican Republic."