'Sad reality': Internet debates Alabama school's decision to deploy bulletproof 'safe rooms' for students CULLMAN, ALABAMA The Internet was filled with melancholic reactions when a Reddit user posted a video from an Alabama school that has deployed bulletproof classrooms. The post gained a lot of attention from the users, as it garnered eight thousand comments within twenty hours.
One user took to the platform and wrote, "Bulletproof strong room in a school to protect students from mass shooters. This is what America has become..." The institution in question, West Elementary School in Cullman, has installed $60,000 bulletproof shields inside two classrooms, a first of its kind safety measure meant to protect students in the event of a school shooting.
READ MORE
Artemio Maldonado and Azucena Sanchez: Baby found amidst carnage of apartment where shooting left 4 dead and killers charged with capital murder
Who is Jackie Matthews? Michigan State University shooting survivor also escaped Sandy Hook massacre in 2012
'This whole world is hazardous for kids'
One of the users wrote, "The shooter gonna be there in the class learning about the fuckin thing anyway. Probably plans on lining up some wall bangs on the other side cause I highly doubt they reinforced the walls." Another user wrote, "This whole world is hazardous for kids. States are repealing child work laws and fascism is on the rise across the globe. GOOD LUCK out there the roaring 20s are here and the same problems are still being debated about from 100 years ago!"
The third user was depressed about the new normal and wrote, "That's the sad reality though. I'm glad they at least have a plan, even if I think paper in the windows is less than effective." The fourth user wrote, "How sad. I was in High School when Columbine happened, and I am just so sad for kids who never ever knew school as a safe place. What a terrible reality. And I have zero understanding of anyone who is training to be a teacher right now. Respect, 100%. But I don't understand."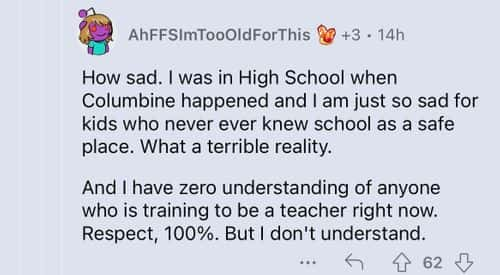 How do the bulletproof classrooms work?
Two swiftly deployable bulletproof safe rooms have been installed in the Alabama elementary school to assist in safeguarding pupils from mass killings, as reported by DailyMail. When not in use, the ballistic wall is intended to lay flat against the walls and serve as a whiteboard. Nonetheless, the shield can be removed from the wall in less than 10 seconds amid mass shootings or bad weather. To protect kids from a gunman entering the tiny saferoom from the outside, it has a handleless door that can be shut from the inside.
The original prototype was designed as ballistic shelters for the military by Kevin Thomas and his company KT Security Solutions. However after the Uvalde shooting, in which Salvador Ramos, 18, killed 19 students and two instructors, Thomas decided to tweak the product and change its intended use to provide ballistic shelters for children in schools, as per reports. Alabama has had 42 school shootings since 1970, according to the World Population Review.