A love that never died: A look at Barbara and George HW Bush's storybook romance that lasted nearly 80 years
It is believed that the former president held his wife's hand when she breathed her last at their family home in Houston on April 17, 2018. Barbara and George HW Bush (Source:Getty Images)
As the world mourns the death of former First Lady Barbara Bush, 92, the tragedy is perhaps insurmountable for her spouse, former President George H.W. Bush. Theirs was a love story that spanned over seven decades, took them to remote corners of the world and even placed them in the eye of scandals. Through it all, the Bushes never lost sight of the most important thing: their warm, glowing love that preserved their marriage and inspired their grandkids to express this emotion openheartedly and without reservation.
It was touching to hear Barbara's granddaughter, Jenna Hager Bush, speak on NBC's 'Today' show about Barbara and George's relationship, which blossomed at a Christmas dance in Connecticut in 1941. Jenna said of her grandmother, "She adored my Gampy, the first man she ever kissed; their love story is so ingrained in the history of our family." And indeed it is.
Barbara's devotion, solid support and her independent voice offered stability to her spouse as he set out to realize his political ambition in the 60s. She accompanied him on campaign trails and her popularity among the Republican Party's female voter base served him well as he secured his party's nomination for the Presidential race in the 80s. To have Barbara by his side was a blessing as he crafted policy and served the country in various roles.
To be fair, this wasn't a life that Barbara had envisioned when she met him at a dance in 1941. She, a publisher's 16-year-daughter from Rye, New York, was introduced to George, 17, by a mutual friend at the party, where they didn't end up dancing. In his autobiography, the former president wrote that they chatted instead since he didn't know how to waltz. Their first bits of conversation stirred their hearts and the couple sat through most of the other songs that played at the party that night.
Although it's been decades since they met, his memory of the event is brightly lit. The former president wrote in his autobiography, "I'm not much at recalling what people wear, but that particular occasion stands out in my memory...It was a storybook meeting," he wrote.
Neither of them would forget the words that were spoken that night even as they returned to school after Christmas break. George went back to complete his education at Phillips Academy in Andover, and she returned to school in Charleston, South Carolina. In the months after this meeting, they corresponded frequently via letters, a practice that put words to the emotions they carried for each other. When he went to fight in World War II with the Navy in mid-1942, it was these letters that carried him through the war, and in one correspondence, he proposed marriage as well.
In one of his letters, he wrote, "My Darling Bar, this should be a fairly easy letter to write. It should be simple for me to tell you how desperately happy I was to open the paper and see the announcement of our engagement. But somehow I can't possibly say all in a letter I should like to. I love you, precious; with all my heart and to know that you love me means my life," according to Daily Mail. His infinite love for Barbara was also evident in the names he assigned to airplanes as a Navy pilot. George named them Barbara, Barbara II, and Barbara III.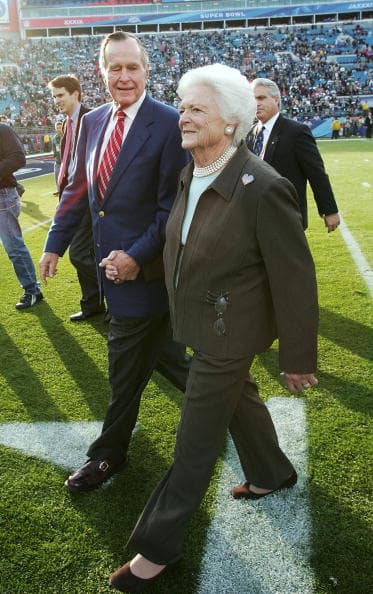 After he returned to the country from war, they tied the knot within the first few weeks, on January 6, 1945 at the First Presbyterian Church in Rye before he was to study at Yale and later, join his family's oil business in Texas. It was during this time that they expanded their family and became proud parents of six children, and grieved the loss of their third born, Robin.
Their daughter, aged 3 died of leukemia in 1953 just as Barbara was combing her hair. In a 2012 interview with Jenna, the former First Lady said they decided to give their daughter's body to research even as they grieved for their baby. In retrospect, she seemed happy to contribute to the research on cancer. Infused with pride, Barbara told Jenna that the fatality rate of patients with leukemia has reduced drastically.
Just as Robin's death united them in grief, their next journey would unite them in another difficult phase: politics. In 1963, George started his political ambition as the chairman of the Harris County Republican Party. The next year, he tried to secure a seat in the U.S. Senate but failed. In 1966, he was finally elected to the House as a representative from Texas. His bid for the Senate in 1970 proved to be unsuccessful but he was appointed as the U.S. ambassador to the United Nations, and three years later, he became the chairman of the Republican National Committee.
While George set his eyes on a public life, his wife suffered in the shadows. During a rousing 1985 speech, she said her husband's transition from business to politics resulted in her raising the family alone, and carrying out familial duties all by herself. In the mid-70s, she struggled with depression but drew strength from her husband. She wrote in her autobiography, "Night after night, George held me weeping in his arms while I tried to explain my feelings. I almost wonder why he didn't leave me."
After this period, she stood firmly behind her husband as he decided to run for president in 1980 and lost to nomination to Ronald Reagan. However, they still remained close to the White House as George was appointed Vice President and eventually succeeded in becoming the President in 1989.
His years of presidency included troubling events like the Cold War, the fall of the Berlin Wall, the Gulf War and a US invasion of Panama. And while his approval ratings soared, so did the former First Lady's. Perhaps her biggest contribution included her emphasis on education and literacy. With her husband's support, she inspired millions of kids to study and started the Barbara Bush Foundation, a not for profit organization that continues to place emphasis on parents and children reading together. She was unlike other First Ladies in that she didn't appear shy or demure. She disagreed with her husband pro-life view on abortion and LGBTQ rights.
Barbara and George stepped away from public view after his term as President came to an end in 1993. The couple moved to Houston, spending a great many hours in the warm companionship they offered to each other. And their friendship and love remained strong as it did 73 years ago when they first met at a Christmas Ball in 1941.
Just like the teenage boy who gave Barbara company at the party, George was present and by her side when she died from congestive heart failure and COPD. It is believed that he held her hand when she breathed her last at their family home in Houston on April 17, 2018.