'Wynonna Earp' Season 4 Preview: Everything to remember from Season 3 about the Earp curse and Waverly The moment Earpers have been waiting for is finally here — 'Wynonna Earp' is set to return with its fourth season to Syfy after a two-year gap as fans rallied around showrunner, Emily Andras, for the new season. Because of that two-year gap, it's understandable if you have forgotten much of the events of the previous season and where the show stands currently. Season 3 of 'Wynonna Earp' featured some major developments, ones that forever changed the course of the show.
So, let's dive into the main characters and see what's up for Wynonna (Melanie Scrofano), her sister Waverly (Dominique Provost-Chalkley) and the town of Purgatory.
The Earp curse is broken
One of the biggest plot twists of the Season 3 finale episode was how the Earp curse was finally broken when Bulshar (Jean Marchand) did it himself so he could unlink himself from Wynonna and therefore, be able to go into the Garden of Eden. When Bulshar broke the curse, the Revenants disappeared. This, in itself, is a big development given that the Earp curse is what drove the first three seasons of 'Wynonna Earp' forward — it is the reason Wynonna became who she is currently. Bulshar's aim is to cross the barrier and go into the Garden of Eden, but before he could do so, Waverly and Wynonna interrupt him.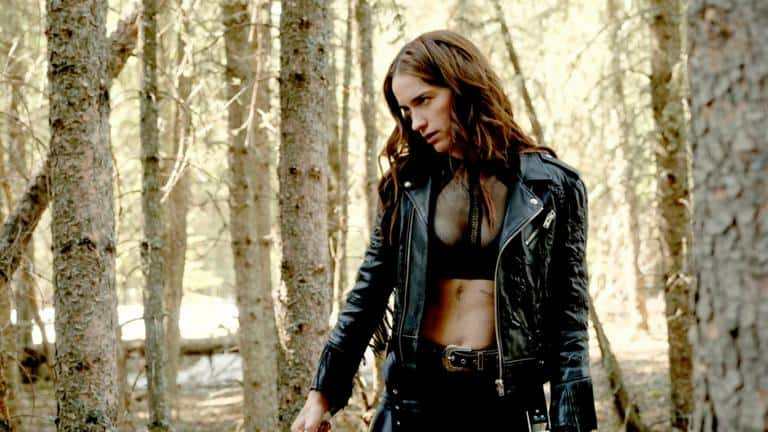 Given Waverly's true nature (which we will come to in a bit), Wynonna is "knighted" as the hero when Waverly tosses Peacemaker — which is now a sword and somehow the key to the Garden — to Wynonna who wields it magnificently as she slays the literal snake that Bulshar has become though not before Bulshar bites Wynonna. Thankfully, Doc Holliday (Tim Rozon) shows up just in time to suck the poison out of her and save her. Unfortunately, Wynonna's troubles are far from over. Waverly is trapped behind the barrier on the stairs to the Garden. A snaky branch emerges and twists around Waverly and draws her into the Garden to her protests. Wynonna tries to get to her but she cannot cross the invisible barrier. Doc then easily crosses the barrier — to Wynonna's surprise — and promises her that he will bring Waverly back.
Waverly's true nature
For the longest time, the issue of Waverly's actual nature was a big point of contention for the character. Being the youngest Earp sister, we've seen Waverly getting disappointed when the Peacemaker would not activate at her touch. The second season finally clued us in on that Waverly was not an Earp and that her father was someone else. Enter Julian aka Charlie (Sebastian Pigott) who came to Purgatory in Season 3. By the end of the season, we learn that Charlie is actually an angel and that Waverly is his daughter — a bit awkward for Wynonna who had gotten entangled with him after things between her and Doc ended. We also learn that Julian is one of two angels who was assigned to protect the stairs to the Garden of Eden hidden in Purgatory.
When Doc tasted Charlie's blood, something changed in him. He dropped all his moral qualms and was intent on drinking Charlie's blood again. It is when Waverly brings Charlie back to life after Doc drained him of his blood that we start to think that Waverly has powers of her own. Later, she also somehow cures Doc's bloodlust — which is a good thing. This could also be why Doc is able to enter the Garden despite not being a mortal. It is probably that Waverly got dragged in after Charlie's death because she is the new guardian of the Garden. That Waverly was taken into the Garden just after she proposed to Nicole Haught (Katherine Barrell) is a tragedy for WayHaught fans.
Doc and Wynonna
This pair has had a testy relationship since the first season. It only got stronger when Wynonna had Doc's child, Alice, whom she quickly had to keep in hiding to protect her from Bulshar and the other Revenants. However, the relationship got much more fragile when Doc became a vampire in the third season in the aftermath of having to part with his daughter. As mentioned before, he becomes much more blood-thirsty after he drinks Charlie's blood but that is later cured by Waverly. Things between Doc and Wynonna will always remain interesting — more proof to this is how they shared a kiss just before Wynonna trapped him in the Earp barn as she went to fight Bulshar. That Doc goes into the Garden without even hesitating for a moment to get Waverly shows just how much the sisters, especially Wynonna, mean to him. We don't know what has happened to him and Waverly but we cannot wait to find out.
Who is Valdez?
Before Wynonna went to fight Bulshar, she drugged most of her friends, including Nicole and Jeremy Chetri (Varun Saranga). However, when she returns after the fight with Bulshar and Waverly and Doc disappear into the Garden, she comes back to an empty Purgatory with only Randy Nedley (Greg Lawson) remaining behind and one word scratched on to the wall at Homestead — "Valdez." In the comics that the Syfy show is based upon, Valdez is a "thousand-year-old princess warrior from the Mayan era," according to Beau Smith who created the comics, and has been with the Black Badge division since its creation. Valdez has been described by Smith as "Xena, Warrior Princess crossed with Spock from Star Trek". "Valdez is 'very logical' and she doesn't suffer fools," said Smith.
'Wynonna Earp' Season 4 premieres on Syfy on Sunday, July 26, at 10/9c.