Queen's ladies-in-waiting: Meet Susan Hussey, Mary Morrison, Susan Rhodes, Elizabeth Leeming and Fortune FitzRoy
Some of the ladies-in-waiting have been with the Queen for more than 50 years (L) Lady Susan Hussey and (R) Mary Morrison, are amongst the Queen's Ladies-in-Waiting (Getty Images)
As the monarch of UK, Queen Elizabeth has many responsibilities upon her shoulder. In order to fulfil her duties and responsibilities, the Queen needs all the help that she can get, which includes her ladies-in-waiting. The ladies-in-waiting are handpicked by the Queen herself and are an extremely important part of the monarchy since they are the Queen's most trusted employees.
RELATED ARTICLES
Queen likely to make Windsor Castle permanent home to be close to Prince Philip's resting place: Sources
Who is Samantha Cohen? Meghan and Harry's former private secretary is 'central' to Palace's bullying probe
Who is a lady-in-waiting?
A lady-in-waiting is a female personal assistant to a royal or high-ranking noblewoman. It is a high-profile job and these women are often noblewomen themselves (although they rank slightly lower than the person they are serving for).
A lady-in-waiting can also be considered as an "appointed friend" of the royal women. Though they do have few responsibilities that they need to carry out, for the most part they are considered as close friends or companions to the person they work for. If you're wondering what a lady-in-waiting's responsibilities include then we got you covered. Their responsibilities depend upon their rank.
The Mistress of the Robes is at the top of the hierarchy. As the name suggests, she is a personal stylist of sorts to the Queen. She is responsible for the Queen's wardrobe, jewelry, etc. Aside from handling the Queen's impeccable fashion, the Mistress of the Robes is in charge for the other Ladies-in-Waiting's schedule and duties. The Mistress of the Robes is usually a duchess. The other ladies-in-waiting help the Queen with managing her schedule, calendar and correspondences.
In case you're wondering how much these women get paid for their services, then you might be surprised to learn that they get paid nothing. Although the Queen does cover their living expenses such as travel and clothing costs.
Who are the Queen's ladies-in-waiting?
Ann Fortune FitzRoy, Dowager Duchess of Grafton
Ann FitzRoy is a Senior Lady-in-Waiting and Mistress of the Robes. The Duchess of Grafton is a 101-year-old widow. She was born to Captain Evan Cadogan Eric Smith MC of Ashfold in Sussex, and his wife Beatrice Williams. In 1946, she married the then Earl of Euston, later 11th Duke of Grafton, at St Mary's Church, Slaugham. The couple met at a ball at Euston Hall. They had five children together. In April 2011, the Duchess of Grafton was widowed. She was a Lady of the Bedchamber to Queen Elizabeth between 1953 and 1966, and she has been Mistress of the Robes since 1967.
Lady Susan Hussey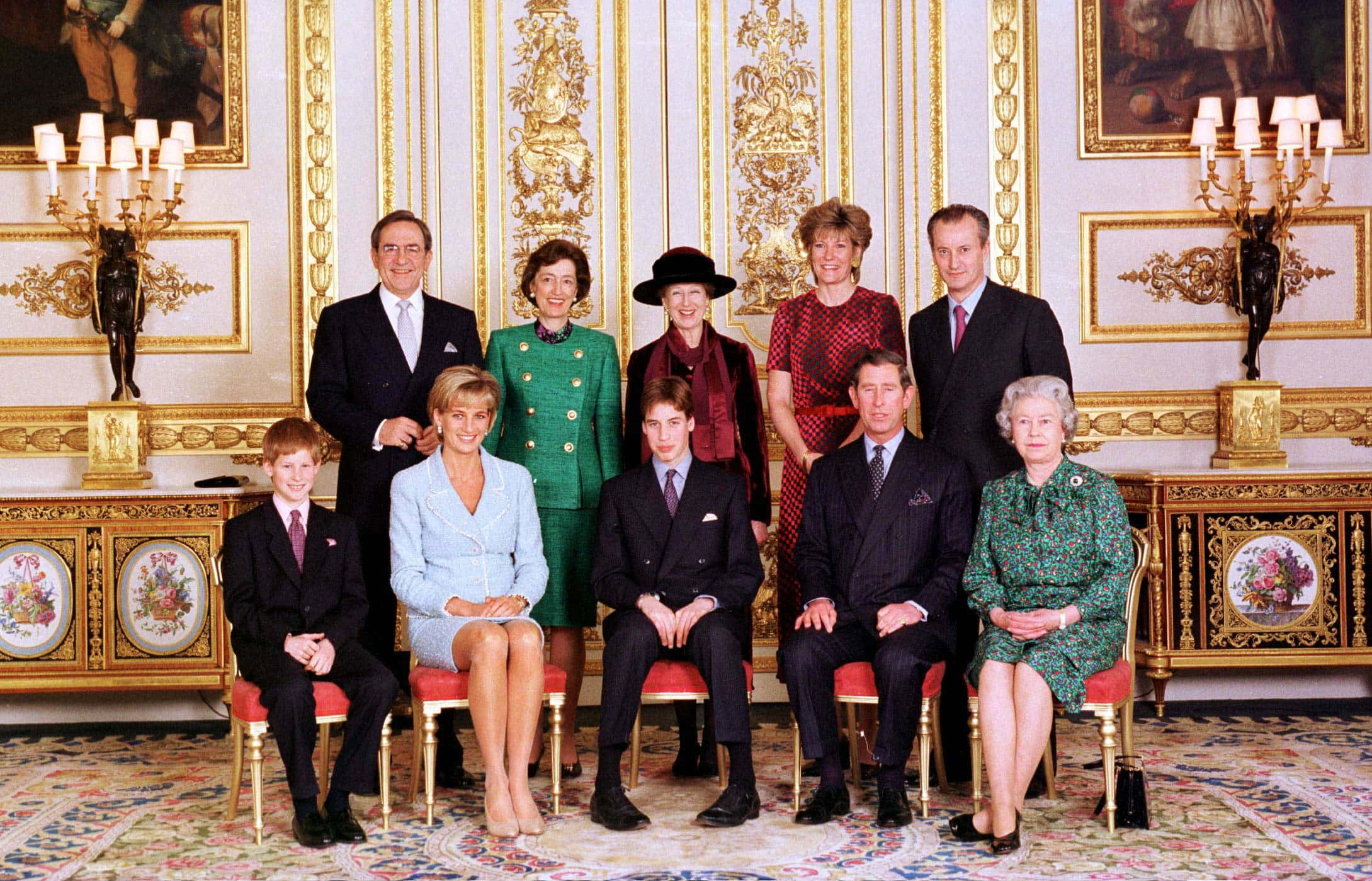 Lady Susan Hussey is a Senior Lady-in-Waiting to the Queen. She is the youngest daughter of Geoffrey Waldegrave, 12th Earl Waldegrave, and Mary Hermione, Countess Waldegrave, and was married to the late BBC chairman Marmaduke Hussey.
Susan Rhodes
In 2017, the Queen appointed Susan Rhodes to be one of her ladies-in-waiting. She is married to Simon Rhodes whose late mother Margaret Rhodes was The Queen's best friend and cousin. Margaret was one of The Queen's bridesmaids when she married Prince Philip in 1947.
Lady Elizabeth Leeming
She is the daughter of the 17th Earl of Strathmore & Kinghorne, Fergus Michael Claude and Mary Pamela McCorquodale. Lady Leeming is also the Queen's first cousin once removed. She was appointed as a lady-in-waiting in 2017.
Virginia Ogilvy, Countess of Airlie
New Jerse-born Virginia Ogilvy is the daughter of John Barry Ryan Jr and Margaret Kahn. She married David Ogilvy, 13th Earl of Airlie, following which she became the Countess of Airlie. She has joined the Queen on trips to the US and met President and Barbara Bush at The White House.
The Hon Mary Morrison
Mary Morrison is the daughter of John Morrison, 1st Baron Margadale and Margaret, Lady Margadale. Her father and brothers were active as politicians of the Conservative Party.
Richenda Elton, The Lady Elton
Lady Elton is married to Rodney Elton, the second Baron Elton, a former Conservative member of the House of Lords
The Hon Mrs Whitehead, Annabel Whitehead
Mrs Whitehead was previously a lady-in-waiting to Princess Margaret, Countess of Snowdon. Following Princess Margaret's death in 2002, Mrs Whitehead has held the office of lady-in-waiting to Queen Elizabeth.
Mrs Michael Gordon Lennox, also known as Jennifer Gibbs
Mrs Lennox was a former lady-in-waiting to the Queen mother.

Mrs Robert de Pass, Phillipa de Pass