Who is William F Tate? LSU president issues heartfelt appeal after Madison Brooks' horrifying death BATON ROUGE, LOUISIANA: A week after the tragic death of Madison Brooks, a 19-year-old Louisiana State University student who was raped and later mowed down by a vehicle, the university's administration sent out a strongly worded message to students, condemning the horrific crime that claimed the life of an "amazing and limitless" girl.
Brooks, who was known as Madi to her friends, was run over by a vehicle on January 15 and died later in a hospital. The East Baton Rouge Sheriff's Office launched an investigation into the crime and arrested four people on suspicion of rape in connection with her death on Monday, January 23, as per Daily Mail. A 17-year-old juvenile and Kaivon Deondre Washington, 18, were arrested and charged with third-degree rape while two other men, Everette Lee, 28, and Casen John Carver, 18, are accused of being principles to the crime. The sheriff's office said that Brooks left a bar in Tigerland around 1 am the same day and got into a vehicle with the four suspects.
READ MORE
Sex convict, 62, who reportedly raped and strangled 7-year-old girl, arrested after attending her funeral
Teenage boy who raped school girl for 2 hours RELEASED on bail just a day after receiving two-month sentence
Reflecting on the horrific incident, LSU president, William F Tate released a statement on Monday, which reads, "Madison was a daughter, a granddaughter, a sister, a niece, a classmate, and a friend to many of you. By all accounts, she was an amazing young woman with limitless potential. She should not have been taken from us in this way," Tate reportedly stated while branding the attackers "evil" and claiming that the university's legal team "will parcel out justice."
"Our collective grief and outrage cannot be put into mere words. So what can we do? It is time for action. One place to target our attention is the very place where this encounter began," Tate said, adding, "All but one of the suspects involved in this horrific scenario were underage yet were able to consume alcohol at a local bar. As such, our action plan starts with a deep and relentless focus on any establishment that profits off our students by providing alcohol to underage individuals." He added that the university would take legal action against businesses "that don't join us in efforts toward creating a safer environment for our students."
---
Following the tragic death of Madison Brooks, President Tate of LSU sent out a strongly worded message to LSU students in the form of an email.

"police arrested four individuals following an investigation into the events preceding the death of LSU student Madison Brooks" pic.twitter.com/N947BEaPS1

— Brandon P (@Brandopinione) January 24, 2023
---
Who is William Tate?
William F Tate IV is an African-American social scientist and higher education administrator. He was selected as president of LSU system in May 2021. He was the first African-American educator to hold the position and the first to head any school in the South-eastern athletics conference. He had earlier served as Provost and Executive Vice-President of Academic Affairs at the University of South Carolina, where he is also a USC Education Foundation Distinguished Professor with appointments in Sociology, Family and Preventive Medicine, and Epidemiology & Biostatistics, according to the LSU official website.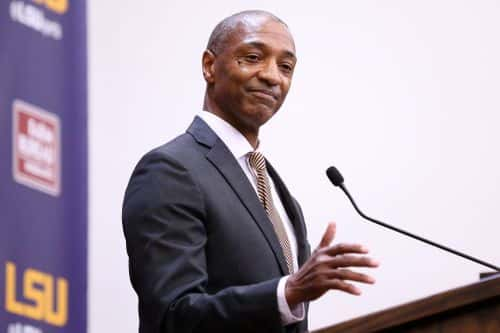 Tate co-authored numerous Mathematics textbooks including Silver Burdett Ginn Mathematics, Scott Foresman-Addison Wesley Mathematics, Scott Foresman Science, Scott Foresman-Addison Wesley enVisionMATH and enVisionMATH Common Core. On the personal front, the LSU president was born Catholic. He is married to Kim Cash, who is a renowned YouTuber, singer, speaker and author.