Who is Tina Kindred? Naked Florida woman wrecks 2 restaurants, tazed after hurling bottles OCALA, FLORIDA: A Florida woman was arrested for "acting out of control" at an Outback Steak House, and a Mojo Grill near Silver Springs, after she was found naked at the eateries, erratically throwing out alcohol bottles. Identified as 53-year-old Tina Kindred, the woman has since been charged with aggravated battery on law enforcement and felony criminal mischief after she flung wine bottles at a responding officer at the second eatery.
The incident went down after the Ocala Police Department got a call from Mojo Grill on Silver Springs Blvd, Florida, reporting a naked woman "acting out of control", topless and banging tables and windows at the eatery. The woman had flipped over some tables and was attempting to get into a customer's car shortly before she escaped and recklessly drove around in the parking lot, claims the sheriff's report.
RELATED ARTICLES:
Jennifer Dorit Weber: 'Completely naked' woman arrested for masturbating on floor of open SUV in Minnesota
Who is Rachael Lynn Stefancich? Nearly naked Florida woman who stole car, led cops on high-speed chase arrested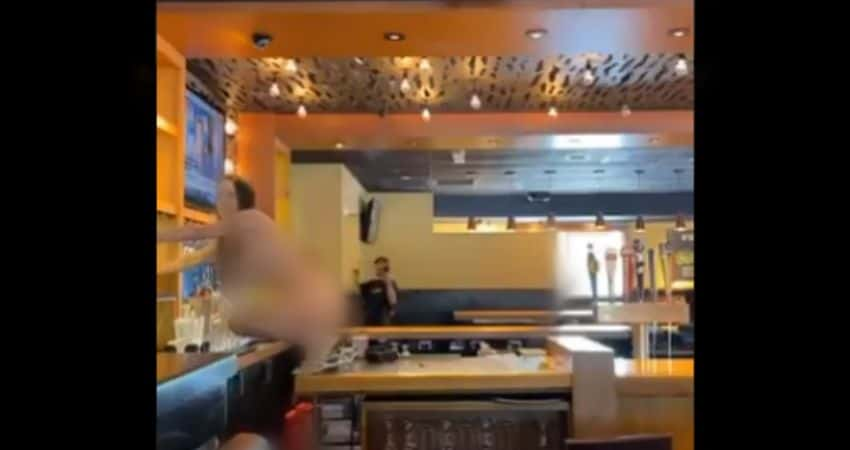 Prior to the Mojo Grill incident, the police had also received a call from the Outback Steak House, where a woman had arrived naked and was acting "crazy" and breaking things in the bar. When police responded to the call from Mojo Grill, the responding officer was attacked by the naked woman who had already spilled liquid and broken glass all over the floor. The perpetrator was ultimately tased and taken for treatment where she was found without narcotics in her system, but some traces of THC were there.
Who is Tina Kindred?
The 53-year-old woman from Ocala, Florida, was arrested for entering restaurants naked and causing wreckage inside the outlets. When an officer responded to the call from Mojo Gril - the second eatery Kindred had attacked - she noticed the cop and drew her arm back with a liquor bottle in it. She then flung the bottle at the officer who was able to dodge it. Kindred then threw another bottle at the officer's head, which touched his arm and left alcohol residue on him. Just when the officer yelled "get on the ground," Kindred threw the third bottle at him. The officer then used his Taser 7 on her, which caused her to lower to the floor and soon she put her hands behind her back.
Handcuffed, Kindred was transported to the nearby Advent Health for treatment. When she arrived, the medical staff thought she had a possible fentanyl patch on her pubic area, but Kindred was ultimately found without any narcotics in her system except THC. She was transported to Marion County Jail on June 1, where she's currently being held on a $10,000 bond for the aggravated assault charge, and another $2,000 bond for criminal mischief. According to records, Kindred's court date is set on July 6 at 9 am.
A video of Kindred's rampage has since gone viral on Twitter after documentary filmmaker Billy Corben tweeted the Ocala News's original report on the incident. While it is yet unknown what the exact amount of damages suffered by the eateries is, the police report stated it could come up to thousands of dollars. When asked by cops why she chose to vandalize Mojo Grill, Kindred said she did it because of the owner whom she found not honest. She admitted to entering whereupon she was denied business, so she started flipping tables. The report added that Kindred said she went inside the Outback Steak House with the intent to destroy it. She is still in jail and hasn't been released on bail yet.
Share this article:
Who is Tina Kindred? Naked Florida woman wrecks 2 restaurants tazed hurling bottles cops mojo grill