'My 600-lb Life': What happened to Melissa Marescot? The tragic story of how she gained a staggering 592 lbs Losing weight is not easy and Melissa Marescot's poignant story will make you feel that pain. The new episode of 'My 600-lb Life' titled 'Melissa M's Story' chronicles the weight loss journey of the 36-year-old — who lives in Fort Lauderdale, Florida.
Like many others who have appeared on the TLC show, Melissa too weighs approximately 600 pounds and is finally realizing that her body would no longer function if she doesn't seek help and get weight loss surgery. As she packs her bags to leave for a trip to Houston, a new trailer titled 'The Road Ahead' shows how she gears up to meet Dr Younan Nowzaradan aka Dr Now for the episode that will air on Wednesday (January 27) night.
'I'm gonna fly because I can't last in a car...'
Will Melissa quality for surgery? Can she be healthy again? And how much weight does she need to lose in order to qualify for the surgery that would improve her physical well-being? Losing weight would also mean gaining back all the confidence she has lost over the years due to her size... The new clip does build quite a mystery. Can Melissa do it? "Melissa is breaking out of her comfort zone and making the changes she needs to save her life," the caption reads.
"I'm gonna fly because I know I can't last in a car for days to get there from Florida," she says as she packs her bright blue suitcase... Before Melissa — who seems to be waiting for a "miracle" — everyone on the show has had a tragic tale and here we tell you what are the conditions that led to Melissa reaching this point in her life. Continue reading to find out.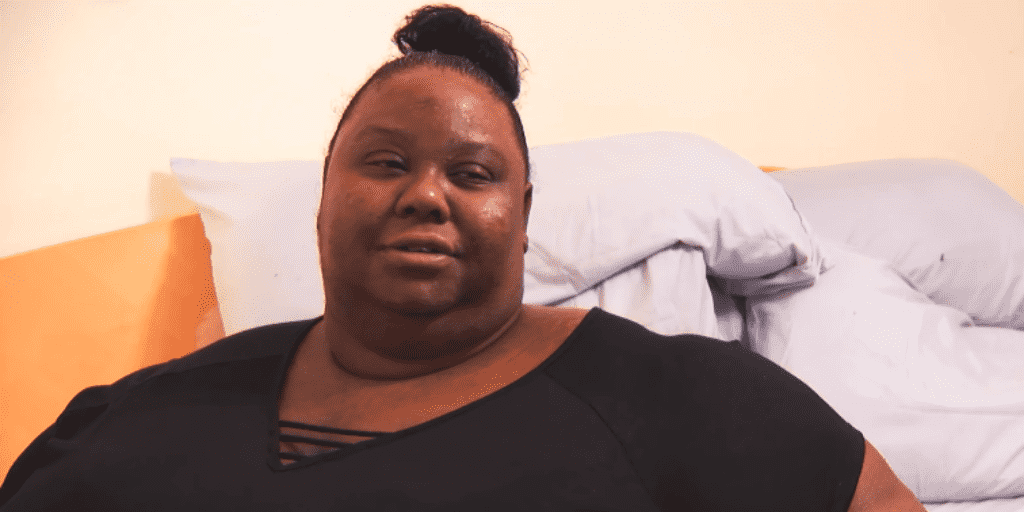 Melissa Marescot's tragic past
Melissa has had a difficult childhood. At a very young age, she saw trouble at her home and her mother was verbally abusive. To make up for her toxic behavior, Melissa's mom would feed her a lot of food and that is how she got addicted to munching. Her father, who was her best friend at that time, decided to leave the family when she was barely eight years old.
At 15, Melissa was pregnant and had to go through an abortion. The guilt and regret of her past haunted her and she dropped out of school. Food was her only comfort by then. When she was 18, she was close to 400 lbs. The one thing that kept her going was her inner drive to move past all of it. She graduated and landed a job soon. At 22, she tried to go to college but when unemployment hit her, she closed all doors and resorted back to food addiction. At 27, she lost her dad and her mom died eight years later. When she tried to brush it all aside, a failed relationship broke her heart.
How much does Melissa Marescot from 'My 600-lb Life' weigh?
As seen in the trailer, it's been a very long time that 'My 600-lb Life' has cast someone who can move around on their own without assistance. Melissa is one of those people who does not seem to have much of a problem walking around and doesn't need a helping hand or a stretcher to get her into a vehicle. However, Melissa still weighs a staggering 592 lbs.
The summary for the show by TLC reveals the reason that led to her gaining all of that weight. "Melissa has isolated herself at home and lost many friends to avoid feeling the shame of what her food addiction has done to her body; now, the only way to get her life back is to leave it behind to start a new one with Dr Now's help in Houston," it says.
Who are Melissa's friends Shay and Wendy?
All of the weight has not only left Melissa isolated but also led to her losing jobs and her fair-weather friends. The only ones backing her up and rooting for her are her best friend Shay — who is traveling with her — and Wendy — who drives her to the airport. The two do all they can to support Melissa as she decided to take a step in the right direction. When Shay comes in, they joke about booking the flight early and Melissa confesses she is "nervous".
Melissa lost her parents and that has affected her well-being. The food addiction coupled with the death of her parents disturbed her mental state and she can no longer wait to get a grip on her life. The trailer shows that she has a fire in her to get better and do all that she would need to do in order to save herself from the impending doom. "I'm ready for change... I'm ready to change," she says.
What is Melissa Marescot's Facebook and Instagram handle?
"The way I've lived my life has to change," she says in the episode. "I just hope that my worst fears of how bad this could go are wrong. And I am not trying to push myself to a place I am not ready for." The episode depicts how tough it is for Melissa to get in and out of the car. "If I don't make the whole trip, the worst part would be me not getting the help that I can. And if that happens, my life is basically over," she says while entering the airport, adding that she is "running out of time".
Whether or not she makes it, it will be quite thrilling to see her journey, wouldn't it? Melissa's Facebook account is not updated, however, there are a couple of photos of her from the past that can still be accessed on her page. She does have an Instagram page too but her account is set to private.
Catch new episodes of 'My 600-lb Life' every Wednesday at 8 pm ET on TLC.
Share this article:
who is melissa marescott from melissa m story episode my 600 lb life facebook instagram tlc