Who is Joe Hebert? Nike executive Ann Hebert resigns after son uses her credit card to aid sneaker resale firm Ann Hebert, who served as vice president and general manager of North America, has resigned from her role at Nike. The company announced her departure on Monday, March 1, with immediate effect. Her resignation is tied to a Bloomberg investigation that found her son was reselling Nike sneakers using his mother's card.
Bloomberg found that Ann's son Joe Hebert had been buying and reselling sneakers using his mother's credit card through his company West Coast Streetwear (WCS). A Bloomberg Businessweek report found he used bots to make an online purchase of 600 pairs of a sought-after sneaker (the Adidas Yeezy Boost 350 Zyon) after they were released. Using her credit card, he built up the stock of his resale business West Coast Streetwear and sold the shoes for more than $20,000 profit. Ann reportedly disclosed information about Hebert's business to Nike in 2018, which is what makes the resignation all the more shocking. According to the company, "there was no violation of company policy, privileged information or conflicts of interest, nor is there any commercial affiliation between WCS LLC and Nike, including the direct buying or selling of Nike products."
READ MORE
Colin Kaepernick's Nike sneakers, Air Force 1, sells out in less than a day after its launch
Kanye West teases Yeezy sunglasses, Internet asks if he 'redesigned women's hairbands'
Then why did Ann resign?
It could be tied to Joe's efforts to sell other products, including Addidas, Supreme and PlayStation 5's. In the investigation, Bloomberg found that he was using advanced software to bypass systems mean to limit purchases, allowing him to buy products in bulk. While it isn't illegal, it's often frowned upon by makers and even other resellers, who are left with little product to sell. Neither Anne or Joe have issued a statement, so it is unclear at this time.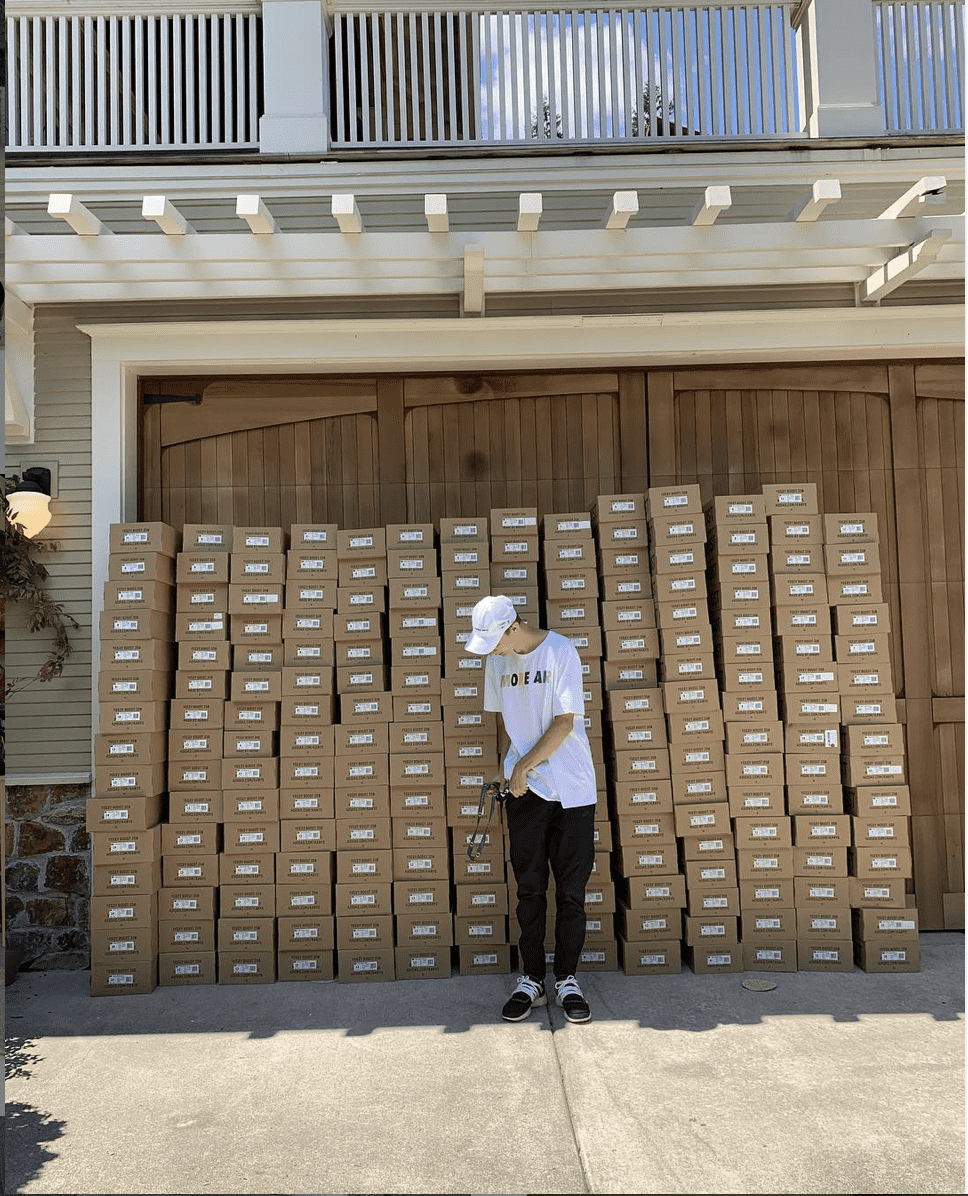 Who is Joe Hebert?
The 19-year-old entrepreneur is known as 'West Coast Joe' to his customers. He runs West Coast Streetwear, a company that buys and resells the latest fashion items like sneakers and tees. Addidas produces just 40,000 pairs of each Yeezy release, engineering scarcity and driving up demand. WCS manipulates the system to pick up as many pairs as it can. According to Bloomberg, Joe makes up to $600,000 in profit.
It's perhaps ironic that the company website is westcoaststreetwear.bigcartel.com. They also have an Instagram page with 26.9k followers. Joe has a warehouse in Eugene, Oregon, where he stores the products. He also runs a paid Discord group, West Bricks, where for $250 a month subscribers can get information on the latest releases. The group now acts as a middleman for other resellers.
Joe began his career as a reseller in high school when he found that some Supreme T-shirts he owned were going online for two or three times what he'd paid. In 2017, he began reselling shoes. He dropped out of the University of Oregon midway through his second term and moved back to Portland in 2020. His goal? To find a man who had reportedly found an abandoned storage unit with four pairs of Nike Mags, the futuristic self-lacing shoes worn by Michael J Fox in 1989's Back to the Future Part II. Joe bought the collection for $22,000 and sold it for $42,000.
As supply grew constrained due to the pandemic, Joe began diversifying. He began reselling to smaller retailers and started selling Supreme t-shirts. He also gamed the system at Walmart and Target to pick up hundreds of PS5's, making between $300 - $500 per piece.
His mother Ann had gotten a big promotion just eight months ago, becoming vice president and general manager of North American operations. In that role, she led sales, marketing, merchandising and other departments.
A lucrative market worth billions
Joe's gig isn't unusual, around the world there is a huge demand for limited-edition goods. The low-supply, high-demand streetwear business can be traced back to 1985 when Nike first released the Air Jordan 1. As Nike struggled to keep up with demand, retailers found that they could make a tidy profit selling the sneakers for more than the $64.95 suggested retail price.
Today, many brands like Supreme, A Cold Wall, Bape and Offwhite use "limited edition drops" to drive huge profits. Pre-pandemic, that meant long lines, often overnight at stores around the world. Called an "alternative asset class", Cowen inc. estimated that the sneaker resale market is worth $2B in North America alone. Driven by the visual culture of Instagram, many Gen Z and millennials are willing to spend good money on these limited edition goods, giving people like Joe a valuable opportunity.
Share this article:
who is joe herbert west coast joe son anne herbert nike vp america resigns sneakers reselling