Who is Jen Reid, the woman whose statue replaced 17th-century slave trader Edward Colston in Bristol? In June, the statue of Edward Colston, a 17th-century slave owner, was toppled over amid the Black Lives Matter (BLM) and George Floyd protests in Bristol, England. On July 15, a sculpture of Black Lives Matter protester Jen Reid was placed on the spot where Colston's statue once sat. Reid was photographed on June 7 with her fist raised in the air after Colston's sculpture was toppled over by BLM demonstrators. The black resin figure of Reid, title 'A Surge of Power', was sculpted and erected by a team led by artist Marc Quinn. The new installation "is an embodiment and amplification of Jen's ideas and experiences, and of the past, present and her hope for a better future," said Quinn in a press statement.
Bristol Mayor Marvin Rees, however, said in a statement that the statute would be removed. "The future of the plinth and what is installed on it must be decided by the people of Bristol," he said and added that the sculpture "was not requested and permission was not given for it to be installed". He said it was up to the people of Bristol to decide what would replace Colston's statue. Quinn revealed that his work was only meant to be a temporary installation to continue the conversation of racial injustice, according to BBC. He was inspired by her photograph from the BLM protests last month. He got in contact with her on social media and they worked together on the statue. It was erected on the plinth at 4.30 am BST, on July 15.
Protesters used ropes to pull down Colston's statue on June 7, which had stood in the Bristol city center since 1895. It was then dragged to the harbor, where it was toppled over the railing and submerged in the water at Pero's Bridge, which was named after an enslaved man who lived and died in Bristol. The statue was later recovered by the British City Council and will be displayed in a museum, alongside placards from the BLM protest.
Reid, a stylist, along with her husband, was among the 10,000 people in the protest against racial injustice that swept the globe, as a response to the death of African-American man George Floyd on May 25 at the hands of Minneapolis police officer Derek Chauvin. In a statement, Reid said she felt compelled to climb the plinth when returning home from the protests on June 7. "I felt an overwhelming impulse to climb onto the plinth, just completely driven to do it by the events which had taken place right before," she said. "Seeing the statue of Edward Colston being thrown into the river felt like a truly historical moment; huge."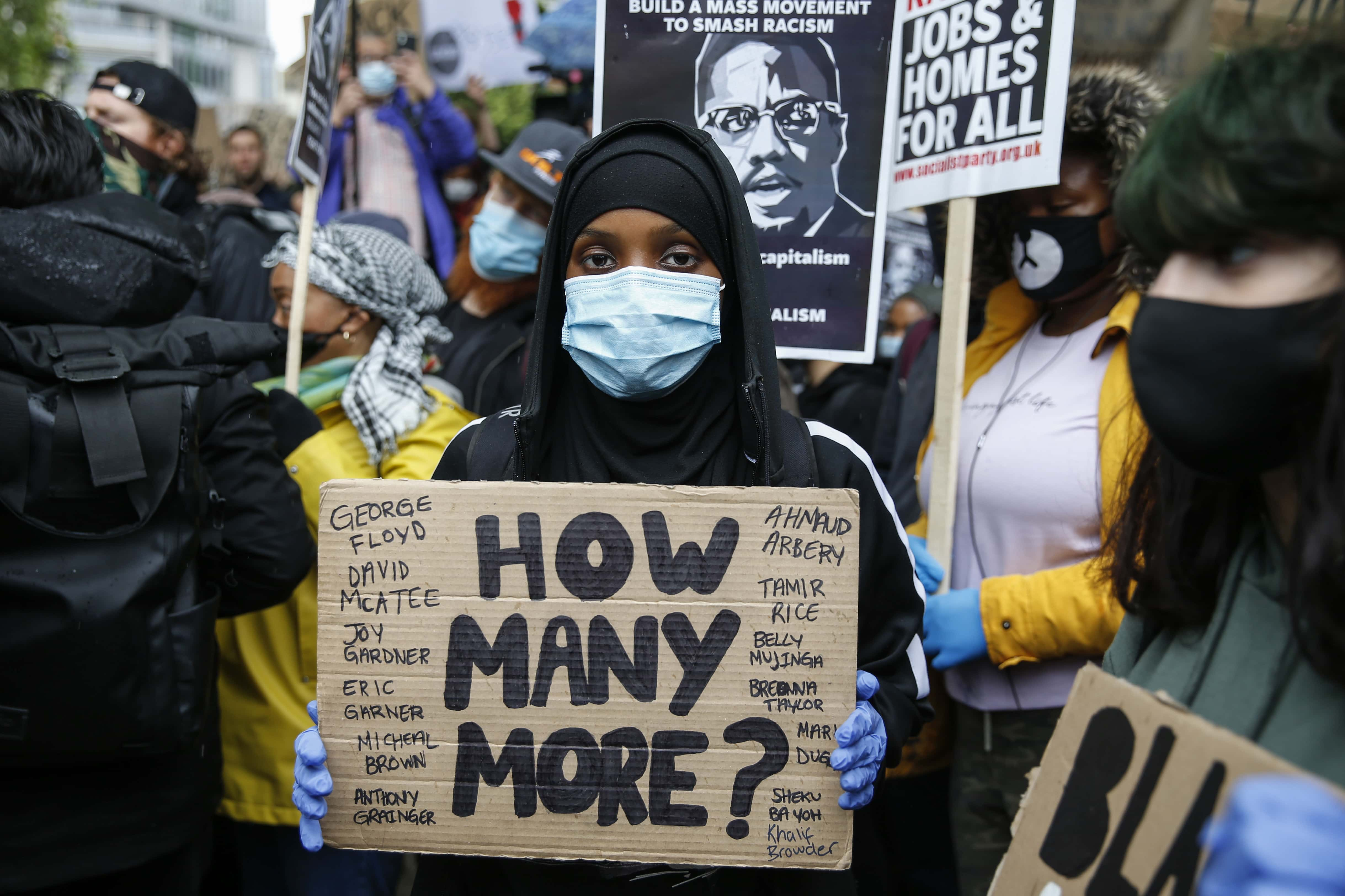 "When I was stood there on the plinth, and raised my arm in a Black Power salute, it was totally spontaneous, I didn't even think about it. It was like an electrical charge of power was running through me," she added. By installing the temporary feature on the currently empty plinth, both Quinna and Reid said they intended to "help to bring continued attention to this vital and pressing issue." They added: "We want to keep highlighting the unacceptable problem of institutionalized and systemic racism that everyone has a duty to face up to." Quinn came across Reid after his friend showed him the photograph of her with fist in the air, that was posted on Instagram. "My first, instant thought was how incredible it would be to make a sculpture of her," he said of the picture. "It is such a powerful image, of a moment I felt had to be materialized, forever."
Reid's husband captured the photograph of her that became the muse for Quinn's latest work. "This sculpture is about making a stand for my mother, for my daughter, for Black people like me," said Reid, referring to Bristol's new art piece. "It's about Black children seeing it up there. It's something to feel proud of, to have a sense of belonging, because we actually do belong here and we're not going anywhere."
Share this article:
who is jen reid black lives matter protester statue replaced slave trader edward colston bristol