Who is Annie Kunz's boyfriend? Heptathlete's 'No 1 fan' says she has unlocked the 'cheat code' Annie Kunz is standing strong into the top five of the overall heptathlon standings at Tokyo Olympics after delivering a 15.15m toss in shot put, which is third-best of the event. The 28-year-old is also the 2020 US indoor champion and has competed in a number of competitions throughout her career.
Due to her strong performance at the Olympics, people have become eager to know more about her and her private life. Followers not just want to know about her family, but also about her relationship status.
READ MORE
Who is Erica Bougard's girlfriend? US athlete advocates for LGBTQ, says 'I'm going to be myself'
What is Emmanuel Korir's net worth? Kenyan runner wins 800m gold at Tokyo Olympics
Who is Annie Kunz's boyfriend?
The Denver native is from an athletic family as her father was a professional NFL player with Oakland Raiders. Annie is the daughter of Terry and Nancy Kunz. She was born on February 16, 1993 and has two siblings — 27-year-old Kelli and Terry Jr., 26.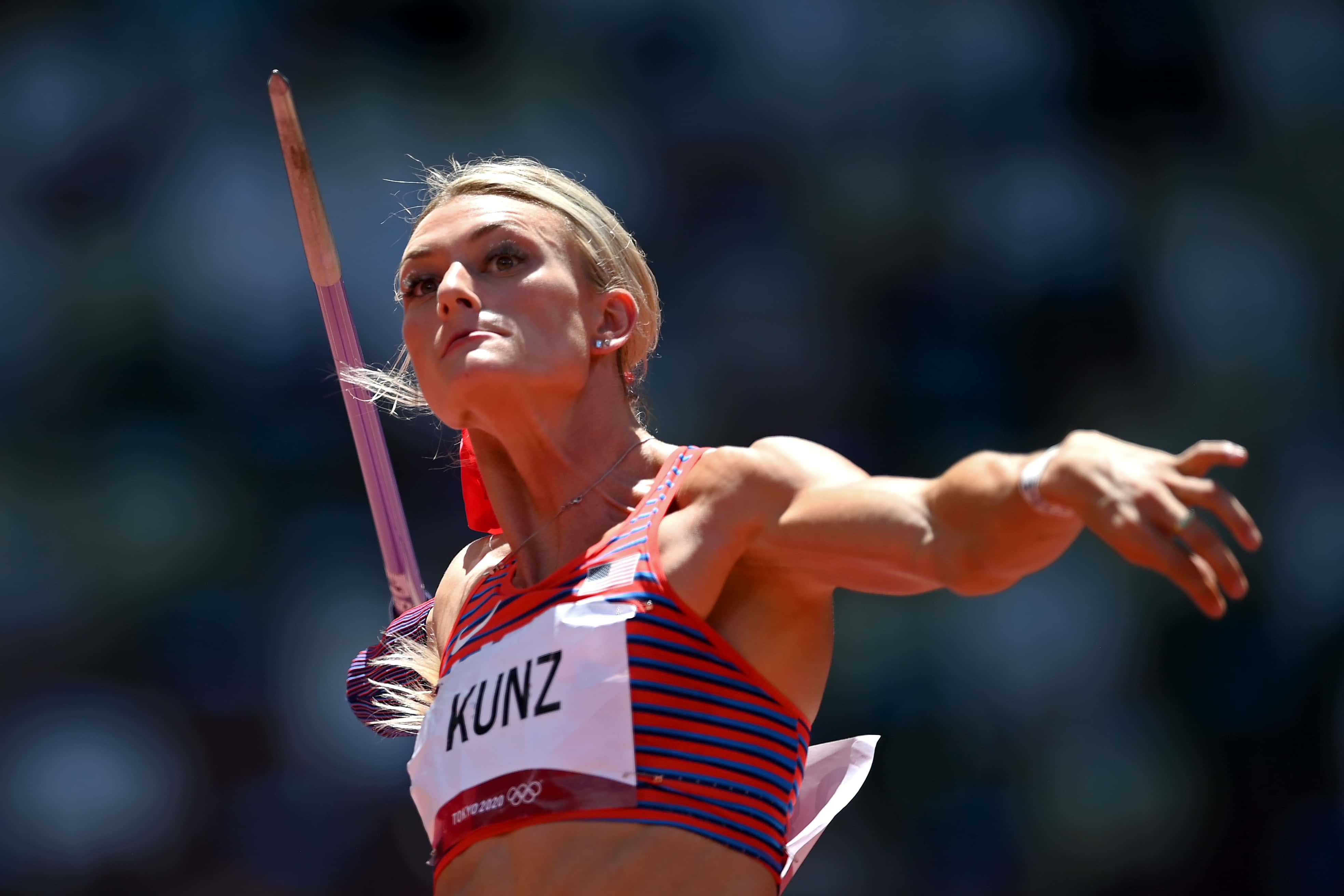 According to USA Track & Field (USATF), Annie graduated from Wheat Ridge High School, "where she was a Peer Counselor for three years." It adds that she "also volunteered as a youth soccer coach and helped with the Special Olympics Rush Thunder...Played soccer in high school and college."
The brand ambassador of clothing brand Balance Athletica is reportedly dating a guy named Charles Tyler. The 5 feet 11 inches tall heptathlon athlete is quite active on social media and keeps sharing pictures with him on Instagram. One of her posts with the love of her life was shared on the social media platform on July 9 that showed Annie giving a passionate kiss to the man.
In the caption, she thanked Tyler for his support. She wrote, "This moment. This guy. You've been on every step of this journey with me now for 4 years, so to get to share it with you meant more to me than I can even put into words. The amount of times I called you teary-eyed questioning if I could do it, the days you went with me to parks to throw jav in the thick of covid, the resources you've given me to better myself in every way."
Annie continued, "You've believed in me more than I believed in myself some times, but all the ups and downs and tears and times of uncertainty were all worth it to share this moment with you. I love you so much Charles Tyler and I can't wait to see what we do next!!" before adding: "#immotcryingyourecrying."
Tyler, whose Instagram username is @tylermahon, also shared the same photo with several others on his page and lovingly wrote for Annie, "@annie_kunz7 You've shown unwavering support for me more times than I can count and I wouldn't be half the man I am today without you by my side through some of the all time greatest and most challenging of times in our lives. I am so blessed to be your person to lean on and I'm so happy you finally see what we all see for yourself."
He added while claiming himself her number one fan: "Boo this is only the beginning, I can't wait for the world to get a glimpse of the greatest athlete and above all, greatest person inside and out. You've unlocked that cheat code, you've got that 'thing' that only the GOATs have to elevate to another level when the stage is larger than ever, the seats are at full capacity and the pressure is on the most. You're awe inspiring and you've captivated me and my heart in the process. The sky's the limit now go get em and know that I will always be here yelling louder than anyone for you from the stands (or steaming online) and be the first person to hold you after you've given it your all. And remember 'job's not finished' Love Always ❤️ your #1 Fan."