Who are California's 'weed nuns'? Sisters of the Valley are on a mission to heal with cannabis A group of self-ordained "weed nuns" who truly believe in the power of cannabis can help heal the world. The group carries out the Cannabis plantation on a farm and uses them for medicinal purposes.
This group of nuns named 'Sisters of the Valley' is comprised of a sorority of radical feminists was founded by Sister Kate, 62, a self-declared "anarchist-activist nun," in 2015 in Northern California's Merced County. The nuns grow and harvest their own cannabis seedlings to create holistic healing products, such as cannabidiol (CBD) salves, tinctures, balms, and soaps which they sell online. They use a strain of marijuana that decreases the psychoactive compound of THC, but still carries CBD, which has been praised to help in the treatment of epilepsy, cancer and addiction. Sister Kate whose real name is Christine Meeusen started the marijuana business with only 12 plants but has since grown the company internationally. Until the pandemic, the company profited more than $1.1million.
READ MORE
Will Sha'Carri Richardson miss Olympics? Fans say 'Michael Phelps got away with smoking weed'
Biden White House fires staffers over past marijuana use, Internet says Kamala Harris 'admitted smoking it'
Many people confuse the group to be a religious one but Sister Kate confirmed that the Sisters of the Valley are in no way affiliated with the Catholic Church. "We do things that are spiritual but none of us are associated with any religion specifically," she explained. "Religions sell words but we want to do much more than that." Sister Kate added that the Sisters of the Valley are trying to revive spiritual customs that "put Mother Earth at the center of everything." "So we created something that is nonreligious, but it's spiritual – and it's very eco-feminist in nature." The group does follow a number of elements true to the traditional nun lifestyle. The members of the group turn the hemp into cannabis-based balms and ointments, which they say have the power to improve health and wellbeing. More than two dozen US states have legalized some form of marijuana for medical or recreational use, but the drug remains illegal at the federal level. California legalized the recreational use of marijuana in November 2016.
The majority of the 'weed sisters' live together and also take six vows of service which Sister Kate explained is different from the vow of poverty taken by traditional nuns. "We take six vows which are all pretty simple and they spell out the acronym S-O-L-A-C-E. The first one stands for service, the second obedience, and the third one stands for living simply. The fourth one stands for activism, the fifth one stands for chastity, and the sixth one is ecology. A vow is a necessary thing to do to get a commitment from [prospective sisters] before we allow them to dress and walk among us." She added that though Sisters must take a vow of chastity, that doesn't mean they have to be celibate. "There are six definitions in the dictionary for celibacy, and we took the one that's most empowering to women, which is privatizing our sexuality and being modest in interests and manner," Sister Kate said. "So in other words, we're not going to be sexy. The thing is we see this uniform like a police uniform or a sheriff's uniform and seduction and sexual energy are not at the same energy as healing. It's the opposite energy in our opinion," she said.
All of the sisters of the group wear traditional nun habits when working on the Sisters of the Valley farm. Sister Kate first started wearing it as a habit during the Occupy Wall Street movement in 2011, in which she was heavily involved. The decision to wear the religious outfit came amid a series of news reports that Congress had apparently decided to classify pizza as a vegetable. "My nephew said to me one night, 'If pizza is a vegetable then you're a nun. I thought that was brilliant. I already had a nun outfit so I put it on and started going to protests wearing it. The movement later dubbed me 'Sister Occupy.'" In addition to the vows of service, the sisterhood also makes a commitment to respect nature and lunar cycles. All the medicines made by the group are made according to the cycles of the moon, a nod to Native American traditions.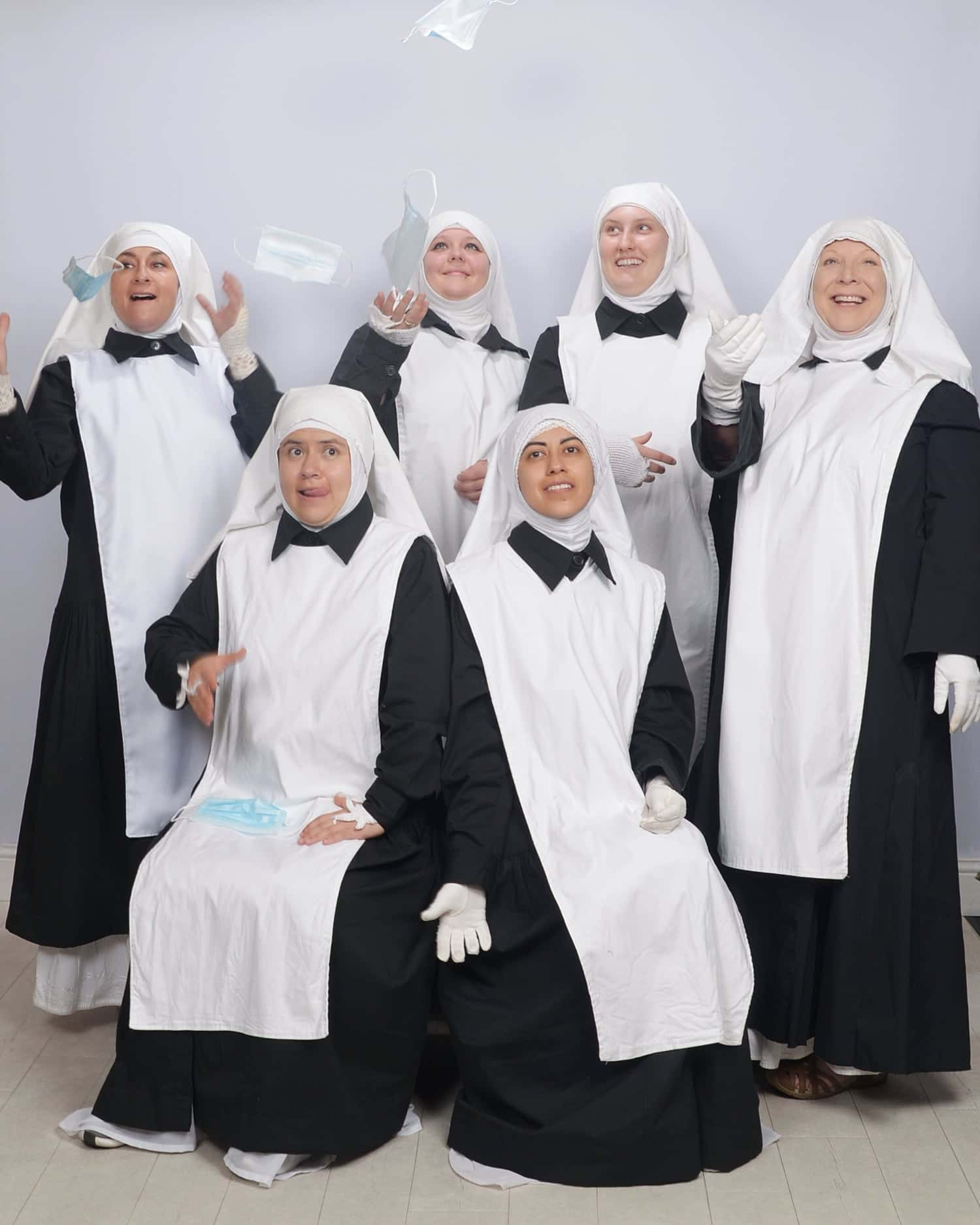 In 2008, before starting the Sisters of Valley group, Sister Kate moved in with her brother and his two children in Merced. The following year, she started a medical cannabis delivery company for the terminally ill and disabled, where she witnessed the drug's healing powers firsthand. By 2011, her Sister Kate alter-ego was born, however, soon after she suffered a falling out with her brother and was once again left homeless. She and her daughter sofa-surfed with other members of the Occupy movement for around four months before she stumbled on a $1,000 per-month property in Merced.
On January 1, 2015, she officially set up Sisters of the Valley. Her first sister, Darcy, joined around nine months later, and several others joined in the following months. Sister Kate said she has since personally ordained more than 20 Sisters of the Valley, with more set to join in the months ahead. She said there are currently three other sisters living with her at her farm, with another set move in, in October. In addition to California, there are now Sisterhoods in Canada, Mexico, Brazil, the UK, and New Zealand.
Share this article:
Who are California's 'weed nuns Sisters of the Valley group on a mission to heal with cannabis