Where is Payton Leutner now? Slender Man stabbing victim slept with scissors under pillow In a story fresh out of a creepypasta nightmare or the kind that one would see in a Ryan Murphy horror series, Payton Leutner's life changed overnight when she was stabbed 19 times by her best friend Morgan Geyser and another classmate, Anissa Weier. Years after the May 2014 attack that allegedly stemmed from fears of the urban legend Slender Man, Weier was found guilty of attempted first-degree murder, while Geyser was found not guilty on the grounds of insanity. The sensational nature of the crime, the tender age of the assailants, and the inception of the attack from a fictional Internet boogeyman turned Leutner into a heroic survivor, her story becoming the focal point of countless TV specials and a Netflix film starring Joey King.
In an ABC interview with David Muir in 2019, Leutner said she was still wary of making new friends and had trouble sleeping alone for the longest time. One of her attackers, Weier, meanwhile, has secured an early release after serving just four out of her 25-year sentence at the Winnebago Mental Health Facility. Leutner's former best friend, Geyser, was also sentenced to 40 years in a mental facility. Her appeal to have her conviction overturned has been denied. Geyser was later diagnosed with schizophrenia, and following her 2017 conviction, her attorneys have argued that she should have been tried in juvenile court as she was 12 at the time of the stabbing. Meanwhile, Leutner thanked Geyser for turning her into the person she is today, during her chat with ABC.
RELATED ARTICLES
How the 'Slender Man' urban legend inspired two 12-year-old girls to stab their classmate NINETEEN times
Will Darriynn Brown be sentenced to death? Man charged with capital murder in Cash Gernon case
Where is Payton Leutner now?
At 19, Leutner is expected to be in university, although her last public appearance on live television is more than a year old, dating back to February 2020. At the time, Leutner was a senior in high school and planned to attend college in fall 2020. Inspired by what happened to her at such a young age, Leutner had said she would pursue a career in the medical field.
It has been seven years since the gruesome attack was orchestrated by her closest friends in an attempt to prove that Slender Man exists. In her ABC interview, Leutner said she has learned to live with the scars from the stabbing. "I've come to accept all of the scars that I have," Leutner had told Muir, adding: "It's just a part of me. I don't think much of them. They will probably go away and fade eventually."
Google searches on Leutner's current status mostly return reports on where her attackers are now, and the appeals and opinions surrounding their crimes. Perhaps this was one reason why Leutner was so keen on telling people her "side" of the story through the ABC interview, as opposed to "everybody else's". In her explosive revelations, Leutner told ABC how she had befriended Geyser herself in the fourth grade, after noticing the other girl sitting by herself. Leutner had described Geyser as "a little lonely" but "funny".
Leutner's toxic friendship with Geyser
"Everything went downhill" in the sixth grade when Geyser began hanging out with Weier. Geyser soon started talking to Leutner about the "Slender Man". Leutner "thought it was odd. It kind of frightened me a little bit. But I went along with it. I was supportive because I thought that's what she liked." The topic of the Internet boogeyman made Leutner afraid and she told Geyser that. But the other girl's enthusiasm knew no bounds, according to Leutner. "I saw the change from fifth to sixth grade when she met Anissa [Weier]," Leutner said. "That's when I was really wanting to get out of that friendship."
Leutner's mother Stacey said her little girl probably knew this wasn't "the healthiest friendship" but didn't cut Geyser out of her life as she didn't want the other girl to have no friends left. But Geyser's fixation with Slender Man grew as did her friendship with Weier, who lived in the same apartment complex as her and also rode to school in the same bus as Geyser. Claiming she didn't like Weier at all, and merely tolerated her as Geyser's friend, Leutner spilled that it was Weier who "really convinced" Geyser that the fictional entity with a faceless head, super tall sleek physique, clad in an all-black ensemble, armed with tentacle-like fingers was real.
The night before her brutal attack, Leutne had skated at the local rink, eaten froyos and had a sleepover for Geyser's 12 birth with her and Weier. "Something was strange because at all of our past sleepovers, [Geyser] always wanted to stay up all night because she could never do that at home," Leutner recalled, adding: "But on [the night of] the birthday party, she wanted to go to bed. Once I look back on it, I was like, that is really weird," she told Muir. "Why didn't I see something? Why didn't I notice something was weird? But I'm not blaming myself at all. Because who could ever see something like this coming? Nobody could ever see something like this coming."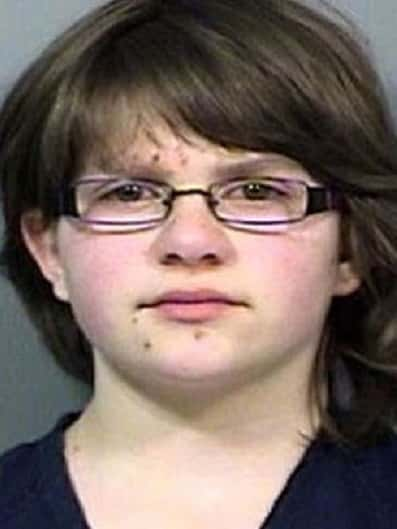 19 stabs from her best friend
The initial plan was to kill Leutner in her sleep, as confessed by Geyser and Weier after the girls were found walking along the road, on their way to "live with Slender Man." Leutner recounts the harrowing details of the morning of the attack. After waking up, she went downstairs to meet Geyser and Weier, ate doughnuts, and left for the local park together. The attackers decided to play hide and seek, once again drifting from their initial plans. Weier then asked Leutner to lay down and cover herself in heaps of sticks and leaves so as to hide, and once she complied, Geyser pulled out a kitchen knife she had brought from home and stabbed her 19 times in the arms, legs, and torso with the 13cm long blade. Two of the wounds were to major organs, one millimeter away from a major artery, and another straight through her diaphragm, digging into her liver and stomach.
The attackers then told Leutner to lie down as they would go looking for help, but they never returned. "I got up, grabbed a couple of trees for support, I think," Leutner recounts. "And then just walked until I hit a patch of grass where I could lay down." A bicyclist found her and called 911 as Leutner kept drifting in and out of consciousness. She was operated on at the ProHealth Waukesha Memorial Hospital for six straight hours, and when Leutner woke up, "I remember the first thing that I thought after I woke up was like, 'Did they get them?'" she said. "'Are they there? Are they in custody? Are they still out?'" she tells ABC.
Leutner was relieved to hear of Weier and Geyser's arrest after the two girls immediately confessed to stabbing their friend out of fear of Slender Man murdering their families. They even confessed they had been planning this for months by then. However, at the time of the ABC interview, Leutner admitted she still slept with a pair of broken scissors under the pillow next to her "just in case." When Leutner learned of the reason behind the attack, it didn't surprise her "because she (Geyser) believed so hard in this thing that she would do anything for it.'" She was however shocked, "that they had this big, huge plan that they had been working on for months.
Leutner still thanked Geyser
Leutner's mother Stacey revealed that despite the then 17-year-old coming to terms with what happened, she still had residual trust issues after the attack. "She has friends, but initially, even with those friends, she kept them at arm's length. And for a long time, even trusting family members was hard for her," she explained. In the years since the attack, there has been a constant debate about the two minors being charged in as adults. Of that, Leutner thinks: "Adult crime is adult court. If they had stolen a candy bar, sure that's a child. But you tried to kill somebody. That's an adult crime."
Leutner never wants to ever see or talk to her attackers ever again, calling what her best friend did "probably unforgivable". "If she ever like tried to come by me, she would go right back where she was," the teenager said. Her mother added: "I don't know that I'm comfortable with her being released right now." That said, Leutner would "initially thank (Geyser)" if she were to ever speak to the friend who tried to murder her. "Just because of what she did, I have the life I have now. I really, really like it and I have a plan. I didn't have a plan when I was 12, and now I do because of everything that I went through," explained Leutner.
Share this article:
where payton leutner now slender man stab victim sleep scissors anissa weier release morgan geyser