Where is Jordan Taylor? 29-year-old missing CUNY law student's wallet and phone found on streets QUEENS, NEW YORK CITY: A 29-year-old student of The City University of New York School of Law has gone missing and was last seen on January 6 at a barber shop in Queens. Missing law student Jordan Taylor's phone was found on a street in Hell's Kitchen early on January 7. Further, his wallet was found downtown on West Street, not far from the Goldman Sachs building.
However, the NY student's cash and credit cards remained intact in his wallet. The missing student, who is in his first semester at the CUNY, was seen leaving the Hustle Barbershop on Hillside Avenue in Richmond Hill on January 6 just after 5 pm. Al Taylor, the missing student's brother told PIX11 News, "someone found the phone around 46th or 47th Street and handed it to police. My brother was going to CUNY law school. This was his first semester. He was a little stressed out about finals. We were trying to be supportive."
READ MORE
Who was Cheyann Klus? Missing Downers Grove woman's remains found after FIVE years
Where is Ana Walshe? Desperate search for Massachusetts mom, 39, who vanished on New Year's Day continues
Barber Rafael Padilla, who tended to Jordan the day he went missing, told the outlet, "He seemed a little off. He didn't let me give him a full haircut. He didn't wait for the haircut. He said he had to go. I asked the boss what to do. He said, 'Let him go,' and he stood outside for like five minutes." Moreover, NYPD Missing Persons tweeted, "Have you seen Jordan Taylor? He is 5'11, 160lbs. He has been #missing since 01/06/23. Last seen in #Manhattan wearing a dark blue jacket, black pants and black Vans sneakers. If you see or have seen Jordan, please contact the @NYPDMissing Persons Squad."
Where is Jordan Taylor?
Jordan attended his law school while living in a family apartment in Queens. Before disappearing, he changed his profile picture on Facebook and he wore a white mask in it. He was last seen wearing a black and red argyle sweater, black pants, a black coat, and the white face mask seen in his display picture. Al added to his previous statement and said: "Maybe he was meeting someone." Al explained that his brother's phone was found a bit after 1.30 am on January 7 and the location wasn't far from the Q nightclub. Jordan's friends claimed that he would familiar with the nightclub. However, there is no evidence of whether he visited Q on the day he went missing.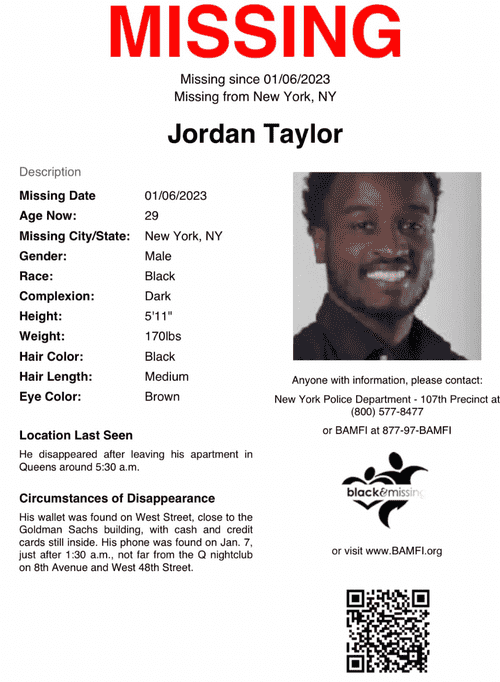 Al further added, "They told me that he was getting emails from there and we confirmed that by checking his email, his Gmail account. Taylor's mother said, "We tracked it to 54th Street, which is the police precinct. 306 West 54 Street. The phone was there but he was not." Apart from studying law at the CUNY, he is a graduate with a double major in political science and Black studies from SUNY New Paltz. He also worked on the congressional campaign for Antonio Delgado, who is now the lieutenant governor of the New York State. Al added, "He was also involved in Black Lives Matter. He was very involved in community and grassroots efforts."