What is the 7-year jinx in K-pop? How GOT7 and Miss A did not survive the curse but BTS and SHINee did
Who is Daniel Lahart? NY high school's president fired over sexual misconduct claims from school that Fauci attended K-pop groups BTS, GOT7, SHINee and Girls' Generation (Getty Images)
The seven-year curse is what fans of boy bands and girl bands in South Korea call the contract term that K-pop groups sign with their agencies. This is the period of time that an agency promises to take care of the artists and their bands in terms of music production, promotion, branding and other additional opportunities.
For this service, the agency gets a percentage of the payment that the artiste would be paid. This percentage is different for organizing concerts, signing movies, fan meets and even new music production. Once the seven-year period is up, most often than not, the bands disband as by then the band members have usually found a singular point of focus in their careers. Take, for instance, actors who used to be idols or members who have launched their solo careers. Band members eventually want to concentrate on individual growth and that is why many bands disband once their first contract period is up. Let's take a look at some of the popular K-pop bands that have been put through the test.
RELATED ARTICLES
Who rules K-pop? A closer look at how 'Big 3' agencies SM, YG and JYPE gave way to BTS' HYBE and IU's EDAM
Will JYPE lose Thailand and China markets? Truth behind GOT7 members Bambam and Yugyeom's rumored exit
GOT7's tryst with the curse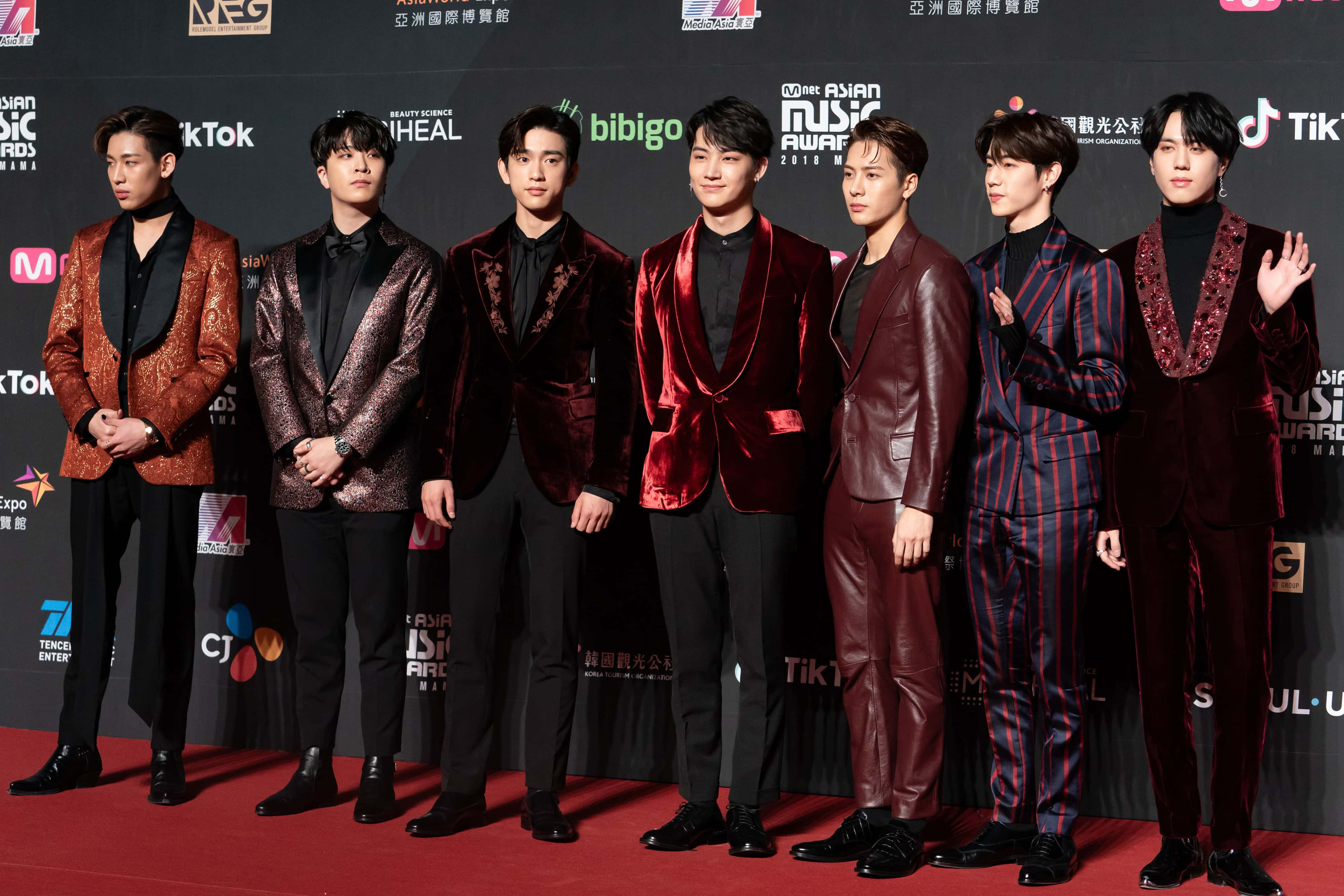 The "seven-year curse" cannot be taken literally, as certain initial contracts are also shorter in duration. For instance, GOT7 had a seven-year-long contract, and they did not sign again with JYP Entertainment. However, their band did not break up. Instead, the members – Mark, Jinyoung, Youngjae, Yugyeom, Jay B, BamBam and Jackson – even released a song right after their contract with JYP ended to indicate that as a band they will continue to work together to release songs, while also concentrating on their individual future.
IZ*ONE: The girl group had to disband in 2021
IZ*ONE had to disband despite having a great fan base, huge popularity and diverse members. The band consisted of members Kang Hye-won, Lee Chae-yeon, Kim Min-ju, Hitomi Honda, Kwon Eun-bi, Jang Won-young, Sakura Miyawaki, Nako Yabuki, Jo Yu-ri, Kim Chae-won, Choi Ye-na and An Yu-jin. The members were formed into a band after they took part in an Mnet reality competition, 'Produce 48', in which they won. The contract period for the band ended in April 2021 and on March 10, 2021, MNET confirmed the news. The band had been formed in 2018. Here, the curse was not really seven years, but the girl group had to disband. This broke fans' hearts, but they hoped that the 12 members would pursue music individually.
While these are the most recent occurrences of a K-pop group disbanding, let's go back to the beginning of the decade – between 2010 and now. Here's a look at how many groups were formed and have also disbanded due to problems in renewing their contracts with their agencies.
Miss A: Active between 2010 and 2017
One of the most popular Korean actors today, Bae Suzy, used to be a member of a girl group called Miss A.
Members of this band were Jia, Min, Fei and Suzy. They were termed as one of the fastest bands to get a #1 position on a music program in just 21 days. This was considered a huge achievement then. In the span of their career, the band had 5 music show wins and gained 21 awards. However, when their contract term was up, two of the members refused to renew their contract with JYP Entertainment.
Other girl groups from this period came to an end for similar reasons, and these include Wonder Girls, KARA, and SISTAR.
However, certain bands have avoided the same fate and have even managed to stay on with their original agency. One of the biggest and most popular examples that is cited today is the global supergroup, BTS, which has been with BigHit Entertainment since the very beginning. While the agency has gone through a change in terms of branding and is now called HYBE, the people behind their management remain the same.
BTS: 2013 to Present
BTS began its career in 2013, and since then, they have taken the world over with their talent and charm. The fans of the seven members – V, J-Hope, RM, Jin, Jimin, Jungkook and Suga – who call themselves ARMY have stayed with them throughout this journey, and have rooted for their victory. Every individual member of the band is popular in their own way and has a defining trait even in the form of the music that they pursue. The band is not restricted when it comes to pursuing different kinds of music and BigHit even allowed its artists to pursue their interest in their single releases, mixed tapes and even OSTs that they collaborated on.
Who could forget V's 'Sweet Night' for 'Itaewon Class'? There are also collaborations that the artists do individually, like when Suga worked with IU. So there is transparency between the agency and the artists, which has led to a strong bond between them. So the contract may not be the curse in their case. However, the artists are soon expected to sign up for their mandatory service in the army and they might have to take a break or perform with fewer members when this happens.
Bands that made a comeback despite the curse:
Some bands suffered from this curse – but only partially – believe fans. For instance, SHINee suffered a huge loss in 2017 when one of their members Jonghyun died by suicide in 2017. They did release music after Jonghyun's death, however, the members ended up signing up for their compulsory military service and that was when the band went on a break. However, they made their comeback with 'Don't Call Me', an album that they released after two and half years.
Girls Generation is another band that has managed to stay together despite certain members of the band leaving the group. They were popularly known as 'The Nation's Girl Group' after member Jessica decided to depart from the group. She ended her contract with SM Entertainment and this had caused a scandal. However, the other members of the group Sunny, Yuri, Yoona, Seohyun, Taeyeon, Sooyoung, Tiffany and Hyoyeon are still together. Each of them has their own careers – such as Seohyun, Sooyoung and Yoona in acting.