Was Gwen Shamblin's church responsible for Josef Smith's death? 8-year-old boy's abuse led to 2003 raid NASHVILLE, TENNESSEE: Christian Diet Guru Gwen Shamblin Lara reportedly died along with six others in a plane crash on May 29, bringing to light her controversial weight loss program once again. Shamblin, along with her husband Joe Lara, church leaders David and Jennifer Martin, Jonathan and Jessica Walters, and Shamblin's son-in-law, Brandon Hannah, were presumed dead after a Cessna C501 private plane crashed into the waters of Tennessee's Percy Priest Lake.
Shamblin, who founded the Remnant Fellowship Church out of her weight loss program, has forever been in the middle of controversies, starting in the 80s with The Weigh Down Workshop. But turning weight loss into a religious movement wasn't the only controversial moment of Shamblin's career, as her Brentwood-based church was investigated in the 2003 abuse and death of an eight-year-old boy called Josef Smith. The child's parents who were members of Shamblin's church were charged with his murder after being convicted of beating him severely and keeping him caged inside a box for days. But when the church's stand in favor of corporal punishment came to light, Shamblin expressed support for the parents while police investigating the church's involvement in the punishment testified they couldn't find a religious link to the death.
RELATED ARTICLES:
Who are Gwen Shamblin Lara's children? All 7 on plane presumed dead after crash including son-in-law
Are Gwen Shamblin and Joe Lara OK? Jet carrying diet guru and her husband crashes into lake killing 1
Tragic death of Josef Smith
In 2003, a suburban Atlanta couple Joseph and Sonya Smith were convicted of beating their child to death as a punishment. The Smiths were members of the church's Nashville chapter and were sentenced to life plus 30 years in prison for the crime. Prosecutors had contended that the boy was locked inside a wooden box and was kept confined to a closet for hours at a time before his death in October 2003. Authorities also reported the boy was chronically abused and the cause of death was a blow to the head. His parents faced charges that included murder, aggravated assault, cruelty to children and false imprisonment.
The investigation into the parents led the authorities to investigate and raid Shamblin's Remnant Fellowship Church, who soon faced ample scrutiny with former members even calling it a cult. The church's leaders were accused of condoning beating with gluesticks and punishments like locking children in their rooms with just a Bible for company. In her own 2004 interview with the Associated Press, Shamblin admitted the church does believe in spankings and said she had also used a wooden spoon on her children. But police testifying in the trial claimed they weren't able to establish a link between the boy's death and the church's stand on punishments.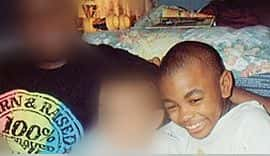 The church's defense
In due course of the investigation into the boy's death, the Remnant Fellowship church was raided. In response, the church expressed full support for the couple during their trial, as well as funded their legal fees by soliciting donations for them through a website called thesmithsareinnocent.com. Members of Shamblin's church were even seen attending the couple's trial in Georgia in person. They maintained the Smiths' involvement in the boy's death was an accident and featured the couple's family photos on their website with reasons on why they believe the parents were not abusive.
According to the Remnant Fellowship Church, Josef suffered from a bacterial infection; they claimed some of the marks on the boy's body were caused due to self-scratching from eczema. "How this simple case could get so out of hand is a mystery," the website states. "Something just does not add up." The church believes, "the false accusations were originally initiated by ex-church members." They further insisted, "Remnant Fellowship, Weigh Down, and Gwen Shamblin Lara have been vetted and exonerated by all skilled agencies that would have been able to uncover any form of child abuse. In addition, there has never been any other child abuse charges against the church or members of the church."