'WandaVision' Episode 8 Spoilers: Will Agatha Harkness usher Mephisto into MCU? Fans are not ruling him out yet
He hasn't shown up in the flesh, but the giveaways, in true Marvel fashion, are subtle while fan theories continue to abound 'WandaVision' still has two episodes to go. There are leaks galore over the Disney+ series, and with every rewatch, Marvel geeks dissecting episodes to unearth new pieces of information shouldn't come as a surprise anymore.
It does appear that the theory of Mephisto as the villain cannot be ruled out. Earlier, we speculated about how the demonic baddie could foray into the MCU, and with the grand Agatha Harkness reveal in Episode 7 'Breaking The Fourth Wall', there's room for Mephisto to still appear.
He hasn't shown up in flesh, but the giveaways, in true Marvel fashion, are subtle. In the final minutes of the previous episode, Agatha has one line: "The devil is in the details" and this may mean two possibilities: The meticulous creation of the Hex and Mephisto. Add to this the book, presumably, Darkhold that was shown might be key to bringing Mephisto into the world.
RELATED ARTICLES
'WandaVision' Episode 8 and 9 Spoilers: Who makes a surprise cameo? Here's the SHOCKING Reddit plot leak
'WandaVision' Episode 5 Spoilers: Is Pietro Maximoff actually Mephisto? Meet the rumored villain of Marvel series
Mephisto's connection could also be made considering the presence of Wanda's children— Billy and Tommy. In the 1985 comic, 'The Vision and the Scarlet Witch', Wanda created her children by unknowingly using fragments of Mephisto's soul — the realization takes her down a dark road.
Screenrant's Jill Wronski has another solid theory that just makes Mephisto's appearance all the more possible. This comes in the form of the cicada and the bunny that Wanda sees in her house.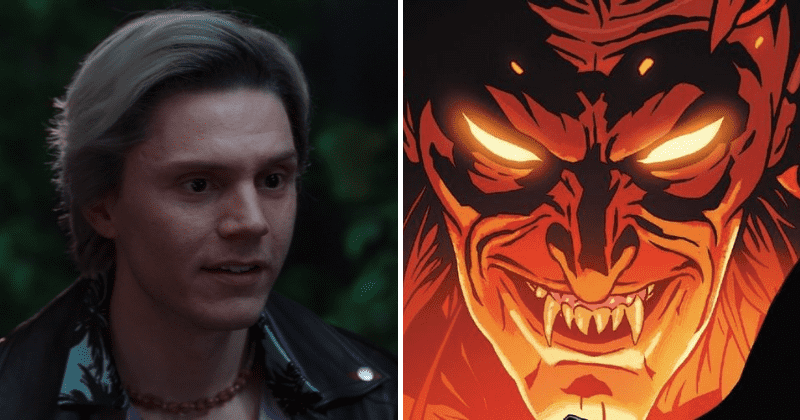 "Since Señor Scratchy shares a name with both Agatha's villainous comic book son Nicholas Scratch and Old Scratch, the devil's nickname. Whereas Agatha's comic book counterpart owns a black cat who can morph into a fearsome wildcat, only time will tell if Señor Scratchy possesses similar abilities," Wronski's theory reads.
Evan Peters was supposed to be Mephisto, one of those famed villains who would be satan's equivalent in the MCU. Prior to the release of the Disney+ series, the buzz of Peters playing a baddie was making the rounds, however, we realized there was another force at play called Agatha Harkness. For now, Marvel does what it does best by playing the cards close to its chest. Only time will tell if Mephisto wades his way into the MCU or whether it's just Agatha for now.
'WandaVision' drops every Friday with a new episode on Disney+.
Share this article:
'WandaVision' Episode 8 Spoilers: Will Agatha Harkness usher Mephisto into MCU? Fans are not ruling him out yet