Second wave of coronavirus likely in winter, could be more devastating than current outbreak, warns CDC chief
The statement comes even as the number of COVID-19 cases has crossed 800,000 in the US. The flu epidemic and the coronavirus epidemic at the same time will overwhelm hospitals and healthcare workers A second wave of the coronavirus pandemic could hit the US next winter and that will be even more devastating for Americans to deal with than the current one as it may coincide with the start of flu season. This is the stark warning issued by Dr Robert Redfield, Director of the US Centers for Disease Control and Prevention (CDC).

"There's a possibility that the assault of the virus on our nation next winter will actually be even more difficult than the one we just went through. And when I've said this to others, they kind of put their head back, they don't understand what I mean. We're going to have the flu epidemic and the coronavirus epidemic at the same time," Dr Redfield said in an interview with The Washington Post.

The statements come even as the number of cases has crossed 800,000 in the US. More than 45,040 Americans have died in the COVID-19 pandemic as of April 22, according to the Johns Hopkins tracker. To have both the flu and the COVID-19 circulating at the same time will overwhelm hospitals and healthcare workers, who are already stretched thin due to the COVID-19 pandemic, say experts.

While there are flu vaccines available and drugs to help treat it, unlike with the novel coronavirus, which still has no approved treatment or vaccine - flu remains a deadly infection. The CDC estimates that from October 1, 2019, through to April 4, 2020, there have been 39,000,000-56,000,000 flu illnesses in the US, and 18,000,000-26,000,000 flu medical visits. The estimates also show that there have been 410,000-740,000 flu hospitalizations during this period and 24,000-62,000 have died from the disease.

Meanwhile, even as the US mulls reopening the economy, Dr Redfield told the Post that federal and state officials need to use the coming months to prepare for what lies ahead. "As stay-at-home orders are lifted, officials need to stress the continued importance of social distancing, he said. They also need to massively scale up their ability to identify the infected through testing and find everyone they interact with thorough contact tracing. Doing so prevents new cases from becoming larger outbreaks," says the report.
During the interview, Dr Redfiled was also asked about increasing protests in several US states against stay-at-home orders, and about calls for states to be "liberated" from restrictions. He said, "It's not helpful."

Currently, about 500 CDC experts are working on a variety of public health issues across states. Dr Redfield said that the agency plans to hire at least another 650 people as experts to "substantially augment public health personnel in the states and assist with contact tracing, among other tasks." He, however, said that a much larger workforce is needed. "(Dr Redfield said) that the agency is talking with state officials about the possibility of using Census Bureau workers and Peace Corps and AmeriCorps volunteers to build an alternative workforce," reports Post.
Worst is yet to come, warns WHO
The worst is ahead of the world, warned Dr Tedros Adhanom Ghebreyesus, director-general of the WHO. He said the WHO has been warning from day one that the COVID-19 virus will surprise wealthy nations, and it did.

"This is a tragedy which is already affecting many families. Many are losing their loved ones. So we do not hide information because I know what poverty, war, killer disease means. We have been warning from day one. This is a devil that everybody should fight. The solution we are proposing (is that) we need strong national unity. We need global solidarity that is cemented on genuine national unity. Without the two (national unity and global solidarity), trust us, the worst is yet ahead of us," said Dr Ghebreyesus during a briefing.

"It is a virus that many people still don't understand. And we warned even developed countries saying that this virus will even surprise developed countries. It did. Let's stop additional surprises, let's stop the tragedy. Even life is precious. Let's say enough is enough," he added.
US President Donald Trump has blamed the WHO for failing to share information regarding the COVID-19 outbreak in a timely and transparent manner. "The reality is that the WHO failed to adequately obtain, vet and share information in a timely and transparent fashion," he said during a recent briefing.

Dr Ghebreyesus said he has one message for all leaders and that is to work together. "Don't use this virus as an opportunity to fight against each other or score political punches. It's like playing with fire. It is the political problem that may fuel further this pandemic," he emphasized.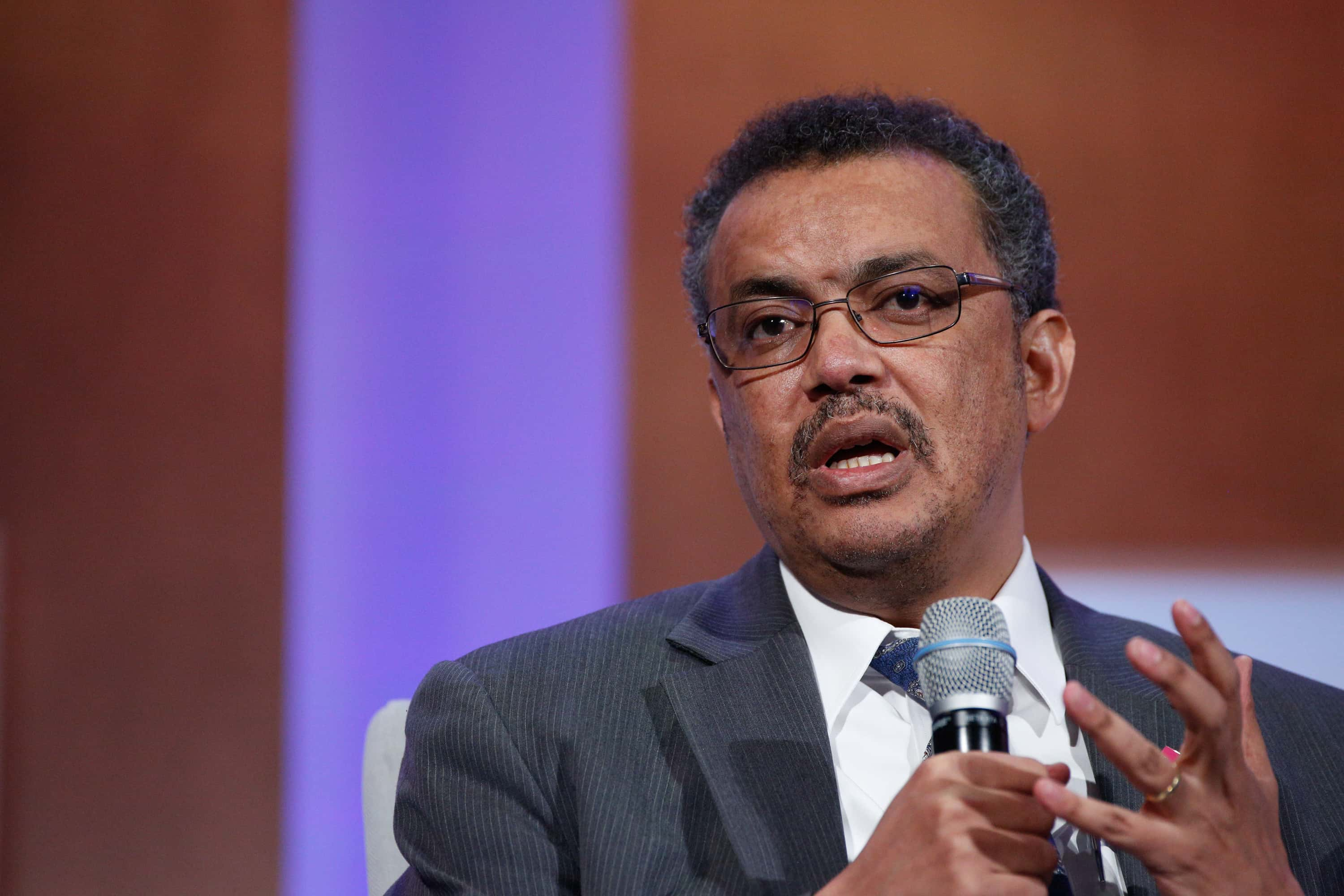 The WHO chief said when one thinks of diseases and deaths, one should understand that these are real people dying, and they are not numbers. He cautioned that people might be dying because of weaknesses in society. Dr Ghebreyesus said the virus is dangerous and it exploits cracks between people and nations. "When we have differences, there are cracks. The virus exploits those cracks. For example, differences in ideology, or differences along party lines. That's why I said we need national unity. People should work together to fight this virus to save these real people. If we don't do that, this virus will stay longer with us and kill more people," he said.
According to the WHO, early data from some studies suggest that a relatively small percentage of the population may have been infected, even in heavily affected areas – not more than 2% to 3%. The experts said while antibody tests are important for knowing who has been infected, tests that find the virus are a core tool for active case finding, diagnosis, isolation and treatment.
"We absolutely must remain vigilant, because what we're learning from these serologic studies – these early serologic studies, even with all of their faults and all of the limitations – a lower proportion of people are actually, it appears, infected. And that means a large proportion of the public remains susceptible. So that means that the virus can take off again," said Dr Maria van Kerkhove, COVID-19 technical lead, WHO.
Share this article:
Second wave of coronavirus likely in winter, could be more devastating than current outbreak, warns CDC chief