What is Molotov cocktail? Ukrainians search for 'recipe' after ministry urges civilians to fight After a nightlong horror of rocket strikes on the Ukrainian capital, Russian tanks have been spotted entering the city of Kyiv early on Friday morning. In the wake of a nightmare so sudden and heartbreaking for the common people of Ukraine, the Ukrainian Ministry of Defence has found themselves in a position of helplessness against the invading Russian forces.
The government of Ukraine has barred men between the ages of 18 and 60 from fleeing the country and has urged all men of fighting age to come forward and help in the war. As part of preparing Ukrainian citizens for what possibly is to come, the Ukrainian Ministry of Defence has also encouraged citizens to prepare Mollies, aka Molotov Cocktails, so that people can defend themselves from the Russian forces if the situation calls for it.
Following this, searches for "how to make a molotov cocktail" spiked in Ukraine in the last 24 hours, according to Google search data. Search interest was initially highest in the northeastern regions of Ukraine, which were first attacked by Russian forces, including Slobozhanshchyna, where Ukraine's second-largest city of Kharkiv is located, a Washington Post report said. Google searches also showed a popular variation on "how to make a molotov cocktail in the forest."
READ MORE
Russia captures Chernobyl nuclear plant, aims to seize Ukraine capital Kyiv 'by weekend'
Photographs and video footage capture the horror of Russia's devastating attack on Ukraine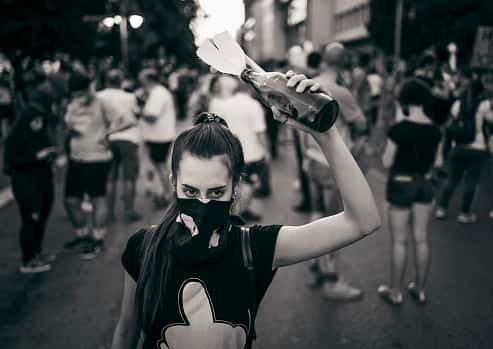 Foreign Minister Dmytro Kuleba tweeted on Friday morning: "Last time our capital experienced anything like this was in 1941 when it was attacked by Nazi Germany. Ukraine defeated that evil and will defeat this one." Ukrainian President Volodymyr Zelensky said on Thursday that weapons would be provided to anyone who wants to fight. Urging people to make Molotov cocktails has been one of the latest moves by the Ukrainian government who have said that they are trying everything in their power to protect their people, help them protect themselves, and battle Russian forces.
What are 'Molotov Cocktails'?
Molotov cocktails have a lot of names that include petrol bombs, gasoline bombs, bottle bombs, poor man's grenades, or Mollies. The Molotov cocktail is a projectile weapon that consists of a glass bottle filled with a flammable liquid. The flammable liquid could be petrol, motor oil, alcohol, or even a napalm-like mixture.
The cloth wick usually doused in kerosene or alcohol is attached to the stopper of the bottle. To use it, on has to light the wick and then throw the bottle at the target. When the bottle smashes, the burst of flammable fuel is ignited and makes a fireball. Sometimes, toxic substances such as bleach or other acids are added to the liquid in the bottle. This turns the Molly into a chemical weapon of sorts.
The Molotov cocktail got its name from the Winter War between Finland and the Soviet Union in 1939. Molotov cocktails are now illegal to manufacture or possess in many countries, including the UK and US. The weapon is something that can be made at home with supplies that are quite easily accessible. But despite its ease of 'manufacture', the Molly is a dangerous weapon that can cause serious burn injuries.