Which breed plays Hooch in Disney+ 'Turner & Hooch'? Meet the most ancient French dog breed The season premiere of the Disney+ series 'Turner & Hooch' is just around the corner and it will undoubtedly be one of those shows that will bring a lot of nostalgia for a lot of people. The legacy sequel is based on a movie of the same name that came out in 1989. Tom Hanks played the lead role of Scott Turner Sr in the movie who inherits a dog named Hooch while investigating a murder case.

Hooch is completely opposite from Scott and is destructive in nature. However, later Hooch helps him in identifying the killer of Amos, one of Turner's friends, and they both create a strong bond. The movie received mixed to positive reviews, but Hooch instantly became a star. He became one of the most adored dogs in the United States and started to get many offers.
RELATED ARTICLES
'Turner & Hooch': Meet French Mastiffs playing Hooch on Disney+ legacy sequel
Tom Hanks and Henry Winkler have secretly been feuding for 30 years after falling out on sets of 'Turner & Hooch'
Hooch will be returning for the upcoming Disney+ series as well and will be played by five different dogs. So, what is the breed of these dogs, and what's the history? Let's dig a little deeper and find out to know about Dogue de Bordeaux.
Dogue de Bordeaux is a French Mastiff breed
Known by many names, Dogue de Bordeaux is a large French Mastiff breed particularly known in France as early as the 14th century. One of the earlier breeds of Dogue de Bordeaux was seen around Bordeaux, a port city in the Southwestern part of France. The breed was first exhibited in France in 1863 and gained popularity all over the country. Slowly and steadily the breed became famous in the other parts of the world as well and the first Dogue de Bordeaux in the UK was seen in the Kennel Club Gazette in 1897.

The history of the particular breed shows it came in two varieties, Dogurs and Doguins. Dogues were larger than Doguins and are still here while the smaller Doguin is now extinct.

It is also believed that Dogue de Bordeaux originates from the Tibetan Mastiff and it is also said that the Dogue is related to the Greek Molossus used for war. However, they are just theories that keep on floating around.
The first documented Dogues de Bordeaux of modern times appeared in the USA in 1959 and was named Fidelle de Fenelon. Until the 1980s, there was a scarcity in import of Dogues de Bordeaux and only a limited number of breeders had them. The breed was first officially introduced to American households in an article written by the American anthropologist Dr. Carl Semencic for 'Dog World' magazine.
The breed became really famous in the United States after it made an appearance in the Disney movie 'Turner & Hooch' in 1989. Since then, Dogue de Bordeaux became one of the most popular breeds in the US and was found in greatly increasing numbers across the country.

As far as his appearance and personality are concerned, Dogue de Bordeaux is known for his fearless temperament and powerful body. A massive head with proper proportions and features is an important characteristic of the breed. Additionally, the average weight of the breed is 45 kg for a female and 50 kg for a male.
Meanwhile, the height should range between 24 to 27 inches (61 to 69 cm) for male dogs and from 23 to 26 inches (58 to 66 cm) for females. The Dogue de Bordeaux is reported to have the largest head in the canine world, in proportion to the rest of the body. The skin on the neck is loose and the nose color in red-masked dogs should be brown, in black-masked dogs, it must be black.
Life expectancy
As per the data collected by the Dogue De Bordeaux Society of America, the average lifespan of the breed is five to six years. However, the acting dog in 'Turner & Hooch' broke all the records and lived for 14 years. Society keeps on actively recording dogs that are seven years or older.
Dogue de Bordeaux is known to be a devoted and affectionate family dog and has a reputation for being too sweet. However, they can be really stubborn and arrogant. The breed is really strong and athletic in nature, capable of taking part in various sports activities. In 2020, Obi, a Dogue de Bordeaux, won the Best in Breed competition at the prestigious Westminster Dog Show.
Characteristics
The breed adapts to different situations and is apt for someone who lives in an apartment. They are highly sensitive and some dogs might take a serious look to heart. If you have young kids at home or you throw a lot of parties, it is advised to go with a low-sensitivity dog. Most importantly, they need constant care and they can't stand being alone. They bond very closely with the family and might panic if they are left alone.

Dogue de Bordeaux is all about affection and showers the whole family with love. They are extremely friendly with kids and always in a playful mood. However, they are exact opposites with strangers. It all depends on the owner of the dog, if he socializes with people and the dog is also introduced to many people, it will respond better to strangers.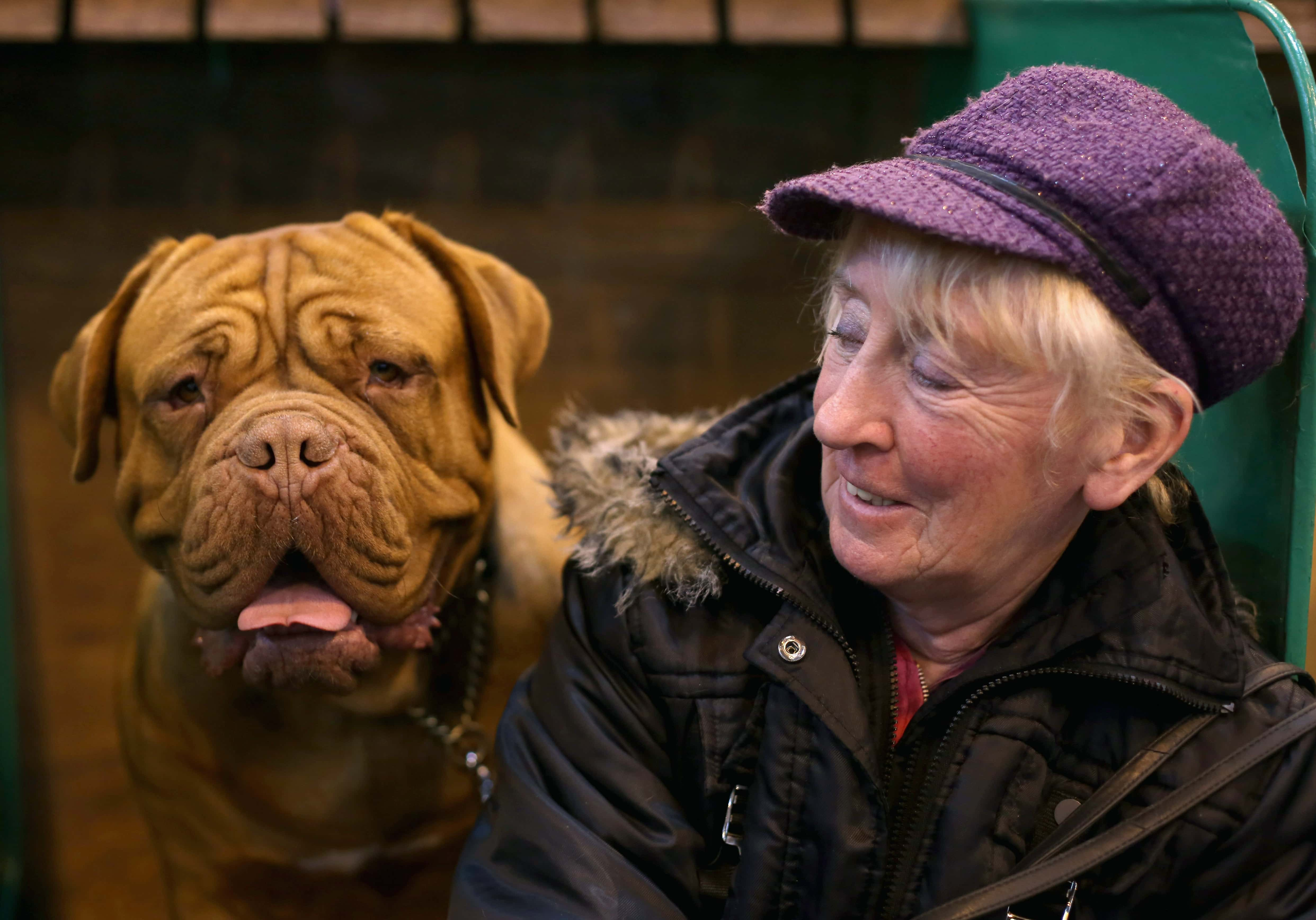 The breed is really easy to groom and is highly intelligent. However, they need daily exercise. Some breeds might get happy with an evening stroll, but others need daily, vigorous exercise, especially those that were originally bred for physically demanding jobs, like herding or hunting.

'Turner & Hooch' will be streaming exclusively on Disney+ on Wednesday, July 21.