Best Netflix shows in September 2018 - The ever-expanding library of Netflix keeps adding one amazing series after another, leaving us confused as to what we need to consume and what can afford to avoid. You do not want to be the one person who is unaware of the latest antics of Crazy Eyes from 'Orange is the New Black' or what charming new coming-of-age show about a bunch of teenagers is available for your binge-watching consideration. While you want to be up-to-date, you don't want to be bogged down with ALL that is available at your fingertips.
So, if you are feeling spoiled for choices, this is your ultimate 50 best netflix shows list you absolutely need to follow to get best out of the streaming platform.
Get to watching, already!
1. On My Block
'On My Block', co-created by Lauren Iungerich - best known for her work in 'Awkward' - Eddie Gonzalez and Jeremy Haft - of 'All Eyez On Me' fame- is a coming of age comedy about four bright and street-savvy friends navigating their way through the triumph, pain and the newness of high-school set in LA's South Central neighborhood. The show, which premiered on March 16 2018, stars Diego Tinoco, Ronni Hawk, Sierra Capri, Brett Gray, Jessica Garcia and Jason Genao.
2. Sense8
A group of people from all over the world find themselves linked mentally and must find a way to survive while being hunted by those who see them as a threat and danger to the normal order of things. The show was canceled after a season, but Netflix gave the show one last season to wrap all the stories up. Capheus (Toby Onwumere), Kala (Tina Desai), Lito (Miguel Angel Silvestre), Nomi (Jamie Clayton), Riley (Tuppence Middleton) , Sun (Donna Bae), Will (Brian J. Smith) and Wolfgang (Max Riemelt) come together both physically and mentally, plunged into the middle of each other's tragedies and triumphs. On the run from Whispers (Terrence Mann), and forced to question their very identity, it's a matter of survival as the Sensates must find a way to live with, understand and protect one another against all odds.
3. Anne with an 'E'
If you're a fan of period pieces, you most definitely will like this Netflix Original based in the 19th century. It follows a young orphan girl named Anne as she navigates through her life. The show is based on LM Montgomery's classic novels. Season two will pick up right where the first left off with two crooks showing up at Green Gables. To find out more, tune into Netflix on July 6. The trailer promises an emotional journey that will make you reflect on your own life.
4. Shameless
American comedy-drama television series starring William H. Macy and Emmy Rossum in which William H. Macy plays the character of Frank Gallagher, an alcoholic father of six who, let's say, doesn't do much for his kids and they cope with the situation as best as they can.
5. GLOW
In 1980s LA, a crew of misfits reinvent themselves as the Gorgeous Ladies of Wrestling. A comedy series from the team behind the hit show 'Orange is the New Black'.
6. Arrested development
The show follows the fictitious Bluth family, a formerly wealthy and habitually dysfunctional family. The plot sees Michael Bluth juggling the wants and needs of his spoiled and eccentric family while being a good role model for his teenage son, George Michael. Jason Bateman, Will Arnett, Portia De Rossi, Michael Cera, and Jeffrey Tambor can be seen in the show.
7. House of Cards
---
---
This phenomenal political thriller created by Beau Willimon had started off as the story of Frank Underwood, the Democrat appointed as the secretary of state and his successful ascent to supremacy. Now, however, the spotlight is now focused on his wife Claire Underwood, portrayed by Robin Wright, after the sexual assault scandal that figuratively drove the former lead Kevin Spacey out of Hollywood.
8. Atypical
Atypical is a coming-of-age television series that tells the tale of a teen on the autism spectrum and how his bid for more independence puts his whole family on a path of self-discovery after he decides to find himself a girlfriend. Jennifer Jason Leigh, Keir Gilchrist, and Michael Rapaport give the show its special touch.
This sci-fi anthology series explores a twisted, high-tech near-future where humanity's greatest innovations and darkest instincts collide. The show is sure to give you chills and leave you in a state where you question every change and be surprised to see the extent of technology.
10. One Day at a Time
The original 'One Day at a Time' starred Bonnie Franklin, Mackenzie Phillips, and Valerie Bertinelli and aired from 1975 to 1984. It was rebooted in 2017 by Netflix and focuses on a Cuban-American family in LA run by a single mother who has to take care of her children and her Cuban mother while dealing with PTSD from her time in the army. The show deals realistically with the struggles of the Latino community in the United States.
11. Ozark
---
---
Ozark is a drama series which stars Jason Bateman as Marty Byrde who is a financial planner. He decides to relocate his family from Chicago to a summer resort community which is located in Ozark after a money laundering scheme goes wrong. Byrde needs to pay off his debt to a Mexican drug lord and Ozark proves to be no good when the family gets tangled with local criminals.
12. BoJack Horseman
BoJack Horseman is an American adult animated black comedy-drama starring Will Arnett, Aaron Paul, and Amy Sedaris. The show takes satirical swipes on current events, politics, and show business and is also applauded for its realistic take on dealing with depression, trauma, addiction, self-destructive behavior, and the human experience.
13. Please Like Me
---
---
Australian television comedy drama series created by and starring Josh Thomas, is among the funniest dark comedies ever created. The show talks about depression, suicide, anxiety, self-harm, heartbreak and other heavy topics with a refreshingly funny yet heart-warmingly real way. The show, which ended after four rich seasons, is available on Netflix for streaming.
14. Orange is the New Black
'Orange is the New Black,' the Netflix original series, loosely based on Piper Kerman's book of the same name, is a gripping watch. Though it started off as the story of the Piper, the viewers quickly fell in love with the other women in the prison, their backstories, their interpersonal relations within the prison and so on. The season 6 of the show is set to premiere on July 27, and we are excited to see how the ladies have evolved over the course of the break.
15. Comedians in Cars Getting Coffee
Comic Jerry Seinfeld is the creator, producer and host of this unique TV series which features vintage cars, funny conversations and a lot of coffee. Jerry picks up each guest in a special car and goes to a diner or cafe for a cup of coffee and a lot of conversation. The guests are usually comedians but in one episode he had Barack Obama as a guest in which they drove around the White House in a 1963 Chevy Corvette Stingray
13 Reasons Why
Starring Dylan Minnette, Katherine Langford, and Kate Walsh, the story revolves around a high school student, Clay Jensen, and his friend Hannah Baker, who takes her own life. After Hannah's perplexing suicide, her classmates start receiving a series of tapes that unravel the mystery of her tragic choice.
Crazy Ex-Girlfriend
Still pining for Josh, the boy who dumped her ages ago, whip-smart lawyer Rebecca jettisons her New York life and moves to California to win him back. This romantic musical comedy-drama television series is sure to keep you entertained with its music-filled drama.
Daredevil
Blinded as a young boy, Mat Murdoch fights injustice by day as a lawyer, and by night as the superhero Daredevil in Hell's Kitchen, New York City.
It is 1996 in a town called Boring, where high school misfits in the AV and Drama clubs brave the ups and downs of teenage life in the VHS era.
Fargo
Inspired by the classic Coen brothers film of the same name, this anthology series embroils several quirky Minnesotans in different "true" crimes.
Gotham
Long before he was commissioner, rookie cop James Gordon takes on Gotham city's crime and corruption to avenge the murder of Bruce Wayne's parents.
Grace and Frankie
They're not friends, but when their husbands leave them for each other, proper Grace and eccentric Frankie begin to bond in this Emmy-nominated series.
Jane the Virgin
No, this show is not about immaculate conception. Jane the Virgin follows the story of Jane Villanueva, a chaste woman who vows to remain chaste till marriage. But Jane learns that she's pregnant after a slip-up at the gynecologist and has to rethink her entire future.
Lost in Space
---
Luther
John Luther works a series of gritty crimes that get the best of him. As a dedicated police officer, Luther finds himself obsessed, possessed and oftentimes violent due to the nature of the crimes he investigates. The reason being how consumed he gets by the darkness of the crimes he deals with.
Making a Murderer
The documentary television show follows the life of Steven Avery, who ended up spending 18 years in prison for the wrongful conviction of sexual assault and attempted murder of Penny Beerntsen, before being fully exonerated in 2003 by DNA evidence. But things take an uglier turn when new charges are pressed against him for an even more gruesome crime.
Marvel's Jessica Jones AKA Jessica Jones

Jessica Jones tries to rebuild her life following a failed stint as a superhero. She's everyone's dream private investigator but soon finds herself facing old enemies and unknown friends. Following her encounter with Kilgrave, Jessica finds herself facing her mysterious past and who she really is.
Aziz Ansari and Alan Yang's comedy-drama series 'Master of None' follows 30-year-old Dev Shah, played by Ansari, as a struggling actor who goes through a number of eye-opening cultural experiences as he navigates the dating game in New York and Italy. Two seasons of the show are up on Netflix, and it has garnered critical acclaim, winning a Golden Globe and three Emmy Awards.
Mindhunter
'Mindhunter' is a psychological crime show about two FBI agents, played by Jonathan Groff and Holt McCallany, who work with a psychologist (Anna Torv) to interview incarcerated serial killers in 1977, when criminal profiling was still developing as a field, so that they can solve open cases.
My Next Guest needs no introduction
---
---
David Letterman's Netflix talk show 'My Next Guest Needs No Introduction' interviews some of the most widely-recognized faces in media - from actors and performers like Tina Fey and Jay-Z to political figures and activists like Barack Obama and Malala Yousafzai, both within and outside a studio setting.
Narcos
The explosively popular crime drama 'Narcos' is set and filmed in Columbia and explores the rise of drug lord Pablo Escobar who built a cocaine empire and his run-ins with other drug lords and the agents of the Drug Enforcement Administration (DEA).
Peaky Blinders
A British television crime drama which is set in the 1920s in Birmingham, England after WW1. The story revolves around the Peaky Blinders gang and their ambitious boss Tommy Shelby played by Cillian Murphy who wants to move up in the world. Chief Inspector Chester Campbell played by Sam Neill has taken up the task to stop that from happening.
A team known as the Fab Five which consists of Antoni Porowski, food and wine expert; Tan France, fashion expert; Karamo Brown, culture expert; Bobby Berk, design expert and Jonathan Van Ness, grooming expert heads to Atlanta City to help the city's straight men re-do their wardrobes, hygiene and grooming, lifestyle, cultural pursuits in what ends up being the ultimate makeover.
Riverdale
---
---
Starring KJ Apa, Cole Sprouse, Lili Reinhart and Camila Mendes is an American Teen- Drama which revolves around Archie played by KJ Apa and his friends as they try to put the missing pieces of the mysterious death of a student at Riverdale while dealing with their personal issues.
---
---
The American reality competition documents RuPaul who plays the mentor, host, and head judge in search of America's next drag superstar. The contestants are given different challenges each week and showcase their assignments and challenges to a panel of judges -- RuPaul, Michelle Visage, Ross Mathews, Carson Kressley, and a host of other guest judges.
Santa Clarita Diet
American horror-comedy series stars Drew Barrymore and Timothy Olyphant who play the role of Sheila and Joel and are married real estate agents in Santa Clarita, California. However, when Sheila passes away, things take a dark turn.
Schitts Creek
A Canadian TV show starring Eugene Levy as Johnny Rose, a video store magnate, and Catherine O'Hara as his wife Moira, a formerly successful soap star. See their journey from riches to rags when all goes south and the family loses their fortune. They're forced to move from their lavish lifestyle to a small town, Schitts Creek.
A 2015 satirical comedy web television series turned into the eight-episode Netflix series as a prequel to Wain's 2001 film 'Wet Hot American Summer.' It is a parody of teen sex comedies and all of the then-adult actors returned for this series, playing even younger versions of their original roles. The episodes were released for online viewing at the end of July 2015. In the Netflix series, the gang reunites for a weekend of bonding and hair-raising adventures, a decade after their wild summer as junior counselors.
The very well-known science fiction-horror web television series is set in a fictional rural town of Hawkins, Indiana, during the early '80s. A thriller where paranormal and supernatural experiments were conduced on humans by Hawkins National Laboratory for the United States Department of Energy.
The 100
---
---
Based on a 2013 book, one amongst a series of young adult science fiction novels by Kass Morgan, of the same name, The 100 is a post-apocalyptic science fiction drama.
In the aftermath of a nuclear apocalypse-struck Earth, a group of survivors, comprising mainly of a group of adolescents, trace their way back to the planet to determine whether it's habitable. The post-apocalyptic survivors - including Clarke Griffin (Eliza Taylor), Bellamy Blake (Bob Morley), Octavia Blake (Marie Avgeropoulos), Jasper Jordan (Devon Bostick), Monty Green (Christopher Larkin), Raven Reyes (Lindsey Morgan), Finn Collins (Thomas McDonell) amongst others - also happen to be the first people from the space habitat, "The Ark".
Big Mouth
Starring Nick Kroll, John Mulaney, and Jessi Klein, the story is about two teenage friends finding their lives upended by the wonders and horrors of puberty. The show is based on Kroll and Goldberg's teenage years growing up in Westchester County, New York.
The Crown

A biographical account of the reign of Queen Elizabeth II, The Crown follows the events, happening, political rivalries, historical incidents, and romantic unions during her majesty's time. While the first season takes a look at the period between her marriage to Prince Philip and the uneventful engagement of Princess Margaret, the second season throws light on the Suez Crisis, Prime Minister Harold Macmillan's retirement and the birth of Prince Edward.
The upcoming seasons are expected to continue from 1964 through Harold Wilson's time in office and other significant timelines that shaped the second half of 20th century.
The End of the F***ing World
The End of the F***ing World follows the life of James (Alex Lawther), a budding teen psychopath and Alyssa (Jessica Barden), an adventure-hungry rebel, as the duo embarks on a star-crossed road trip. The darkly comic British series is based on a graphic novel of the same name by Charles Forsman.
Besides the critical treatment of the subject matter, the show has received acclaim for its writing and the performance of its lead pair.
The Good Place
Hatched from the brains of Michael Schur, the man responsible for shows such as 'Brooklyn Nine-Nine', 'Parks and Recreation' and 'Master of None', The Good Place is a smart, new comedy about what makes a good person.
Eleanor Shellstrop (played by Kristen Bell) is the person of interest in the series, an ordinary woman who enters the afterlife and, thanks to some kind of error, is sent to the Good Place instead of the Bad Place, which is clearly the place where she belongs. While hiding from the wise architect of the Good Place, Michael (essayed by Ted Danson), who has no idea about the mistake he has made, Eleanor is determined to give up her old ways and turn over a new leaf.
The post-apocalyptic horror series is set in a zombie apocalypse where survivors hold on to the hope of humanity by banding together to wage a fight for their own survival.
The show starts with sheriff's deputy Rick Grimes waking up from a coma to discover a world overrun by zombies, commonly referred to as "walkers".
Grimes reunites with his family and becomes the leader of a group he forms with other survivors. Together they struggle to survive and adapt in a post-apocalyptic world filled with walkers and opposing groups of survivors, who are often more dangerous than the walkers themselves. Much of the series takes place in and around Atlanta, Georgia, and later Alexandria, Virginia.
Travelers
In a post-apocalyptic future, thousands of special operatives are tasked with preventing the collapse of society. These operatives, known as "travelers", have their consciousness sent back in time and transferred into the body of present-day individuals who would otherwise be moments from death, to minimize the unexpected impact on the timeline.
The transfer requires the exact location of the target, made possible by twenty-first-century smartphones and GPS. Prepared using social media and public records concerning their targets, each traveler must maintain the host's pre-existing life as a cover for the rest of their lives, while carrying out missions in teams of five.
These missions are dictated by the Director, an artificial intelligence in the future that monitors the timeline, aimed at saving the world from a series of catastrophic events. One method by which the Director communicates with travelers is via pre-pubescent children used as messengers; unlike adults, any child can safely be taken over for a few minutes and then released from control without risk of killing them.A federal agent tracks four people who suddenly seem to possess entirely new personalities, leading to a startling discovery about humanity's future. All travelers are required to behave according to certain protocols to protect the timeline. The science fiction series has its third season due in late 2018.
Unbreakable Kimmy Schmidt
The series follows 29-year-old Kimmy Schmidt (Kemper) as she adjusts to life in New York City after her rescue from a doomsday cult in the fictional town of Durnsville, Indiana, where she and three other women were held by Reverend Richard Wayne Gary Wayne for 15 years.
Determined to be seen as something other than a victim and armed only with a positive attitude, Kimmy decides to restart her life by moving to New York City, where she quickly befriends her street-wise landlady Lillian Kaushtupper, finds a roommate in struggling actor Titus Andromedon and gains a job as a nanny for the melancholy and out-of-touch socialite Jacqueline.
glo
A documentary series about the controversial Indian guru Bhagwan Shree Rajneesh (Osho) and the community Rajneeshpuram of his followers in Oregon. The series follows the cult leader in his attempt at building a utopian city in the Oregon desert which results in a conflict with the locals and escalates into a national scandal.
Wet Hot American Summer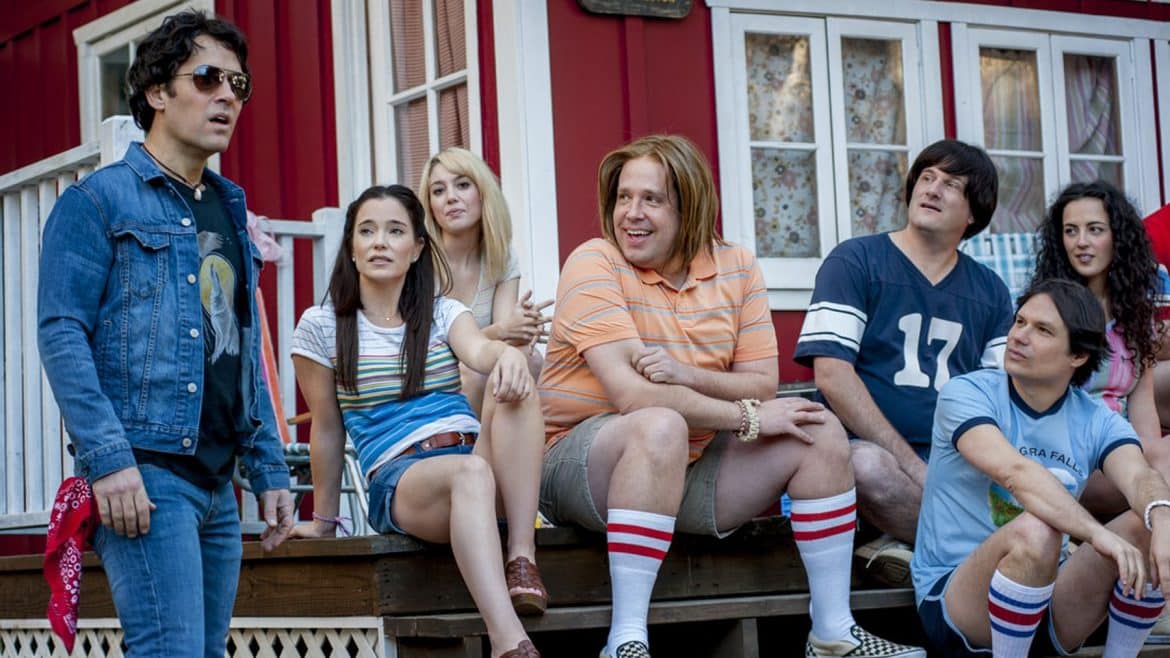 A 2015 satirical comedy web television series turned into the eight-episode Netflix series as a prequel to Wain's 2001 film 'Wet Hot American Summer.' It is a parody of teen sex comedies and all of the then-adult actors returned for this series, playing even younger versions of their original roles. The episodes were released for online viewing at the end of July 2015. In the Netflix series, the gang reunites for a weekend of bonding and hair-raising adventures, a decade after their wild summer as junior counselors.