'The Lincoln Lawyer' Ending Explained: Who's the mystery man watching Haller? SHOCKING end teases Season 2 So, the first season of 'The Lincoln Lawyer' has been released on Netflix and features 10 fast-paced episodes that will surely enthrall viewers. The show features Mickey Haller (Manuel Garcia-Rulfo), an attorney who hasn't stepped inside a courtroom for more than a year because of an accident. After the death of one of his colleagues, he gets all of his practice, including the Trevor Elliott murder trial.
Over the course of many weeks, Haller tries defending Trevor (Christopher Gorham) in order to win the case. In the ninth episode, we finally see Haller showing why he is one of the best and winning the case. However, things got even more intense after that because Haller gets to know that Trevor might have done it. He gets attacked by a mystery man before getting unconscious.
RELATED ARTICLES
Netflix 'The Lincoln Lawyer': 5 things you didn't know about Manuel Garcia-Rulfo
Netflix 'The Lincoln Lawyer': 5 things to know about the legal drama
So, who was the attacked? Was this attack ordered by Trevor? Let's find out what happened in the last episode of 'The Lincoln Lawyer'.
'The Lincoln Lawyer' Ending Explained: Who attacked Haller?
Mickey got attacked after he got a phone call that his driver, Izzy, was taken into custody for DUI. Soon, it is revealed that he was attacked by McSweeney, the juror who was planted there by Jerry and Trevor during the trial. A fight takes place between them and they exchange multiple blows. However, Officer Griggs and some of the other police officers reach the scene and control the situation.
But Haller kicks McSweeney to get away from him and he falls off the cliff.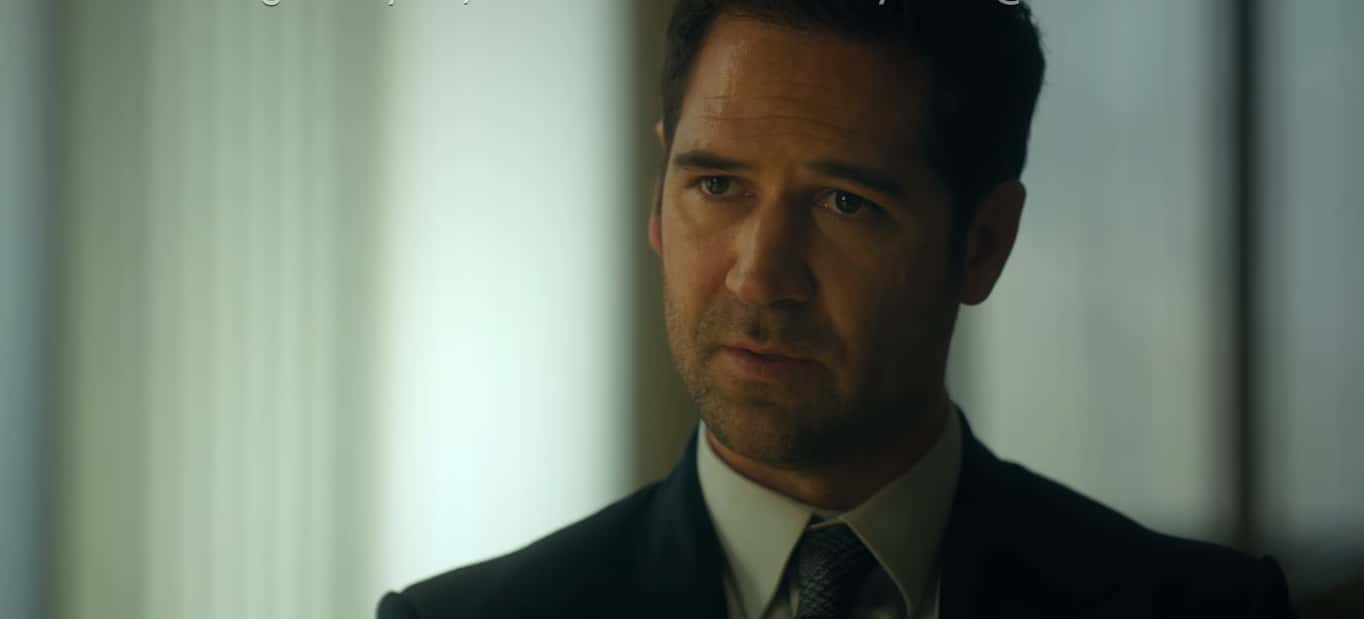 Griggs asks Haller if McSweeney killed Jerry. To which, he replied by saying that he could be the killer, but he's not sure.
'The Lincoln Lawyer' Ending Explained: What happened to Trevor Elliott?
After being attacked, Haller meets Trevor and tells him to be a man and accept that he sent the attacker. Trevor says that Mickey is paranoid and should talk to somebody because he needs to do something really important. Trevor heads out and makes an announcement that he is ready to take Parallex Games to another level.
As soon as he says, Trevor is hit by multiple bullets in the chest by one of Jan Rilz's lovers and he falls down to the floor. It is revealed that Trevor is dead.
Haller still doesn't understand who tried attacking him and gets really paranoid.
'The Lincoln Lawyer' Ending Explained: Did Haller correct his past mistakes?
Over the course of the Trevor Elliott case, Haller is also working on another case. A case that took place a few years back and a man named Jesus Menendez was wrongly convicted. So, he wants to make everything right. He, along with the help of Lorna and Cisco, finds out about a woman named Glory Days, aka Gloria. He was a key witness in the case, but she suddenly left the day before she was going to testify.
Gloria comes back to LA and Lorna talks to her about how she can take an innocent man out of jail. After thinking much, Gloria tells Mickey that a vice cop named Linda Perez came to her hotel room and said that she (Glory) needs to go out of the city. She doesn't need to testify and if she does, Perez will press false charges on her and send her to jail. So, a trial takes place without the jury and the same judge is sitting. Glory tells the court everything and even though the prosecution felt that she is a prostitute and must have had some kind of deal with Haller, the judge listens to her.
After that, Linda Perez comes into the courtroom and Haller asks if she was in the same hotel where Glory was residing. She said no, but Haller showed CCTV footage that revealed that Perez was indeed there. A person stands up from the back of the courtroom and says that he wants his client Perez to not say anything. The judge gets really annoyed and calls the lawyers close to his desk. He says that he wants the verdict today and if he gets to know that a man was wrongfully convicted a few years back, then justice needs to be done.
A few moments later, it seems Haller has found the truth about who was behind this and goes to Maggie to tell her that she should reconsider the Angelo Soto case. Maggie says that she waited years for this one, so she can't let that go.
As soon as Mickey returns, he asks Linda if she was told by someone to do all this. She points the finger at Lee Lankford, a detective, who was working with Maggie in the Soto case.
'The Lincoln Lawyer' Ending Explained: Who orchestrated the entire thing?
After going through a lot, Haller meets Judge Mary Holder and accuses her of doing everything. He accused her of killing Jerry and even knew that the jury was rigged. Holder gets really annoyed after hearing this and said that she holds the power to cancel his practice. Haller doesn't back down and shows her the proof that shows that it happened due to Holder's husband because he knew Jerry and Trevor as well.
Haller says that she and her husband need to find a good lawyer because he's all backed up. Officer Griggs arrests the judge.
'The Lincoln Lawyer' Ending Explained: Did things get worse between Haller and Maggie?
Well, it seems like the absence of Lankford made Maggie's case weak and she had an argument with Mickey. They both accuse each of abandoning the family for their work. Maggie says that she was ambitious and Haller says that he was always second to her.
Nevertheless, Maggie leaves Mickey's office after saying that their relationship might not be the same again.
They were supposed to have lunch with their daughter Hayley, but Maggie never showed up.
'The Lincoln Lawyer' Ending Explained: Who's the mystery man watching Haller?
In the end, Haller found the new strength to go surf once again after getting injured due to an accident. Meanwhile, Maggie got a way to get Angelo to get behind bars even when the first case was dropped by Maggie.
However, the last episode ended with a guy with blonde hair watching Haller surf and it was the same who threatened Gloria that he will kill her because he had the same tattoo. So, who is that man? Is Trevor back? Because from the back it surely looked like it was Trevor.
The ending makes us believe that there will be a Season 2 and it will also talk about Haller and Maggie's relationship.