'The Falcon and the Winter Soldier': New HD poster sees Sam Wilson's Falcon suit get some major upgrades
Wilson's new look sees him in his classic red and white outfit from the comics. This is a stark contrast to Sam's metal grey and red suits in 'The Winter Soldier', 'Civil War', 'Avengers: Infinity War' and 'Avengers: Endgame'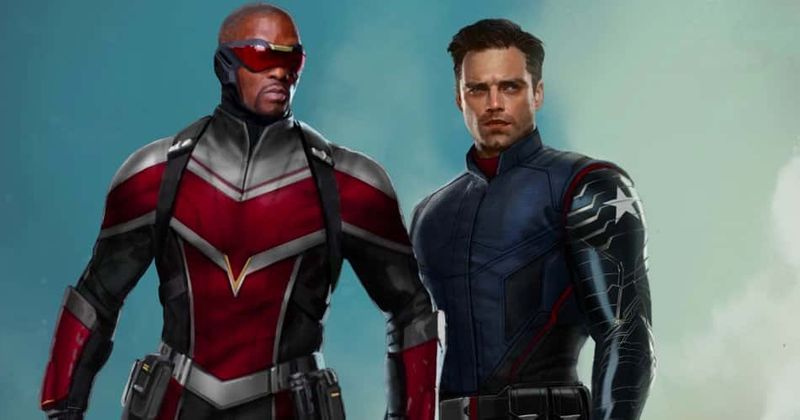 (Marvel)
Sam Wilson's (Anthony Mackie) Falcon is set for some major upgrades when it comes to his suit. The upcoming Disney+ series, 'The Falcon and the Winter Soldier' has completely changed the looks of its two key characters — Sam and Bucky Barnes (Sebastian Stan).
While Bucky is seen as a clean-shaven, more jacked up character with some changes of his own coming to his suit, his partner has been shown to have some distinct changes as well. The recently released HD poster of the series provides a better look at Sam's suit.
To start off, the combat glasses remain from the EXO-7 Falcon suit that was introduced in 'Captain America: The Winter Soldier'. Moving down to the suit, the color schematics have been borrowed from the comics. Wilson's new-look sees him in his classic red and white outfit from the comics.
At the moment, the shield handed over to him by Steve Rogers at the end of 'Avengers: Endgame' is missing from the poster, but we can assume it will be connected using the magnet theory that was seen in Cap's outfit in 'Avengers: Age of Ultron'.
This is a stark contrast compared to Sam's metal grey and red suits in 'The Winter Soldier', 'Civil War', 'Avengers: Infinity War' and 'Avengers: Endgame'.
It remains to be seen if the Red Wing still remains an integral part of his suit now that the Shield comes in as an additional weapon. Also to watch out for is if the wings get an upgrade as well.
Tom Holland's Peter Parker deduced Sam's wings to be made of carbon fiber and the material explains the rigidity-flexibility ratio, terming it to be "awesome". For now, these come in as big-time changes for Sam.
'The Falcon and the Winter Soldier' will also introduce comic book anti-hero US Agent, played by Wyatt Russell and his suit details are yet to be revealed.
'The Falcon and the Winter Soldier' debuts in the Fall of 2020.
If you have an entertainment scoop or a story for us, please reach out to us on (323) 421-7515