'The 100' Season 7 Countdown: Why Raven Reyes does not need to be 'cured' to have a happy ending Raven Reyes (Lindsey Morgan) on The CW's 'The 100' is quite simply, a badass. There are many reasons for this, of course. Not only is Raven a woman of color (Morgan is of half-Irish and half-Mexican descent), when viewers were first introduced to her, we learned that she was the youngest mechanic ever in the Ark's history.
In Season 1, we saw her rebuild a 130-year-old spaceship by herself and go down to Earth in that ship so that Abby Griffin (Paige Turco) could send a message to her daughter, build bombs to protect Skaikru and build a shaky friendship with Clarke Griffin (Eliza Taylor).
Raven's main story in Season 1 was that of being Finn Collins's (Thomas McDonnell) other woman, though, in reality, that was Clarke. But Raven was allowed to grow out of that and become much more than what she was to Finn.
By the end of Season 1, when Raven tried to save Bellamy Blake (Bob Morley) from John Murphy (Richard Harmon), she got shot by the latter. This led to her having a spinal cord injury that led to chronic pain and reduced ability in her left leg.
The second and third seasons were what made Raven Reyes an essential character, not just to 'The 100', but television in general. In Season 2, we saw Raven come to terms with her disability. We saw her refusing to wear a leg brace or use crutches, we saw her acting out because she was not able to do some of the things she was before and 'The 100' was not afraid to dive deep into Raven's suffering.
But it was more than just about Raven's suffering. In Season 3, we see Raven deal with chronic pain and her finally taking the A.L.I.E. chip for the City of Light. In this moment, we see Raven's desperation, her resignation and her weakness -- Lindsey Morgan's brilliant acting still leaves us with goosebumps after watching this scene. But the third season also came with Raven finally accepting the disability as part of herself, something she makes peace with and even embraces.
With the cis-gendered, straight, white male being the norm of representation on TV, anything that goes against it happens one degree at a time. To see a main character that is a woman of color and disabled is remarkable for representation. With the final season upon us, many of Raven's fans want one thing: for her to be happy. After Finn, fans saw her sharing some nice moments with Miles Shaw (Jordan Bolger), who was killed off in the Season 6 premiere.
Does Raven's happiness mean finding a man and curing her disability?
It doesn't have to but that's the thing most of us fail to understand. Should 'The 100' erase Raven's disability in the final season, or worse, kill her off (there is a real danger of that happening), the show commits the failures of most fictional representations of disabled characters in the past that disabled people can't be happy on their own.
The most obvious example of that is the 2016 movie, 'Me Before You'. In the movie, Sam Claflin's character, William Traynor opts for assisted suicide as he has decided that he can't be happy in his life as a quadriplegic -- a plot point that had been called out by many readers of the book by Jojo Moyes.
With Raven, we have seen her become comfortable with her disability in the past few seasons - she does not let it hold her back, though yes, she may be put in certain unfortunate situations. But 'The 100' shows us that her disability does not make Raven any less of a person.
Much like the Bechdel test for women in fiction, there is the Fries test for representation of the disabled. Disability activist and author Kenny Fries has created a set of questions to test the representation of disability in literature. The Fries test asks, "Does a work have more than one disabled character? Do the disabled characters have their own narrative purpose other than the education and profit of a nondisabled character? Is the character's disability not eradicated either by curing or killing?"
While 'The 100' might fail in the first question (there is one more, more on it later), it excels in the second. Raven's narrative is not controlled by her disability though, it saw the right kind of representation in the second and third seasons as mentioned before. It is the third question that the show stands at risk for failing. Now, some might argue that this is science-fiction and perhaps there can be a cure. The question is, why is that necessary? What is so wrong with portraying disabled characters as being happy? Why does that happiness have to include the erasure of their disability?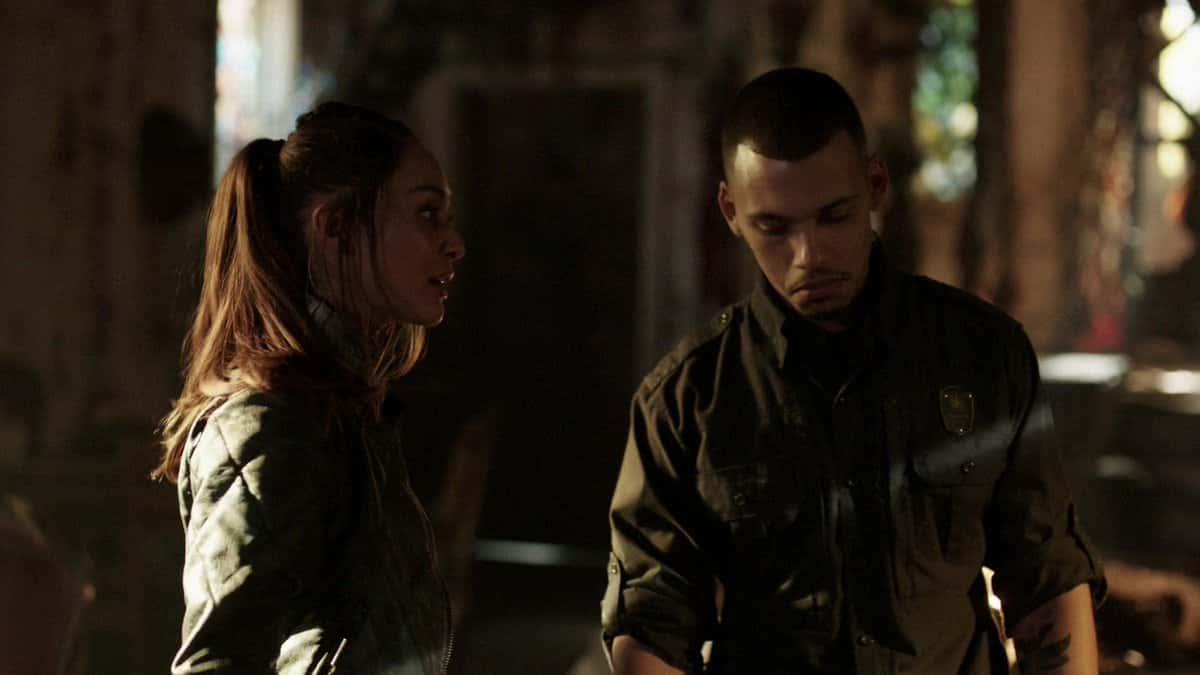 We have seen Raven being happy, not just with the time she's spent with romantic interests, but also with other characters. Take her friendship with Emori (Luisa D'Oliveira) for example. Emori was born with a disability because of the effects of radiation and she was cast out from the Grounders' community because of it.
After the events of Season 4, while back in space, Raven and Emori grow closer with Emori becoming something like Raven's protege. For Emori, her disability has always been a part of who she is and we see how different Raven's and Emori's perceptions of their disabilities are. Yet, we don't see many fans thinking Emori's happiness involves the erasure of her disability via a cure. Why is it so hard for us to accept that Raven can be? Why is it so hard for us to accept that Raven is not enough the way she is? Raven's disability may have helped abled people understand the pain that comes with such an injury, but her story doesn't have to move forward to be acceptable to the abled's point of view.
Of course, the more representation there is in literature, TV, and movies, the better we may understand how not to be ableist. But we reiterate, Raven Reyes is badass and the writers don't owe it to Raven or the viewers to give her happiness at the expense of proper representation.
Season 7 of 'The 100' premieres on The CW on May 20th at 8/7c.
Share this article:
The 100 season 7 countdown raven reyes happy ending lindsey morgan disability representation cure