'The 100' Season 7: Bellamy may be missing but he is always out there, here are our favorite 'Bell' moments
Though Bellamy will be missing for a few episodes as actor Bob Morley wanted to take a break from filming, Bellamy's presence will always be felt After this week's final season premiere of 'The 100' on The CW, we all had one question: Where is Bellamy Blake (Bob Morley)? The character has been an integral part of the post-apocalyptics show since its first season, so we all felt weird seeing Bellamy disappear within the first few minutes of the season premiere.
Showrunner Jason Rothenberg has since given interviews with multiple outlets in which he confirmed that actor Bob Morley wanted to take some time off and this was written into the plot of Season 7. However, Rothenberg has not confirmed when Morley will be back as Bellamy in the final season.
One thing is for sure though, even with Bellamy Blake having no screen time, his absence is felt. Viewers might especially feel his presence in the next episode — without spoiling anything, it is easily one of the best episodes 'The 100' has given us.
Till Bellamy comes back, let's celebrate the character, one-half of "the head and the heart" of the show along with Clarke Griffin (Eliza Taylor). Bellamy has grown so much since his first appearance in the series pilot — since then, we have seen him navigate multiple hard situations and strive to make the right decisions, all the while protecting his sister, Octavia Blake (Marie Avgeropoulos), who was also missing in the Season 7 premiere.
Here are some of our favorite moments of Bellamy Blake on 'The 100':
Bellamy's most vulnerable scene in Season 1
While earlier episodes started to show Bellamy's softer sides, it was in the eighth episode of the first season, 'Day Trip', that we saw the character truly get vulnerable. By then, he had established a rapport with Clarke and was becoming a better leader.
However, by this point, he had also decided to run away rather than stay back and get prosecuted for shooting Thelonius Jaha (Isaiah Washington). However, Clarke convinced him to stick around, the first of many times it was clear to us that Clarke needed Bellamy and vice versa to be a good leader. We also saw him dealing with the guilt and Clarke saying she will give him the forgiveness he needs.
This is one of the episodes where Bob Morley shines through and episodes like these are why both Bellamy Blake and Bob Morley are so special to the fans of 'The 100'.
Any Bellamy-Octavia moment
Right off the bat, we saw that Bellamy was most motivated to protect his sister, Octavia. In the Season 1 episode, 'His Sister's Keeper', we saw the burden that was placed on him as a child by his mother as she gave him the responsibility of taking care of Octavia.
For Bellamy, Octavia's happiness was everything and this unfortunately led to her being arrested and their mother being floated. This also led to him being an overprotective brother, and like many parents, he could not see when Octavia had grown up and needed him to be a brother rather than a parent.
Any Bellamy-Octavia moment is soft — except when their relationship got really messed up in Season 5. Octavia became a completely different person and though it takes her a while to lose all that darkness (a journey that continues in Season 7), it was Bellamy that still kept her grounded, even if only a little bit.
It's what we saw in the Season 7 premiere too. When Bellamy thought he had finally lost Octavia, his anguish bled into viewers too — this was the only sibling relationship we have seen on the show and one that we have gotten very fond of and will root for. It's definitely a relationship that fans have to keep in mind as we head into future episodes of the final season.
Bellamy as Murphy's friend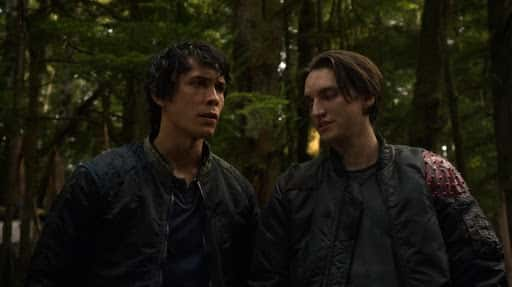 A large part of John Murphy's (Richard Harmon) antagonism in the first season came because of Bellamy's need to protect himself and his sister. Unfortunately, while Bellamy was able to come around, Murphy was not able to — at least, not until much later.
The companionship between Murphy and Bellamy is one we have seen evolve from the first season — and perhaps Bellamy feels a little responsible for what Murphy went through and could be the reason why he is shown to be friendlier and more forgiving to Murphy (with the exception of Emori, of course).
It's a relationship we see continue growing in Seasons 5 and 6 after the two characters inevitably spent a lot of time together in space after the second Praimfaya. We saw this in the sixth season as well, even after Murphy was complicit with the Primes. We are certain that Murphy will be one of the characters to miss Bellamy's presence too.
Bellamy and Clarke: The Head and the Heart
There isn't much to be said about Clarke and Bellamy that hasn't already been said. Not only are Bellamy and Clarke "the head and the heart" of the group, but they are also the same for 'The 100'. Many characters have come and gone, but it is their relationship that signifies the beating heart of the show — something that has been reinforced over and over again.
In fact, we have seen both characters stray without the other — most recently in the Season 7 premiere when we finally saw Clarke break and accidentally set fire to the Primes' palace. We also saw her making rash decisions in her grief of losing her mother, Abby (Paige Turco).
Bellamy and Clarke keep each other grounded, and we can't help but think that if there was one person who could have gotten her to process that grief in a healthy way, it would have been Bellamy.
We understand why Bob Morley had asked for some time off — the actor has been very open about his struggles with mental health issues. We, as fans, fully support the actor and we hope that when Bellamy comes back, he gets the story that both Bellamy and Morley deserve.
'The 100' airs on Wednesday nights at 8/7c on The CW.
Share this article:
'The 100' Season 7: Bellamy may be missing but he is always out there, here are our favorite 'Bell' moments