2021 Prefontaine Classic: From Sha'Carri Richardson to Justin Gatlin, 10 stars to watch Days after the Tokyo Olympics, the Prefontaine Classic is returning after a two-year hiatus. According to reports, the 46th Prefontaine Classic -- part of the Wanda Diamond League of international track and field meets -- will be held at Hayward Field in Eugene, Oregon, on August 20-21. This year's event is also special because it will mark the return of Sha'Carri Richardson, who couldn't take part in this year's Summer Olympics because of a failed drug test.

About the league, longtime meet director Tom Jordan had said in 2020: "The idea of having athletes who just recently won an Olympic gold medal in the meet, really kind of gets me. For years and years and years it's always been, we have 10 of the gold medalists from the last Olympics Games, which is great, but this will be two weeks after the fact. So that should be pretty exciting."
READ MORE
Tokyo Olympics: Gabby Thomas to Grant Holloway, top 10 track and field athletes to watch
Tokyo Olympics: 10 hottest men of track and field
In a statement, Oregon coach Robert Johnson had added, "It's going to be exciting to have the Nike Prefontaine Classic back at Hayward Field. This meet has always been a showcase, not only for the sport but also for our incredible fan base here in Eugene. It will also be exciting to have Hayward Field resume its long-standing tradition of hosting the biggest meets that feature the best athletes from around the world."
Along with Richardson, the Jamaican trio of Elaine Thompson-Herah, Shelly-Ann Fraser-Pryce, and Shericka Jackson, who won medals at the Tokyo Olympics, will also be racing. USA's Trayvon Bromell will also be seen competing after his disappointing performance in Tokyo. Here is the list of athletes to look out for at the 2021 Nike Prefontaine Classic.

Sha'Carri Richardson: The 21-year-old did not participate in the Olympics this summer due to the failed drug test. At the time, she disclosed that after her biological mother died, she took marijuana to cope with the loss.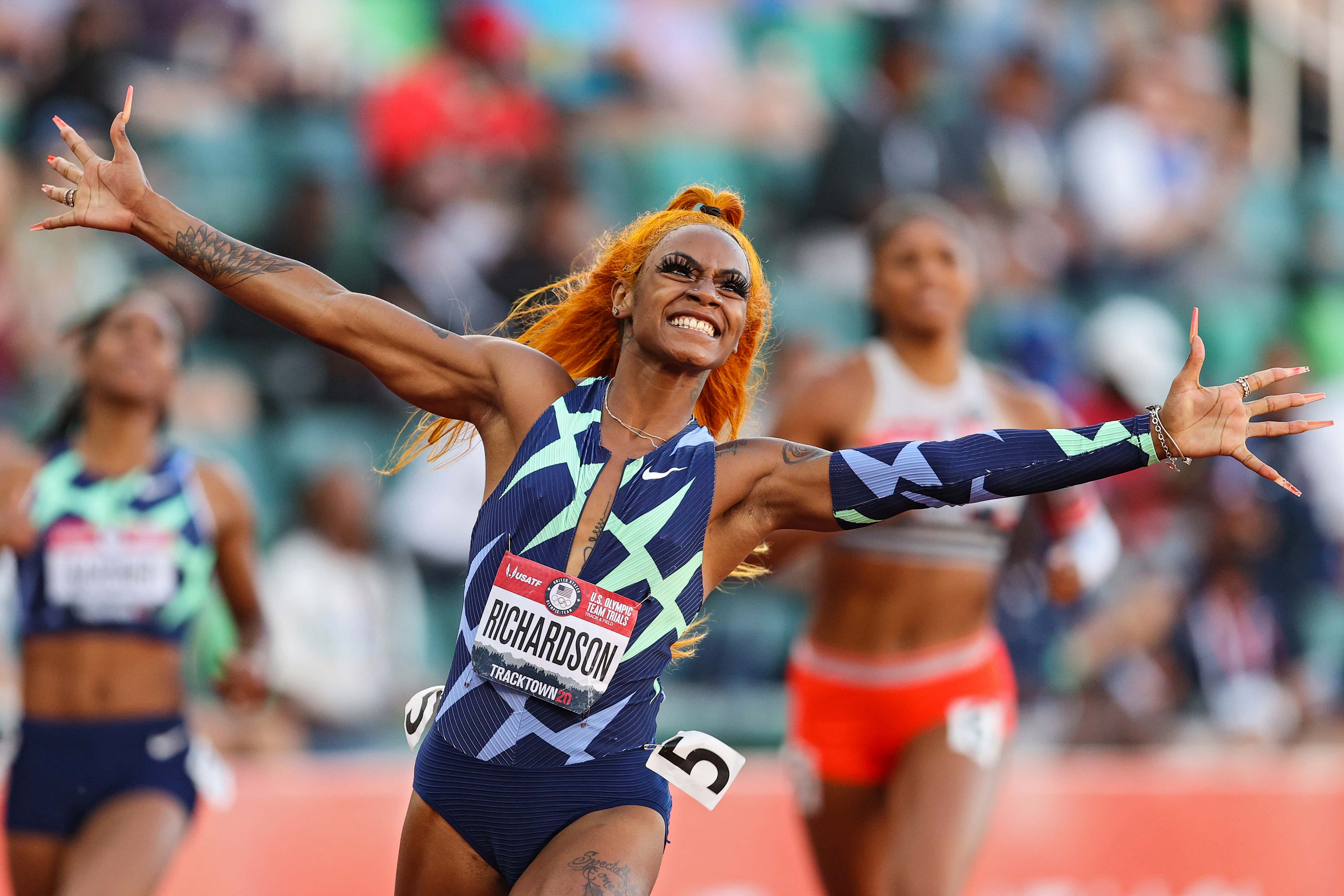 She told TMZ, "Honestly that news didn't bother me because me and my team were realistic, so we kind of figured that they would say that in the first place. I understand the situation that's going on so I'm accepting of it, and I just know what I have to do moving forward on my own," before adding, "And if my talent is good enough for me to run in a relay, why isn't it good enough for me to run on my own?" However, with the Prefontaine Classic, she has gotten a chance to prove her mettle. She will run the 100 meters in Eugene, Oregon, the coming weekend.

Elaine Thompson-Herah: The 29-year-old is a five-time Olympic champion, who specializes in the 100 and 200 meters. Thompson-Herah broke the Olympic record after she finished at 10.61 seconds and won gold. A few days ago, the Jamaican sprinter shared a quote by Norman Vincent Peale on Twitter that read, "Believe in yourself! Have faith in your abilities! Without a humble but reasonable confidence in your own powers you cannot be successful or happy."
---
"Believe in yourself! Have faith in your abilities! Without a humble but reasonable confidence in your own powers you cannot be successful or happy." – Norman Vincent Peale pic.twitter.com/fgwi0lOsXs

— Elaine Thompson Herah (@FastElaine) August 11, 2021
---
Shelly-Ann Fraser-Pryce: A Jamaican track and field athlete, Fraser-Pryce runs in the 60 meters, 100 meters, and 200 meters. The 34-year-old is known as one of the greatest sprinters of all time. She won a silver medal at the Olympics after losing to Elaine Thompson-Herah, she said, "We all run for Jamaica. God's will always prevails, and Elaine was able to bring home the gold for our country." Born in 1986, Fraser-Pryce has said that she will retire after competing in the 2022 World Athletics Championships.
Marie-Josee Ta Lou: Ta Lou is an Ivorian athlete, who was also seen competing at the Tokyo Olympics. The 32-year-old did not win a medal at the games, but she is a three-time world medallist. Speaking with Olympics.com, she had said: "I want to be the greatest sprinter in Africa. I want to leave a big legacy. Not only for Ivorian girls, but for all African girls. I want to show that they can do something big if they believe in themselves."
Teahna Daniels: Born in March 1997 in Florida, Daniels is the winner of four 100m titles at the FHSAA State Championships and a 60m title at the 2015 New Balance Indoor Nationals in high school. The 24-year-old also bagged her first national medal (bronze) in 100m Sprints in 2014. However, five years later, she made her professional international debut at the World Athletics Championships and helped win the US relay team a bronze medal in the 4x100m.
Trayvon Bromell: Despite being the fastest sprinter this year, Bromell disappointed his fans at the Tokyo Games as he could not get past the first round of heats. However, he has been given a chance to perform at the 2021 Nike Prefontaine Classic. The 26-year-old American is also the reigning world record holder after becoming the first junior to break the 10-second barrier in the 100 meters with a time of 9.97 seconds.
Andre De Grasse: The 26-year-old is a Canadian sprinter. He is also a six-time Olympic medallist, which includes being the reigning Olympic champion in the 200m. He once said his brother helped him figure out what he wanted to do in life. De Grasse said, "My brother helped me figure out what I wanted to do. He told me 'If track doesn't end up taking you to that next level you should study social work in college'. He was working at the community centre with all the kids, and I was like man, yeah, I definitely want to be helpful in that way, to be able to help kids. That's just what I grew up with and what I had a passion for."
Akani Simbine: Simbine is a South African sprinter, who came fifth at the 2016 Summer Olympics in the men's 100 meters. At the Tokyo Olympics, he completed fourth in the men's 100m final. He finished in 9.93 seconds while Lamont Marcell Jacobs from Italy took gold home after finishing in 9.80. After the event, the 27-year-old said, "It wasn't too crazy, it's a bit of the norm. Anything can happen in a final and the best man won," before adding: "I did the best I could in that situation. I'm a bit disappointed, but I still have that fire in me to get on that podium."
Justin Gatlin: A five-time Olympic medalist and a 12-time World Championship medalist, Gatlin from America specializes in the 100 and 200 meters events. But he couldn't make it to the Olympics this year after suffering a hamstring injury in the men's 100-meter trials Final in late June.
Michael Norman: The 23-year-old is the holder of the world's best time in the indoor 400 meters at 44.52 seconds. He also gained attention in 2016 when he made it into the 200m finals at the United States track and field trials for Rio. Norman also won his first Olympic medal in Tokyo. The four-time NCAA champion took home gold with his teammates in the men's 4x400m relay event.