'Sweet Magnolias': Meet JoAnna Swisher, Brooke Elliott, Heather Headley and the cast of Netflix's drama series Spoilers for 'Sweet Magnolias'
They are sisters, but not by blood. They are that best-friend trio, who have had each other's back since high-school and have stayed tight throughout their adulthood. So, when one of them suddenly needs a shoulder to cry on, she has two sturdy ones that she can unquestionably rely on. Netflix's new romantic drama series 'Sweet Magnolias' is a heartwarming tale of friendship and love, starring the likes of JoAnna Garcia Swisher, Brooke Elliott, Heather Headley, Chris Klein, Jamie Lynn Spears and Justin Bruening. It is an adaptation of the novel series of the same name, by Sherryl Woods.
Maddie Townsend's (Swisher) life is falling apart and she's barely hanging on. Her husband, Bill (Klein), serves her with divorce papers following an affair with his assistant Noreen Fitzgibbons (Spears) and she's striving to give her children a life they deserve, while also focusing on her happiness. Her gal pals are her rock and are there for her every step of the way as confidants and her support system.
Dana Sue Sullivan (Elliott), a sous chef, Helen Decatur (Headley), a lawyer, and Maddie had always dreamed of starting their own business together. So when life gives her the chance for a redo, Maddie grasps onto it firmly to begin her life anew, even going as far as to give love a second chance as she starts becoming smitten with Cal Maddox. But there's only one small problem, he is her son's coach — her son's very hot coach (Bruening). You've watched the series, and you've loved it. So why not meet the talents that brought this show to life?
JoAnna Garcia Swisher as Maddie Townsend
Maddie Townsend is a warm, charming and resolute woman who likes keeping to herself. But things begin to sour for her when her husband of many years and father to her three children asks her for a divorce so he can be with the woman he has been having an affair with. Maddie rides through a rollercoaster of emotions as she finalizes her divorce and picks up the pieces of her life, but she doesn't have to do it alone. With her best friends by her side, she's adamant about reinventing her life and turning it around for the sake of her children and for her happiness.
Known for her roles on 'Reba', 'The Astronaut Wives Club' and 'Kevin (Probably) Saves the World', 40-year-old Swisher had initially decided to go on a brief hiatus from work after winding up a particularly hectic schedule last year, but changed her mind when she was handed the screenplay for 'Sweet Magnolias'. She was born and raised in Tampa Florida, in a Cuban-Spanish household and kickstarted her career way back in the '90s. She was first scouted by Disney as a young girl, but her education took precedence over everything, so she didn't start acting until she graduated. She later moved to Los Angeles to pursue acting and gain better opportunities.
She married baseball player Nick Swisher in 2010 after dating for only a year, but she has described him to be the 'love of my life' on multiple occasions and is forever gushing about him and their sweet love story on her Instagram. The couple is parents to two daughters, Emerson Jay and Sailor Stevie. Swisher is a philanthropist and supports several charities and causes including volunteering as a teacher for children who are learning English as a second language.
Brooke Elliott as Dana Sue Sullivan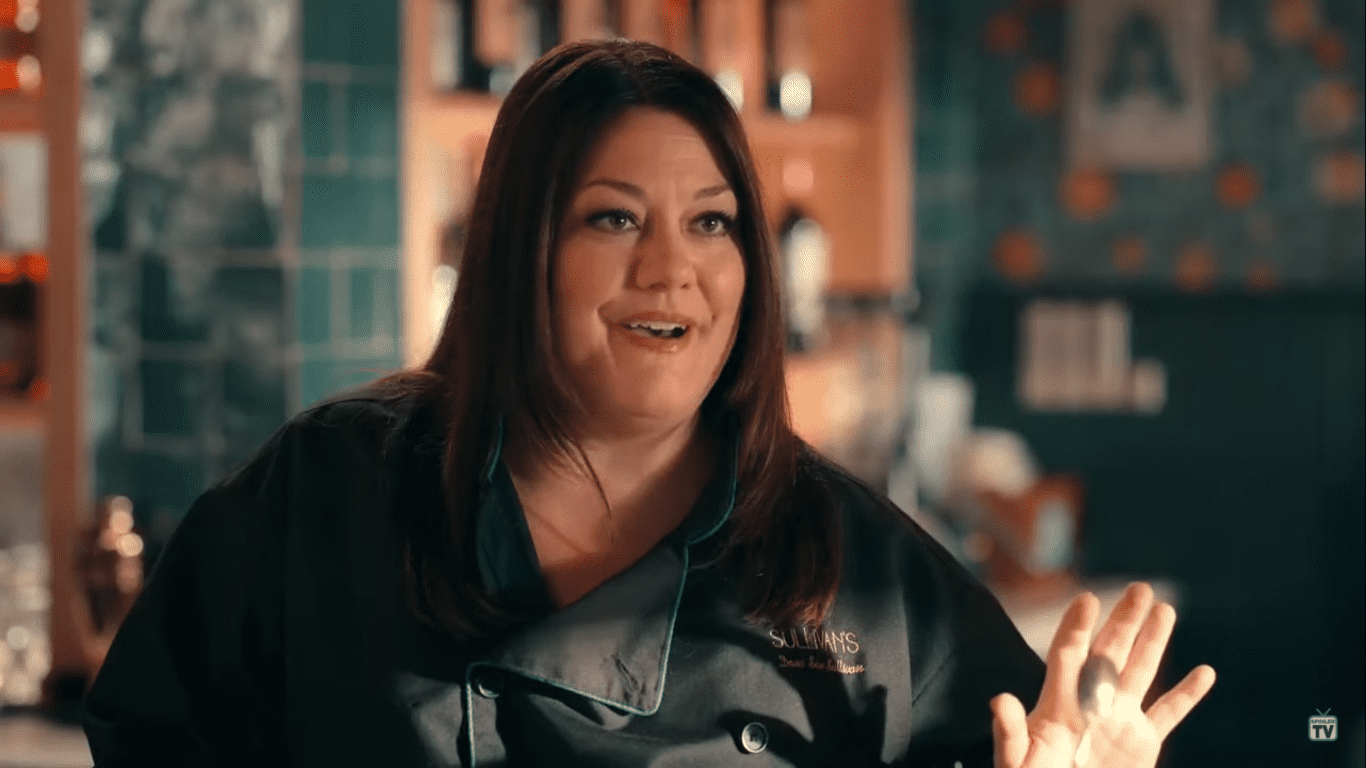 Elliot portrays Dana Sue Sullivan, a strong-willed southern belle who is incredibly passionate about the culinary arts. She and Maddie have known each other since high-school and their bond is still going strong. Add to the mix, Helen Decatur, the third member of their sisterhood, and they're inseparable.
Elliot's well-known acting stint is her portrayal of Jane Bingum in Lifetime's popular series 'Drop dead Diva' which ran from 2009-2014. Furthermore, she has an active theatre career and has starred in several Broadway productions over the years, including 'Taboo' and 'Pirate Queen' as well as the US tours of 'Beauty and the Beast' and 'Wicked'.
She started singing at the tender age of three and went on to graduate with a bachelor's degree in fine arts in musical and theatre performance from Western Michigan University. The 45-year-old actress used to work as a temp and a waitress at a 1950s-themed diner where she had to dance on the tables, every hour. She is also an ambassador of body-positivity and has talked about the representation of plus-sized actresses in the industry.
Heather Headley as Helen Decatur
As Helen, Headley plays a successful and headstrong lawyer specializing in family law and the third musketeer in the girl gang. She initially set her career up in the "big city", bit moved back to Serenity, the fictionalized town in South Carolina, because her parents needed her. However, her move became a permanent one and now she splits her time between being a hotshot legal consultant and a new venture that the three best friends start together. The series follows her love life as well as she tries to figure out where she stands with her high-school sweetheart with whom she's had an on and off the relationship.
Headley is a Tony and Grammy award-winning actress and singer, for her titular role in the musical, Aida, and her gospel album 'Audience of One', respectively. She originated the role of Nala, in the Broadway production of 'The Lion King' in 1997 and recently reunited with the original cast for a dance-driven virtual, live performance of the song 'He Lives in You.'
She starred in the 2004 film, 'Dirty Dancing: Havana Nights', and she made her Netflix debut with the streaming service's original, 'She's Gotta Have It'. Since 2018, the 45-year-old Trinidadian-American actress has played a recurring role on NBC's 'Chicago Med', as Gwen Garett, and is also set to star in the upcoming Aretha Franklin biopic 'Respect', as the late gospel singer, Clara Ward. Headley married Brian Musso, formerly of the New York Jets, in 2003 and both happen to be the alumni of Northwestern University. The couple has three children, the youngest born in 2019 - two sons, John David and Jordan Chase, and a daughter.
Chris Klein as Bill Townsend
Bill Townsend is Maddie's husband who cheats on her with his assistant. He serves his wife with divorce papers, wanting to build a life with his mistress, who he knocked up. But it seems that his life doesn't exactly pan out in blissful hopes, as the trailer for the series suggests, he might still harbor feelings for his ex-wife.
Bill is portrayed by Chris Klein, whose claim to fame was the role of Chris "Oz" Ostreicher in the 'American Pie' franchise. He was born and raised in Brookfield, and as a child had a passion for theatre. He went on to star in his high school's production of 'West Side Story' and was even cornerback and linebacker for the football team, as well as a swimmer on the Millard West Swim Team.
Klein, 41, was scouted by Alexander Payne, who featured him in the 1999 film 'Election', which garnered the new actor positive reviews. From then on, he established a steady career in the film industry, while also attending Texas Christian University to study theater. In 2014, he co-starred in a comedy indie film 'Authors Anonymous' alongside Kaley Cuoco. His most recent stint was on the 5th season of the superhero television show, 'The Flash' where he played the villain, Cicada.
Klein has been married since 2015, to Laina Rose Thyfault, a travel agent that he met at a mutual friend's wedding in 2011. The couple has two kids, a son and a daughter. Klein has struggled with alcohol addiction and has been arrested for drunk-driving. In 2010 he even underwent a rehabilitation program to tackle his drinking problem.
Jamie Lynn Spears as Noreen Fitzgibbons
Spears plays nurse Noreen Fitzgibbons, who has an affair with Maddie's husband, Bill and ends up pregnant with his child. She is a young, naive but optimistic girl who is navigating her way through life after making a series of bad choices and is trying to deal with them responsibly.
Spears has had it rough, growing up in the shadow of her older and world-famous pop star sister, Britney Spears. She longed to break away from the spotlight shined on her for being a celeb sister and pave her own way into an acting and music career. She established herself as a household name with her portrayal of the titular character Zoey in the Nickelodeon teen sitcom 'Zoey 101' and even starred as a younger version of her sister's character in Britney's 2002 film 'Crossroads'. She returns to the screen 12 years after her last acting stint with 'Sweet Magnolias'.
Thing unexpectedly got a little messy for her when she learned she was pregnant at 16 and the media hounded her for days on end for becoming a teen mom. Not to mention, fans of 'Zoey 101' placed the blame on her for the show coming to an end. However, she pushed through the good, the bad, and the ugly and gave birth to her daughter at 17. In 2014 she married businessman Jamie Watson and released her debut country album 'The Journey'.
She has always been passionate about her music career and wanted to venture into country music for a long time. She's managed to keep a low-profile, since the whole media frenzy with the birth of her daughter and makes sure to keep her family life private and away from the limelight. In 2018, she gave birth to her first child with her husband, a daughter. Spears is currently quarantining with her pop star sister, in their family home in Kentwood, Michigan.
Justin Bruening as Cal Maddox
Justin Breuning plays Maddie's son's coach Cal Maddox and her potential love interest as she starts piecing her life back together to start afresh after her divorce. The two seem utterly besotted with each other, and Cal looks like the man to stick around for his lady love. But Maddie is a bit hesitant to act on her feelings seeing, he is her son's teacher.
Bruening started is a former fashion model and started his acting career in 2003 with his breakthrough role of Jamie Martin in the day time drama 'All My Children'. In 2007, he played Mike Traceur, the son of Michael Knight in 'Knight Rider'. In 2011, he had a recurring role on The CW's 'Ringer' and in 2012 in the ABC family drama 'Switched at Birth'. He also played the Paramedic Matt in 'Grey's Anatomy'. His most recent work is in the 2018 Hallmark Channel movie 'Last Vermont Christmas'.
Bruening is married to his 'All My Children' co-star Alexa Havins. They are friends-turned-lovers and moved to Los Angeles, shortly after Havins' exit from the show. The couple is parents to three children. 'Sweet Magnolias' premieres on May 19 on Netflix.