Christine Englehardt case: Evoire Collier, Dorian Taylor partied in Miami after raping woman and leaving her to die MIAMI, FLORIDA: Christine Englehardt, 24, who decided to travel alone to Miami Beach, was allegedly drugged and raped by two Spring Breakers from North Carolina, Evoire Collier and Dorian Taylor. Then, she was found dead in her South Beach hotel room. Now it is being reported that the two accused were pictured partying in Miami Beach the next day.
The two men were arrested on Sunday, March 21, after allegedly being caught on surveillance footage walking with Englehardt to her room in the Albion Hotel in South Beach on Wednesday night, March 17. The duo reportedly left the hotel 30 minutes later and Englehardt's semi-nude body was found in her room on Thursday morning, March 18.
READ MORE
Evoire Collier and Dorian Taylor: Spring breakers, 21 and 24, who gave green pill, raped woman may face murder charges
Who was Christine Englehardt? Woman raped, robbed, and left to die in Miami hotel by 2 men who gave her green pill
The following day, Collier and Taylor allegedly continued to celebrate Spring Break and were seen posing for photos as they walked along Ocean Drive. As per the Daily Mail, on Friday, March 19, the two men were spotted walking down Ocean Drive. The tabloid reported that a woman called De'Asia Skillern, who was in Miami for the week with her sister, was posing for a photograph on Ocean Drive when they photo-bombed her. Skillern posted the photo on her private Instagram story and was later told by friends who the men were.
"I was just walking around taking pictures, my sister showed me, like hey people were photo-bombing you. They didn't stop to talk to me, they were just walking past. To continue on with your vacation as if it was OK... it just goes to show you. You never know who is around you," she said.
Sharing a post of the photo and a news article about Collier and Taylor captioned, "Wow this chick posted she was photobombed by these 2 guys in Miami. Then someone sent her this article," Skillern wrote on Facebook, "Y'all don't know how to read! I'm alive and okay for 1. and 2 I didn't know them they PHOTOBOMBED me."
According to a police report, Collier told officers the two met Englehardt at a local restaurant before giving her the drug as they walked along Ocean Drive. He said that he saw Taylor giving the woman a "green pill" with the characters "a30" on it, which he believed was Percocet. It's not clear at this time what the pill was or if she died from overdosing on it. It is also not clear if she took the pill willingly.
The group then headed back to the Albion Hotel. Surveillance footage taken from the hotel lobby shows the two men entering the hotel, with Englehardt staggering and Taylor holding her from behind "by the neck so she could stand", as per Miami Beach Detective Luis Alsina.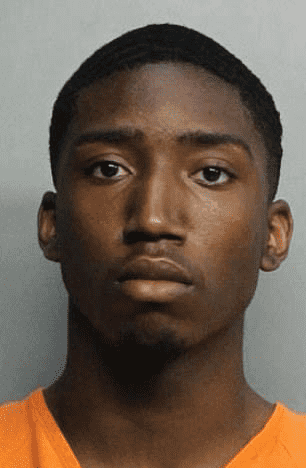 Collier and Taylor have both been charged with sexual battery, burglary with battery, theft, and credit card fraud. The two are accused of stealing Englehardt's credit cards and using them during their trip. Should investigators find that the drug they supplied to her contributed to her death, they could face manslaughter or even murder charges.
During a bond hearing on Monday, March 22, a prosecutor said that Englehardt was so intoxicated while she was at the hotel that she could not give consent to either of the accused men. Judge Mindy Glazer said, "The victim couldn't even pick up the phone to call the police or 9-1-1 after they did what they did to her."
Disclaimer : This is based on sources and we have been unable to verify this information independently.