Sienna Sauce on 'Shark Tank': What is the cost, who are the founders and where to buy the signature condiment? Are you ready to meet a little 'sauce boss'? Tyla-Simone Crayton was just eight when she first had the idea to create a sauce for her homemade chicken wings... Guess what? Now, she is on 'Shark Tank' to showcase her talent and unique creation.
The kidpreneur and her mom from Houston, Texas, persevered through hardship to launch a successful sauce company and their story will put a huge smile on your face. "I would wake up Sunday mornings, hand bottle the sauce, package it and then sell it to my local community," Tyla-Simone said in an interview. "Once I got enough money from that, we were able to go to a professional manufacturer and get my sauce manufactured."
RELATED ARTICLES
When will 'Shark Tank' Season 12 Episode 14 air? All about Pashion Footwear, Souper Cubes, Byoot Company and Sienna Sauce
Slice of Sauce on 'Shark Tank': Who are the founders, what is the cost and where to buy the sliced condiments?
When she was 14, she named her brand Sienna Sauce after the Missouri City community where she lives and started selling the sauce. Available in flavors tangy, lemon pepper, and spicy, Sienna Sauce has now expanded in over 70 stores across the country, including five H-E-B stores in the Houston area.
Here's all you need to know about the delicious product and how to buy it.
What is Sienna Sauce?
Could you have imagined an eight-year-old kid thinking about creating her signature secret sauce? Well, it's a real story and the tale is no less than a dream-come-true. For years after they invented it, Crayton and her mother, Monique, gifted the sauce to their close friends and family members. After years of begging, her mom finally relented and let her kid live the dream.
A barbecue sauce that can be used in food recipes, gluten-free Sienna Sauce pairs perfectly with meat, seafood, and more! If the website is to be believed, no high fructose corn syrup or unhealthy additives are added, which makes them a healthier and more convenient alternative. However, the sauce is not vegan as it does contain honey. The website says, "We have many honey-eating vegans and they love the sauce!"
The business could not have been possible without Monique whose previous side hustles from selling handmade hats to baskets helped "shaped Tyla and taught her about entrepreneurship and always allowed it to be an option."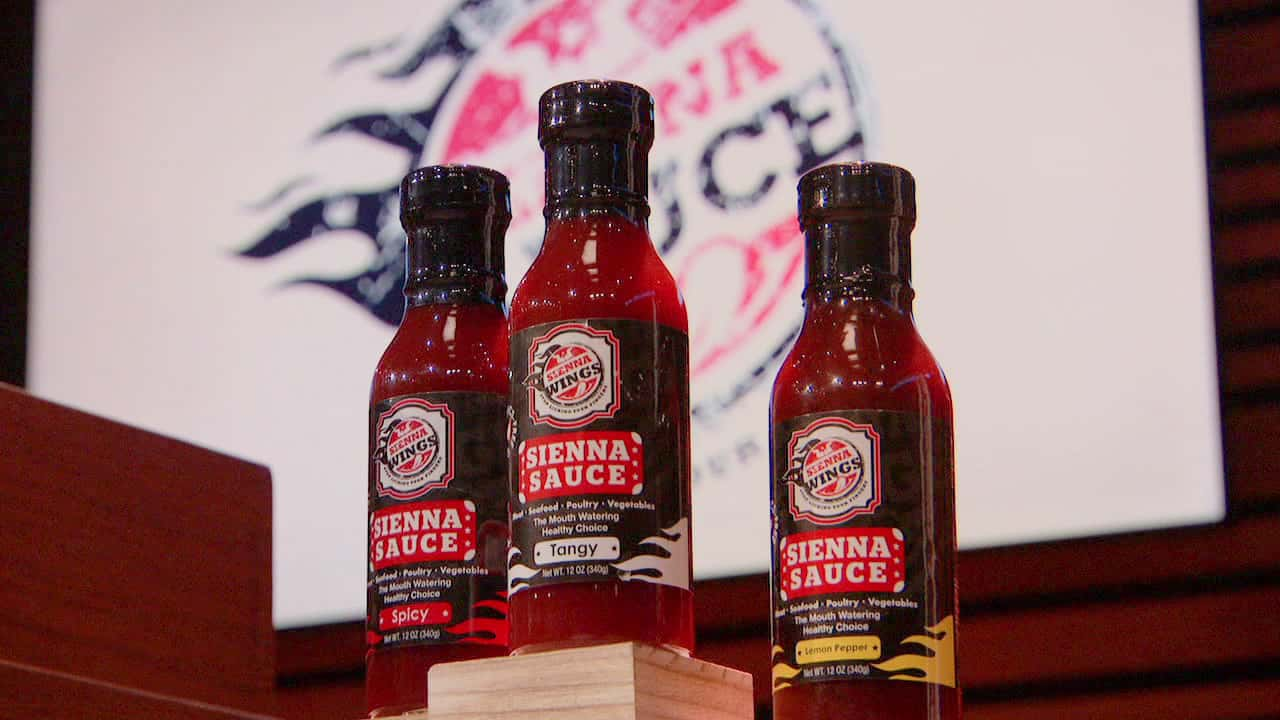 Who are the founders?
A "curious kid" who was "always making inventions" — Tyla-Simone Crayton — and her mother are behind the tangy 'Shark Tank' product Sienna Sauce. The seeds of making the sauce were first sown when her favorite wing restaurant closed and she wanted to recreate the wing sauce recipe.
"I ended up coming up with something better," Crayton told Atlanta Black Star during a recent interview. "It was just me, a late night, my mom was having a wing and wine Wednesday, I woke up, and a lot of my aunts and stuff were at my house, and so my mom cooked and she was talking about how she didn't have any sauce. I was like, 'Let's play around and try and make some!' and we ended up coming up with the base of the sauce, which is now Tangy."
Crayton and her mom knew it was a hit right from the beginning when their near and dear ones just couldn't get enough of it. Did you know the sauce was almost lost when they realized they never penned down the ingredients? "The funny thing is we almost forgot the recipe because we just threw a bunch of random things in there at first, but then I remembered, so I went back and I put all the ingredients in there and it's been history since then."
In 2017, they first started selling it — naming it Sienna Wings first, after the Sienna Plantation community in Houston. In 2018, they officially launched Sienna Sauce.
What is the cost and where can you buy it?
When it first began, Crayton and Monique charged between $12.95 and $30.95 per meal. "It was amazing," Crayton remembered those times. "Friends, family and local neighbors [all came to] support our first night."
Priced at an affordable $29.85, you can now get Sienna Sauce Variety Pack, Sweet and Tangy Bundle Pack, Lemon Pepper Bundle Pack and Spicy Buncle Pack — all available at the same cost on the official website.
Not only in the online market, but Sienna Sauce is also making its presence felt in supermarkets. In February 2021, it was stocked on the shelves of the H-E-B Grocery store in Texas and Jungle Jim's in Cincinnati, Ohio. The two-time winner of Sauce-A-Holic sauce is also sold at over 70 retail stores across the US, including Texas, New York State, and New Jersey, and on eCommerce platforms like Amazon and Walmart, according to reports.
Where are they now?
Back in 2018, Sienna Sauce was first launched but within a year, the mom and daughter duo had sold over 25,000 bottles and generated $192,000 in revenue. Reportedly, they landed more than $45,000 in funding through pitch competitions, including the Essence Pitch competition, $25,000 in the Side Hustle Showdown on "GMA: Strahan, Sara & Keke" and $10,000 in the REVOLT Pitch Competition for young entrepreneurs.
By the end of 2020 — despite the pandemic, the company also raised nearly $200,000 through crowdfunding investors. In fact, Tyla-Simone was named one of the Top 50 Black Professionals and Entrepreneurs in Texas that same year.
Talking about the future, Tyla-Simone said, "We plan on being in movie theaters, arenas, more supermarkets. We want to get into Target, of course, Whole Foods, Safeway stores around the country, schools, we're already in talks with 16 schools to get our sauce in there. … Anything can happen." Shedding light on her goal to have a product placement in movies, she added, "It can go into literally every industry that you could possibly think of... Media industry, music industry, people rap about sauce all the time maybe someone will rap about Sienna Sauce."
Who will steal the deal?
A sneak peek from the episode reveals one product might just win a golden ticket from Lori Greiner — and who else could it be other than Monique Crayton and Tyla-Simone Crayton! Teasing the big secret, a 15-second clip reads, "Don't miss a life-changing #SharkTank, all-new TONIGHT."
As for who will crack the deal, it seems two Sharks might partner on it and that could either be Kevin O'Leary and Barbara Corcoran or Mark Cuban could jump in!
'Shark Tank' Season 12 Episode 9 returned to ABC after the winter break on January 8, 2021, at 8 pm ET. Catch the new episode featuring Pashion Footwear, Souper Cubes, Byoot Company and Sienna Sauce on February 19, 2021, at 8 pm ET or 7 pm CT on ABC.

Missed an episode? Been wanting to catch up? Episodes can also be viewed the next day on demand and on Hulu. Not just that, you can also watch old seasons and episodes on Amazon Prime and iTunes.



Share this article:
Sienna Sauce Shark Tank cost founders Tyla-Simone Crayton monique special signature condiment ABC