'Shrill' isn't just Aidy Bryant's breakout role, she also battles body-shamers, managing to hit home without overselling Spoiler Alert
Fat girl representation on TV is neither anything new nor something that is seldom seen. But rarely do we see a fat girl on TV with a voice that is not trying to be pro-diet or pro-insecurities. And as non-polarized as Annie from the new Hulu dramedy 'Shrill' is when it comes to being a fat girl in a judgmental world, it is Aidy Bryant's effortless portrayal of a woman, who has just found her voice and is begging to be comfortable in her own skin, is what hits home the most, among other strikingly refreshing portrayals in the film.
That Bryant is wonderful in her role of the big girl Annie is no surprise considering her comedic brilliance that has been exhibited over the years on the sketch comedy 'Saturday Night Live'.
But the reason her performance strikes all the right chords as Annie particularly is because of the vast expanse of emotions and struggles it covers while trying to show someone whose every struggle in life has something to do with how others perceive her.
Based on the book 'Shrill: Notes from a Loud Woman' by Lindy West, the Hulu series co-written by West, Bryant, and Ali Rushfield, shows a multifaceted character whose life is filled with ambitions and a desperate need to get bylines and ace in her profession. To Annie, losing weight is not a priority, but more like an imposition that everybody — from a random physical trainer at the coffee shop to her own mother — incessantly shoves down her throat. And thus is initiated the doubt in her mind over whether she really needs to change herself or just go on as it is, while also apologizing for things that aren't her fault.
That's probably one of the only two complaints a viewer can have while witnessing the refreshing take on big women that is 'Shrill'; the other being that it is too short. Within the span of just six episodes, Annie's constant apologizing for the way the world perceives her is — as toxic as it is to her own self — turns into an attitude of 'I matter and you're insignificant' the moment she acquires the enlightening realization of the problem being in the world's perspective. But that only comes out momentarily because in the end she proves to be just a sweet person who wants to voice her self acceptance, so we are not going to be too harsh on her.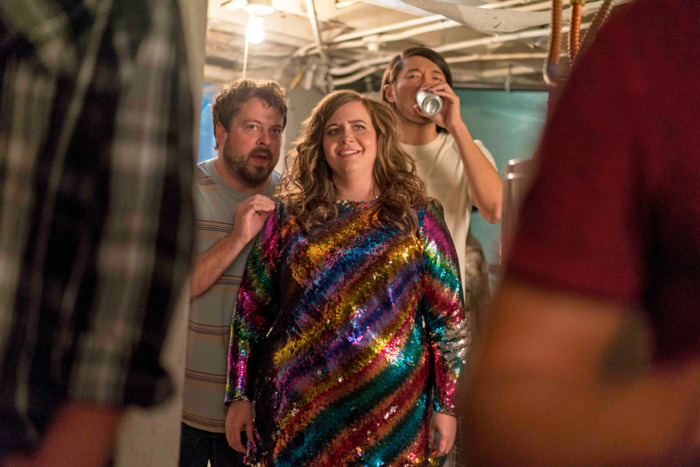 Now that we're done with the minor complaints, it's time for the many reasons why 'Shrill' is exceptional in its own unique way. In one of the scenes, we find Annie at a fat-girl pool party where women of sizes resembling hers, if not bigger, are enjoying a lavish party in their swimsuits away from society's scrutiny. But while the concept sounds an extremely wholesome one, what really helps 'Shrill' shine in moments like these are the perspective from which these women are portrayed.
In that, as refreshing as watching women coming together to enjoy their bodies without giving a sh*t about what the world thinks of them is, what is even better is that the camera never fetishizes them or makes a caricature out of the scene.
There are no sleazy shots with oodles of body fat flashing everywhere — they are just regular humans shot like any other pool party would have been projected on the screen — a humanized representation of this section of the populace that has never been seen before.
This all-inclusive portrayal isn't the only striking thing about the show because the central plot is Annie's internal conflict between not giving a damn about how she's expected to look versus caring a lot about the people scrutinizing her image. In that, as Annie goes on a rant about what a "mind prison" this whole thing is, she cannot stop herself from participating in frozen diets with her mom (Julia Sweeney.) While we can't help but crib about the holier-than-thou fat-shaming snob of a person her boss Gabe (John Cameron Mitchell) is, Annie cannot bring herself to quit the job, nor can she stop proving her worth with publishing unapproved blog posts.
Especially when it comes to her commitment-phobic boyfriend Ryan (Luca Jones), Annie knows she can do and deserves so much better. But somehow she ends up getting roped into making things convenient for him. This attitude of her jumps out most blatantly when she tries taking down fat-shaming trolls on her blog post, but at the same time is thrilled that she got 19,000 hits on her article. These internal conflicts — as related to her weight as they might seem — also bring out Annie's layered nature of being confused about what she should make her priority, something that beautifully comes out in scenes of her trying to cross the road: does she step into traffic and end up apologizing profusely, or does she go all the way in and expect the traffic around her to stop?
The subtlety and nuances depicting her struggles as a fat girl are what end up being the biggest highlight of the show. The more Annie tries to act like she is just another person in society, the more it humanizes people who are judged purely on their appearance. Bryant is phenomenal in these scenes because she somehow never overemotes no matter how intense it gets. Be it the heartbreaking abortion at the end of the pilot, or the rants she goes on at the end of a hard day — there's always a tone of normalizing issues Annie deals with that highlight the stigma surrounding fat people, without overselling it. At the end of the day, this girl just wants to be good at what she does and we all are here for it!
'Shrill' arrives on Hulu this Friday, March 15.