Shiloh Jolie-Pitt spotted at 7-11 on a snack run sporting a black hoodie, track pants and face mask
Shiloh, the daughter of Angelina Jolie and Brad Pitt, was seen doing her own shopping, donning a black outfit with a black face mask LOS ANGELES, CALIFORNIA: Time passes quickly and if you still think that Shiloh Jolie-Pitt is still the little girl with braces and a buzz cut, then you need to brace yourself. The cute little girl has now a grown young adult and was recently seen at a 7-11 store on a solo trip to get her snack refills. The teenager, who is usually seen at premieres accompanied by her mother or her siblings, had apparently opted to take this mundane trip alone.
Shiloh, 16, is one of the six children of the former celebrity couple Brad Pitt and Angelina Jolie. The ex-couple's other children are Maddox Chivan, Zahara Marley, Pax Thien, Vivienne, and Knox Leon. Shiloh has often been compared to her mother, whom she seems to take after in terms of her looks. Shiloh maintains a low profile and does not make many appearances apart from those on the red carpet, making this sighting rare.
READ MORE
Shiloh Jolie-Pitt wanted her NAME CHANGED to 'John or Peter' when she was a toddler
Did Shiloh Jolie-Pitt REJECT a $10M modeling offer? Parents Brad and Angelina want her to focus on studies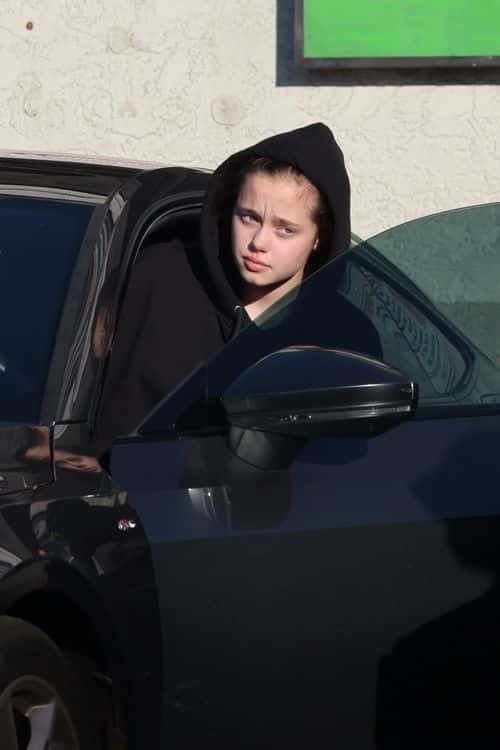 In her most recent snack outing, Jolie-Pitt went to the 7-11 dressed in all-black. She wore a black hoodie with the hood up despite the sunny day. She also wore a pair of black track pants and covered her face with a black face mask.
She finished off her off-duty look with a pair of red-brown sneakers and held her phone as she went into the store. She left the place with a few packs of Twizzlers in her hand.
While Shiloh maintains a low-profile life, her mother Angelina Jolie has been vocal about her hopes of her children being problem solvers of the world, moving forward. In an interview with British Vogue, Jolie said, "Well, I put a lot of my hopes for the future on the younger generation. Maybe that's because I live with six kids, aged 12 to 19, so I see that particular group – and I certainly see how much more pressure they are under than we were at their age. They're quite overwhelmed with a lot of information that we were sheltered from. But I see Mad [Maddox] online speaking in Russian to someone or talking to Korea, or Shi [Shiloh] saying hi to her friends in Namibia, I see there's this new way young people can connect and know each other in this global way. It's how they'll start to solve our problems."
More recently, her father Brad Pitt was seen gushing about Shiloh's dancing skills, where she was seen shaking a leg to the song 'Vegas' by Doja Cat. Entertainment Tonight reports that Pitt said, "It brings a tear to the eye, yeah," adding that she's "very beautiful." He then noted, "I don't know where she got it from. I'm Mr Two-Left-Feet here."
Share this article:
Shiloh Jolie-Pitt spotted at 7-11 on a snack run sporting a black hoodie, track pants and face mask